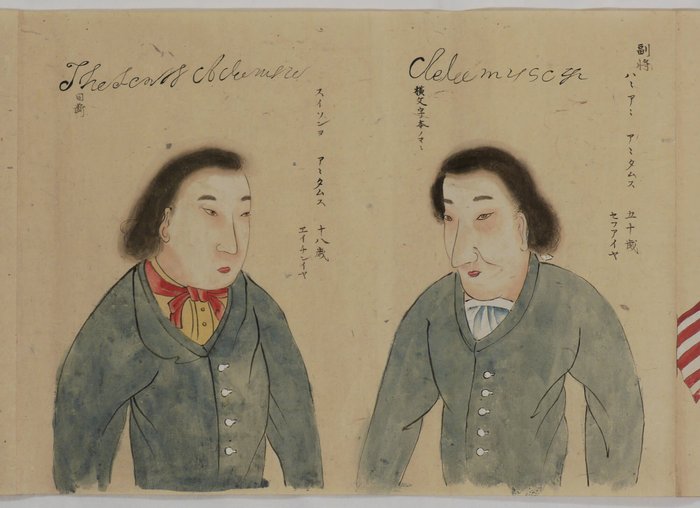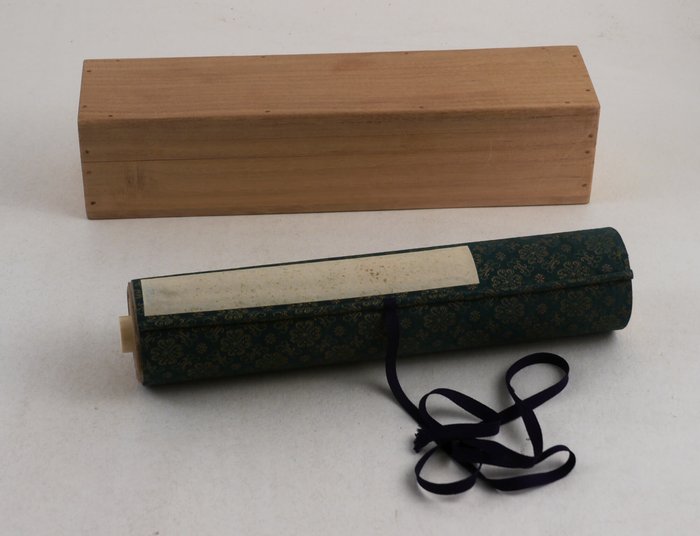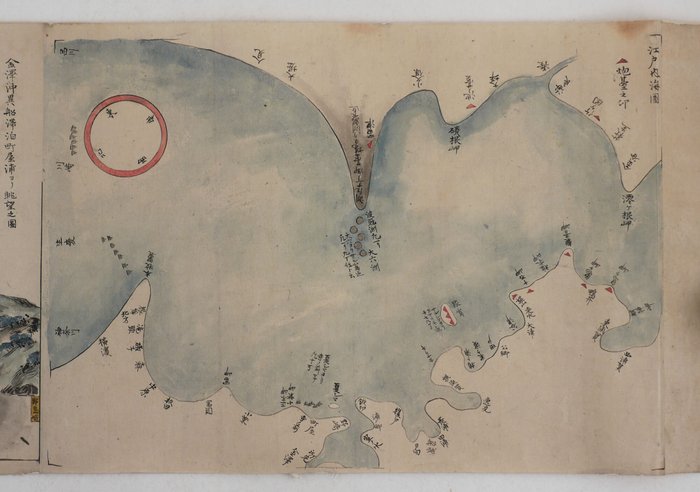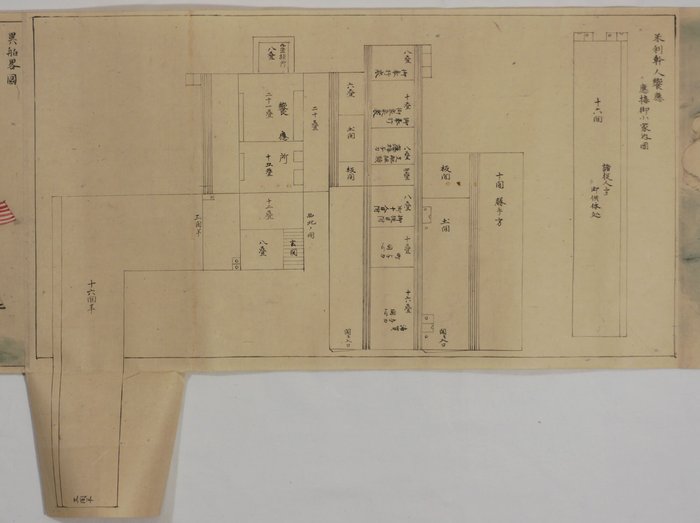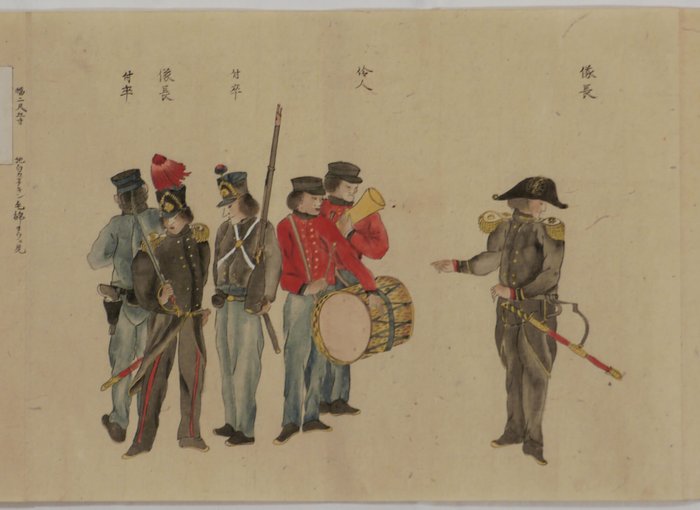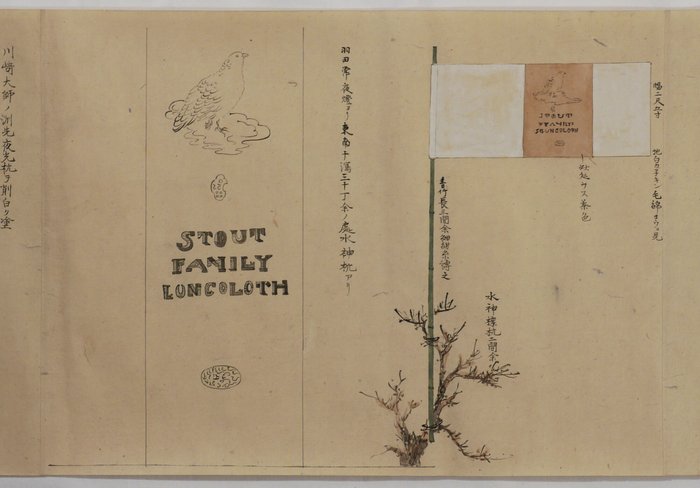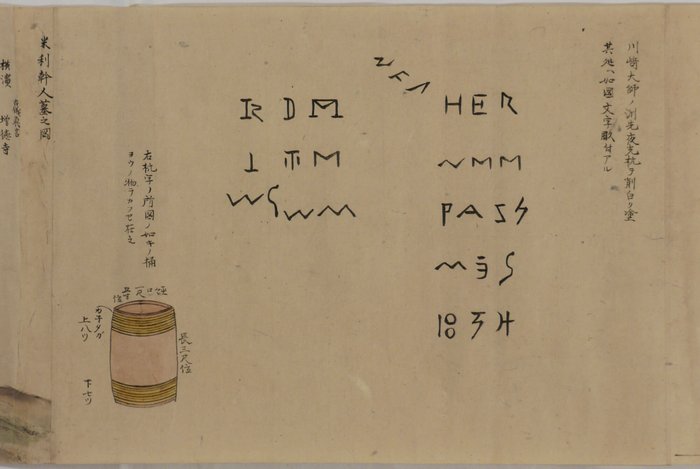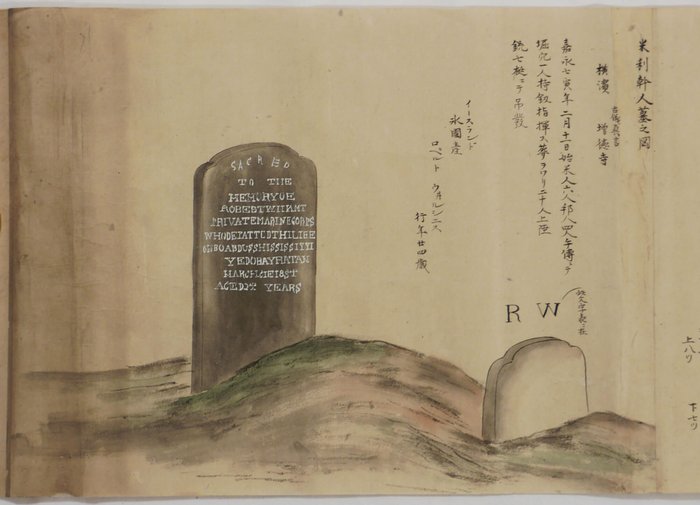 Large Original, Very Finely Hand-Painted "Black Ship Scroll," with Twenty-Two Watercolour Scenes and Portraits, Illustrating the Negotiations in Yokohama during Commodore Matthew Perry's Naval Expedition to Japan and the Signing of the Treaty of Kanagawa in February-March 1854.
Several scenes dated Kaei 7 [1854], but possibly a slightly later, Meiji period copy. Hand-painted scroll ca. 1085x27,5 cm (ca. 35 ½ ft x 10 ¾ in). Ink and watercolour on rice paper, neatly remounted, with a silk cover and string attached to the outer end of the scroll. Housed in a more recent custom-made wooden box ca. 8x32x7,5 cm (3 x 12 ¾ x 2 ¾ in). Occasional very minor repaired wormholes, but overall a beautiful scroll in very good condition.
Large rare beautiful very finely hand-painted "Black Ship Scroll" with a pictorial record of the negotiations of the first American-Japanese Treaty of Kanagawa which was signed in Yokohama on March 31, 1854. The Treaty resulted from Commodore Matthew Perry's two naval expeditionary missions to Japan (July 1853 and February-March 1854) and effectively ended 220 years of Japan's isolation from the western world. Perry first arrived at the Edo Bay in July 1853 and then returned in February 1854. He was allowed to land at Kanagawa, the site of modern-day Yokohama, on March 8, 1854, where a special "Treaty House" was erected onshore. The negotiations lasted for almost a month, accompanied by the presentation of gifts from the American President to the Japanese Emperor and vice versa, contests by sumo wrestlers, drills of American marines, banquets &c. After the Treaty was signed, Perry and his ships cruised in the Edo Bay and departed for Simoda on April 11-18, 1854.
The scroll contains twenty-two hand-painted watercolours; seven of which are large panoramas or views (from 50 to almost a meter long), showing the Black Ships arriving at the Edo Bay and then staying anchored at night; Yokohama harbour with Perry's ships, the Japanese fleet and the site of the reception; American troops disembarking and lining up before the reception and Japanese officials seated in attendance; plan of the "Treaty House;" a view of USS "Powhatan" and a gallery of presents brought by the Americans. The other slightly smaller watercolours (about 37 cm long) include a map of Edo Bay (the red triangles indicate canon placements), eight well-annotated views of the American ships and cutter boats (USS Macedonian, USS Lexington, USS Susquehanna, USS Vandalia, USS Saratoga &c.), a detailed drawing of an American steamer's deck, a close-up portrait of Commander Henry A. Adams (second-in-command during Perry's expedition) and his son (Henry Adams Jr., 1833-1878), a group portrait of American naval personnel, a view of the grave of an American Mariner Robert Williams (buried in Yokohama on March 9, 1854), &c. The drawings are generally well-annotated; the captions often attempt to transliterate English words and names and, on several occasions, try to reproduce English letters. Overall a historically significant, very large and beautifully painted "Black Ship Scroll."
"Universal concern bred a variety of means by which news of the Americans was spread throughout the land. One popular and attractive device was the painted pictorial with text done in scroll format. Many were produced, often in duplicate, and they circulated widely. The paintings are not high art; on the contrary, they are works of the artisan and not of the legitimate artist. The usage "Black Ship Scrolls" was coined subsequently and is a reference to the colour of Commodore Perry's ships. Not many Black Ships Scrolls have survived" (The Black Ships Scrolls [pdf], p. [2]/ Perry in Japan: a Visual History/ Brown University Library Center for Digital Scholarship; http://library.brown.edu/cds/perry/scrolls_psnc.html).
"When visiting the ships, the mandarins and their attendants were never at rest; but went about peering into every nook and corner, peeping into the muzzles of the guns, examining curiously the small arms, handling the ropes, measuring the boats, looking eagerly into the engine room, and watching every movement of the engineers and workmen <…> They were not contented with merely observing with their eyes, but were constantly taking out their writing materials, their mulberry-bark paper, and their India ink and hair pencils, which they always carried in a pocket within the left breast of their loose robes, and making notes and sketches. The Japanese had all apparently a strong pictorial taste and looked with great delight upon the engravings and pictures which were shown to them, but their own performances appeared exceedingly rude and inartistic. Every man, however, seemed anxious to try his skill at drawing, and they were constantly taking the portraits of the Americans, and sketches of the various articles that appeared curious to them <…>" (Hawks, F.L. Narrative of the Expedition of an American Squadron to the China Seas and Japan, Performed in the Years 1852, 1863, and 1854, Under the Command of Commodore M.C. Perry… New York: D. Appleton & Co., 1856, p. 417).
Most of the Perry scrolls date from after 1858 and many of them are crude and derivative copies. However, the present is an artistically very finely executed copy based on contemporary eyewitness accounts that were highly likely created very close to the time of the events shown.
A list of drawings:
1) Edo Naikai zu [Map of the Edo Bay]. Ca. 27,5x38 cm (10 ¾ x 14 ¾ in). The map (with the orientation to the east) marks several Japanese villages, Boso Peninsula and nearby island forts, and shows two groups of Black Ships near the site of modern-day Yokohama.
2) Kanazawa ura oki isenn teihaku Machiyaura yori Chobo no zu [A View of Foreign Ships near Kanazawa looking from Machiya Beach]. Ca. 27,5x83,5 cm (10 ¾ x 33 in). The view shows the Black Ships and Japanese guard boats and marks several geographical objects in the Edo Bay. The text on the upper half describes the American fleet's voyage to Japan, starting from departure from Hong Kong on December 16, 1853, and mentions Matthew Perry, Franklin Buchanan, and Henry A. Adams, a Dutch translator, USS Saratoga and USS Powhatan.
3) [Untitled View of the Black Ships in Edo Bay during the night looking from Kawasaki Beach]. Ca. 27,5x69 cm (10 ¾ x 27 ¾ in). The text on the upper margin describes how the ships looked on that foggy night, mentioning a signal light on one of them (marked on the drawing).
4) Yokohama osetsu obasho Kanagawa jyuku Gongen Yama yori Chobono zu [The Reception Site in Yokohama from Mt. Gongen in Kanagawa]. Ca. 27,5x98 cm (10 ¾ x 38 ½ in). The accompanying text includes the names of four Japanese officials responsible (Hayashi Daigakunokami, Ido Tsushimanokami, Udono Minbushoyu, Uraga Gobukyo, Izawa Misakanokami) and a brief account of the events. Eight Black Ships (all identified on the upper margin) are seen on the left, as well as their cutter boats. One Black Ship on the far left is marked as the one that was supposed to come but did not arrive (possibly, USS Plymouth).
5) Yokohama osetsu obasho Ijin bino zu [Foreigners Landing and Setting up at the Reception Site in Yokohama]. Ca. 27,5x89 cm (10 ¾ x 35 in). The accompanying texts numbers American soldiers and musicians, and notes that some of them held flags.
6) Batsuteria ni Kogiwataru Setsu no Bi [Black Ships Saluting and Preparing for the Marines' to Disembark]. Ca. 27,5x37,5 cm (10 ¾ x 14 ¾ in).
7) Masetonia nite Shukuhohatsu no zu [USS Macedonian Saluting]. Ca. 27,5x37,5 cm (10 ¾ x 14 ¾ in).
8) Batsuteira nite Shukuhohatsu no zu [American Cutter Boats Firing Their Guns]. Ca. 27,5x37,5 cm (10 ¾ x 14 ¾ in).
9) America jin Kyoo Osetsu Oie naizu [A floor plan of the Reception House for the Americans]. Ca. 27,5x50 cm (10 ¾ x 19 ¾ in), with a little addition ca. 12x11 cm (4 ¼ x 4 ¾ in). Marks different rooms and their size.
10) Isen Kakuzu [Views of the Foreign Ships. No. 1. Corvette Lexington]. Ca. 27,5x37,5 cm (10 ¾ x 14 ¾ in). The text marks the date of arrival, the amount of guns (26) and lists three crew members.
11) 2. Furegatsuto Jyokisen Suesukuhanna [No. 2. Frigate Steamship Susquehanna]. Ca. 27,5x37,5 cm (10 ¾ x 14 ¾ in). "Arrived the same day, six cannons," lists four names of crew members.
12) 3. Furegatsuto Joykisen Pouhatan [No. 3. Frigate steamship Powhatan]. Ca. 27,5x63,5 cm (10 ¾ x 25 in). "Arrived the same day, eight cannons," eight names of crew members ("Perry, Rasun, Harunsu, Koinou, Hoho, Dr. Hydegrain, translater Williams, Artist Wilhelm Heine"). Several notes in Japanese near the ship's banners read: "Sign of the main ship" (near the blue flag), "there wasn't this flag on the 10th of the reception" (near the white and red flag), "there was a peaceful flag on the 10th of the reception" (near the white flag). The text also contains information (but no images) on the arrival date, crew members and the number of guns on "4. Furegatsuto Masetonia" (No. 4. Frigate Macedonian) and "5. Furegatsuto Jyokisen Misushisusitsubi" (No. 5. Frigate steamship Mississippi).
13) 6 Korufetsuto Handariya [No. 6. Corvette Vandelia]. Ca. 27,5x37 cm (10 ¾ x 14 ½ in). "Arrived the same day, 20 cannons," four names of crew members. The text also contains information (but no images) on the arrival date and the number of guns on "7 Korufetsuto Riutanpon" (No.7. Corvette Southampton).
14) 8 Korufetsuto Saratoga [No.8. Corvette Saratoga]. Ca. 27,5x37 cm (10 ¾ x 14 ½ in). The date of arrival, 20 cannons, four names of crew members. The text also contains information (but no images) on the arrival date and the number of guns on "9 Taransupotsuto Shitsuhurai" (No.9. Transport Supply).
15) [Untitled Scene with American Marines in a cutter boat next to a Black Ship]. Ca. 27,5x37 cm (10 ¾ x 14 ½ in)
16) Jyokisen monnai zu [Interior of a Steamship's Deck] [and] Do mongai zu [Exterior of the Steamship's Deck]. Ca. 27,5x37 cm (10 ¾ x 14 ½ in).
17) Kenjyo no naka [List of the Gifts]. Ca. 27,5x73,5 cm (10 ¾ x 29 in). The drawing shows and marks a dozen presents (ladder, water barrel, the sign "Mississipi" on the bottom of the barrel, anchor, rudder, American flag, boat, nail, cannon, umbrella and raincoat).
18) [A Portrait of Captain Henry A. Adams "50 Years Old", and His Son, Henry A. Adams Jr., "18 Years Old"]. Ca. 27,5x37,5 cm (10 ¾ x 14 ¾ in). The captions identify both naval officers, tell their ages and try to reproduce English manuscript text.
19) [A group portrait of an American Naval Officer and Five Marines]. Ca. 27,5x37 cm (10 ¾ x 14 ½ in). The captions identify a "Captain," "musicians," and soldiers.
20) [A Flag with a Bird and Device in English]. Ca. 27,5x37 cm (10 ¾ x 14 ½ in). The captions refer to the flag's material and colour.
21) Kawasaki Daishi no susaki yakoukui wo kezuri shiroku nuru [Signal Post near Kawasaki Daishi, Painted White]. Ca. 27,5x37 cm (10 ¾ x 14 ½ in). The drawing attempts to reproduce the English text on the post and the date "1854."
22) America jin haka no zu [The Grave of an American/Robert Williams]. Ca. 27,5x36,5 cm (10 ¾ x 14 ¼ in). The drawing attempts to reproduce the English text of the gravestone. The captions name the location of the grave, the date of the funeral and Williams's age (24 years old).
Item #M7
Price: $32500.00