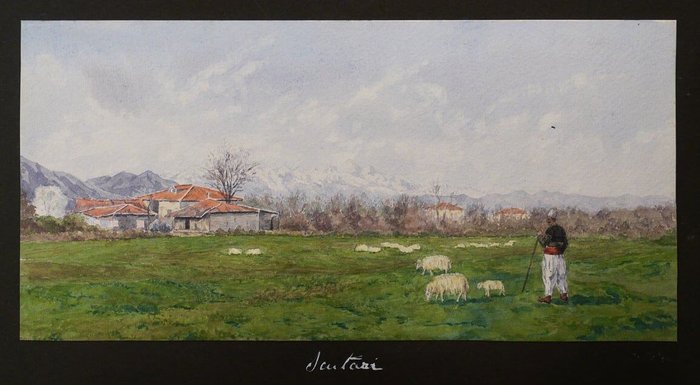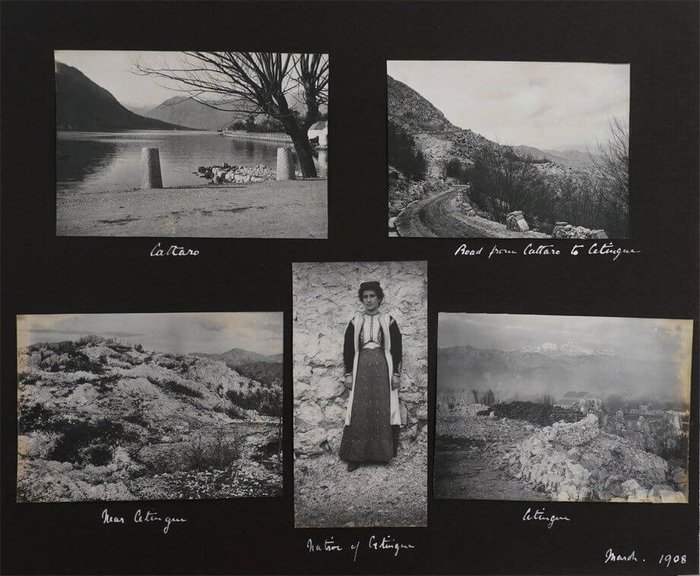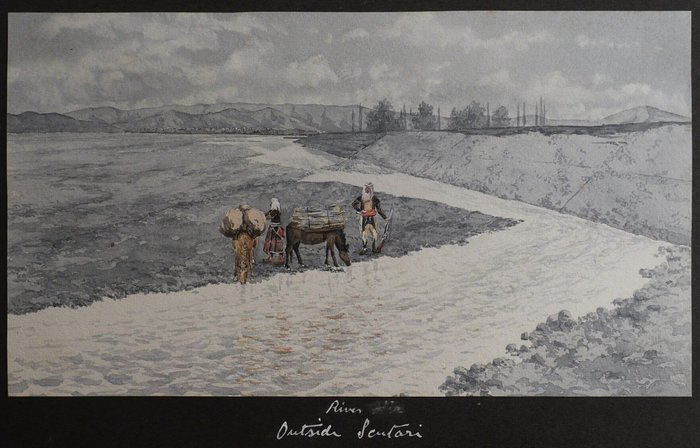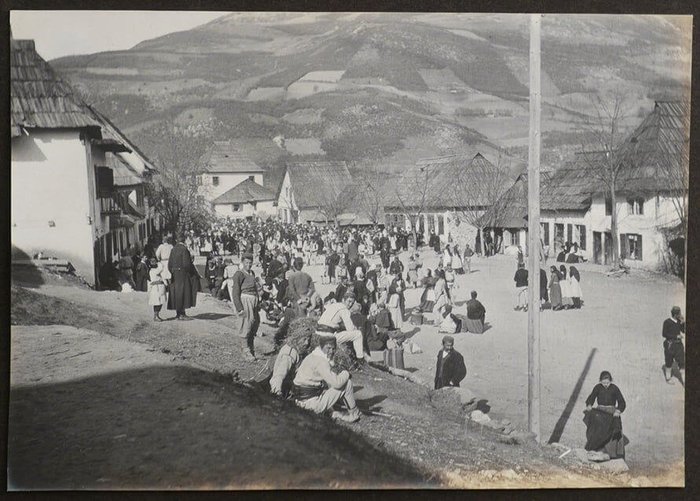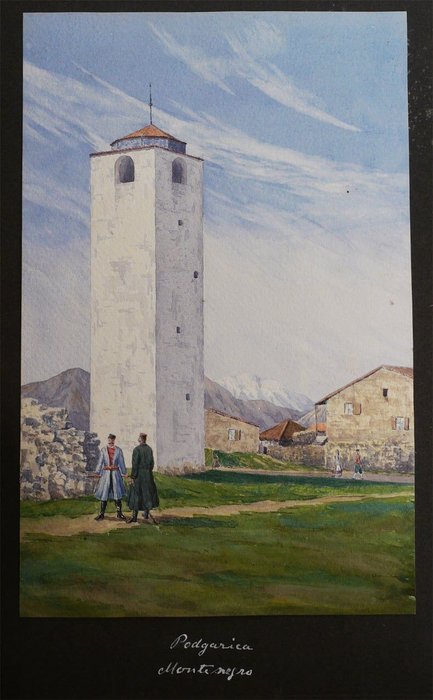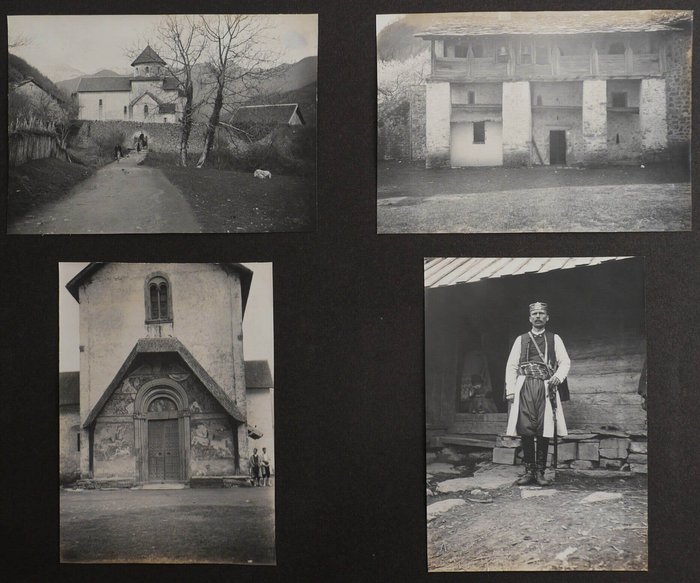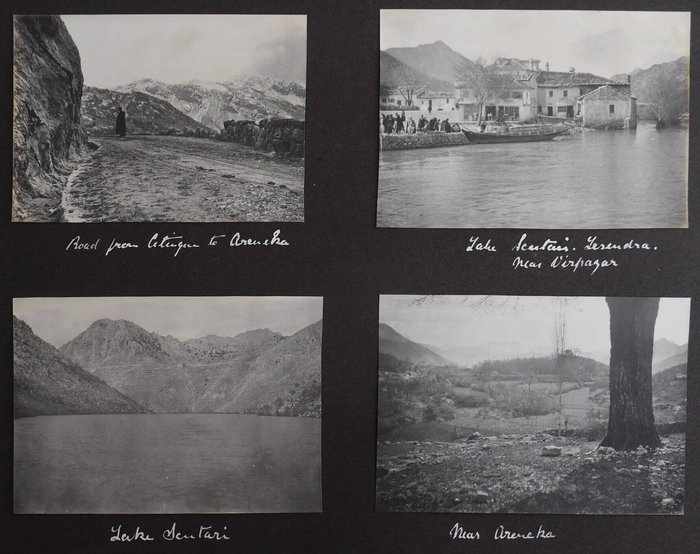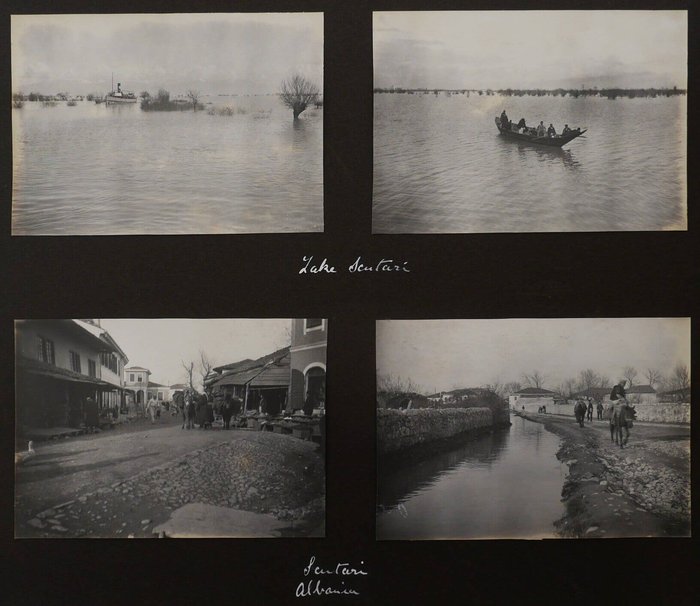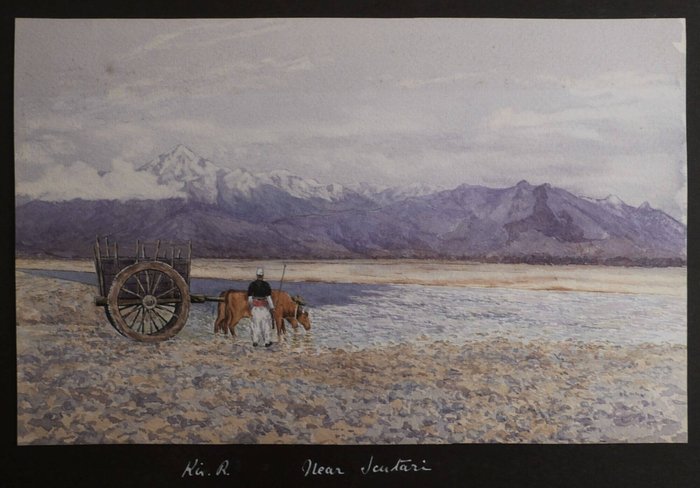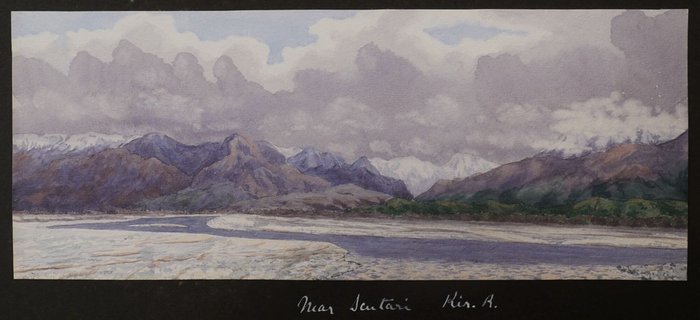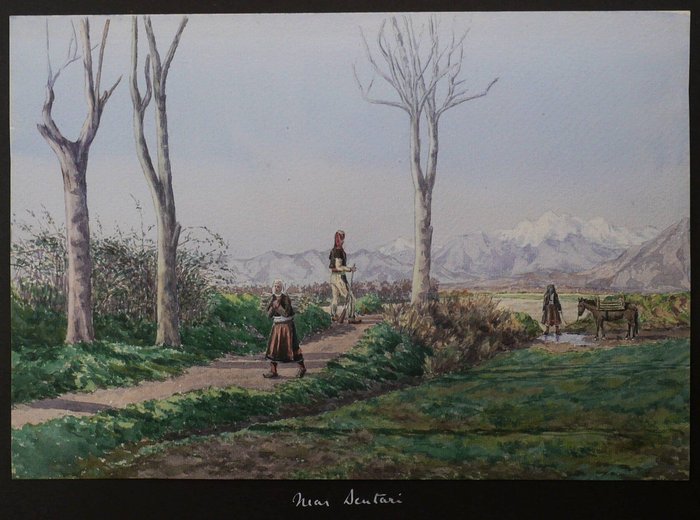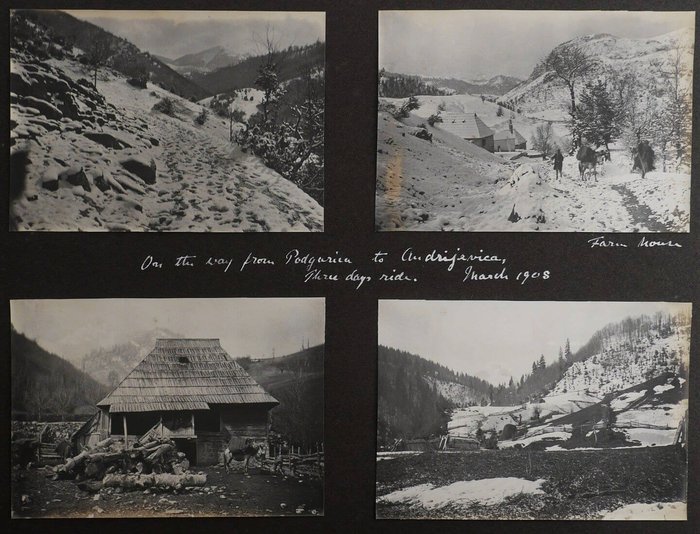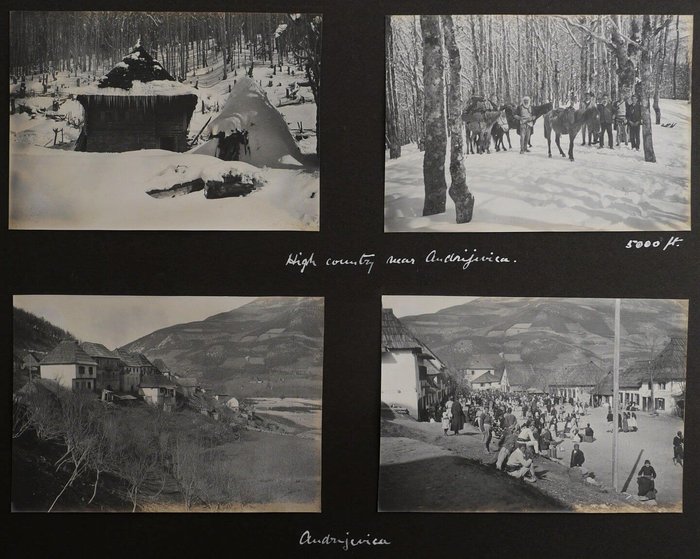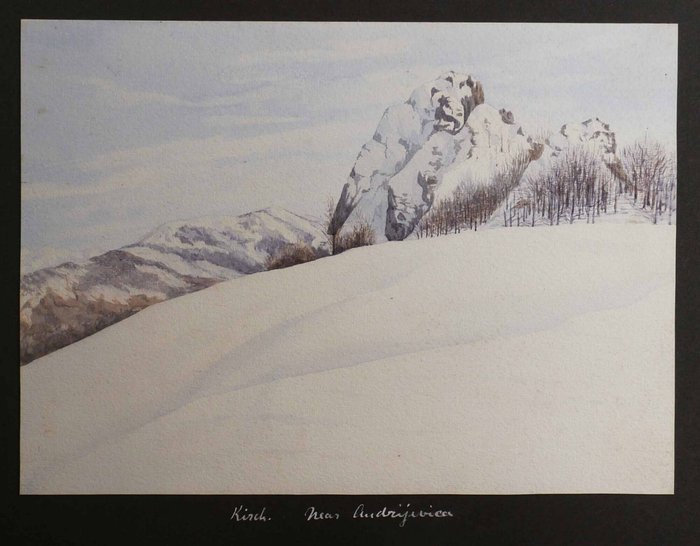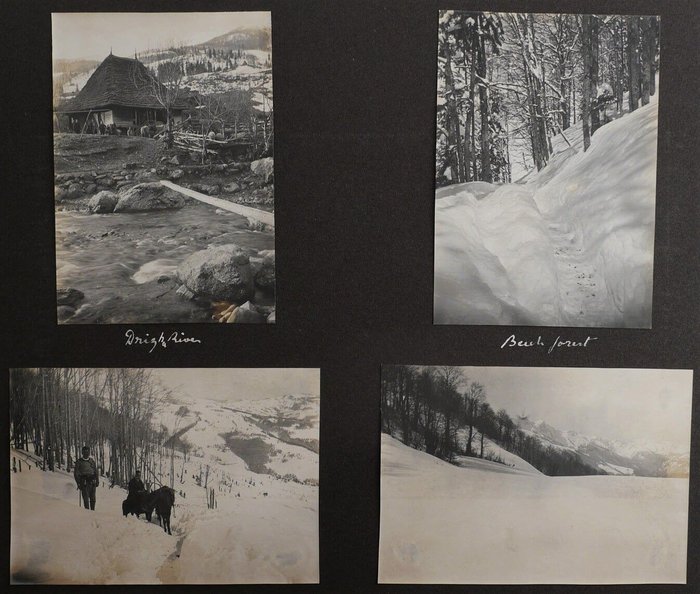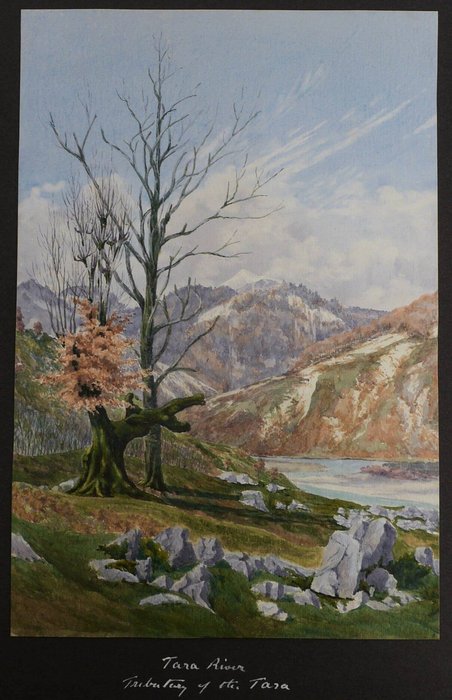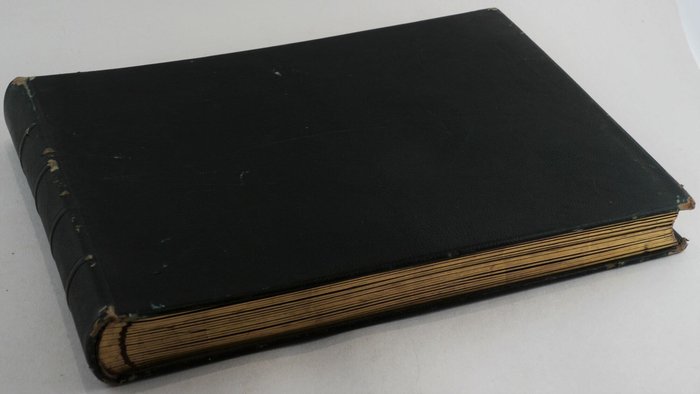 [Buchan-Hepburn of Smeaton], Sir Archibald Banister] (1852-1929). Album with Nine Original Watercolours, and Sixty-Four Original Gelatin Silver Photographs Made on a Mountaineering Trip to Montenegro and Albania, with Interesting Views of the Komovi Mountains of the Dinaric Alps (Andrijevica Village, Kucki Kom Peak, Tara River), Durmitor Mountain Range, Podgorica, Kolasin, Niksic, Zabljak, Cetinje; Lake Skatar, Kir River and Shkodër City in Albania, and Others; With: Seven Watercolour Views of Rural France at Rear. 1908.
Large Oblong Folio ca. 37,5x47,5 cm (14 ¾ x 18 ¾ in) with 20 stiff black card leaves. Sixteen mounted watercolours of various size, from ca. 25x35,5 cm (10x14 in) to ca. 10,5x19 cm (4 ¼ x 7 ¼ in). 64 mounted gelatin silver prints, including one large image ca. 29x40 cm (11 ½ x 16 in), the rest are ca. 12x17 cm (4 ¾ x 6 ¾ in) or slightly smaller. Most images captioned and some dated in manuscript white ink on the mounts. Inscription on verso of the front free endpaper: "Albania, Montenegro, France". Period black full morocco with a printed name of the binder on top of the front pastedown endpaper "W. & J. Milne" (Edinburgh). Album mildly worn at extremities and spine, with faint scratches on the boards, four watercolours apparently previously removed, but overall a very good album with strong photographs and vibrant watercolours.
Interesting album with large original photos and watercolours from a mountaineering trip to northern Montenegro and Albania in 1908. The album is from the estate of Buchan-Hepburn baronets, and the photos and watercolours were most likely created by Sir Archibald Buchan-Hepburn, a member of the Botanical Society of Edinburgh since 1894 and its president in 1912-1913. The majority of images (about fifty, including four large watercolours) depict the trip to the Komovi Range of the Dinaric Alps in northern Montenegro, showing Podgorica village, landscapes on the route to Andrijevica and the village itself, local guides, mountain hamlets, Kucki Kom Peak (2487 m.), Tara River, Kolasin village and its inhabitants, the traverse over the mountains from Kolasin to Niksic and thence to Zabljak (showing local pilgrims and a shepherdess with her flock), a street in Zabljak and a distant view of the Durmitor Mountain Range (with a note "7818 ft."); several photos also show Montenegrin towns of Kotor and Cetinje. Very interesting is a large panorama of the Albanian town of Shkodër on the shore of Lake Skatar with the old bridge over the Bojana River in the foreground. There are also eight smaller street views of Shkodër and five stunning watercolours of the city and nearby Kir River. The album concludes with seven uncaptioned watercolours that likely depict a small town in France, showing people in the streets, butcher produce on an outdoor stand, and a woman washing clothes. Overall, a very interesting album of sharp photographs and attractive watercolours of Montenegro, Albania and France.
Captions:
Photographs: Cattaro; Road from Cattaro to Cetingue; Near Cetingue; Native of Cetingue; Cetingue March 1908; Road from Cetingue to Arenetsa [?]; Lake Scutari. Lesendra near Virpazar; Lake Scutari; Near Arenetsa [?]; Lake Scutari; Scutari, Albania; Scutari; On the way from Podgarica to Andrijevica, Three days ride, March 1908; Podgarica to Andrijevica; High country near Andrijevica (5000 ft.); Andrijevica; Drizha river; Beech forest; Kucki Kom; Kolasin; Kolasin to Nicsick; Niksick to Sabjak; Sabjak near Dormitor; Dormitor 7818 ft; Skutari.
Watercolours: River Kir outside Scutari; Scutari; Outside Scutari Kir. R.; Near Scutari Kir. R.; Near Scutari; Podgarica, Montenegro; Kirch. Near Andrijevica; Kucki Kom from Kirch, April 1908; Tara River.
Item #P11
Price: $3250.00