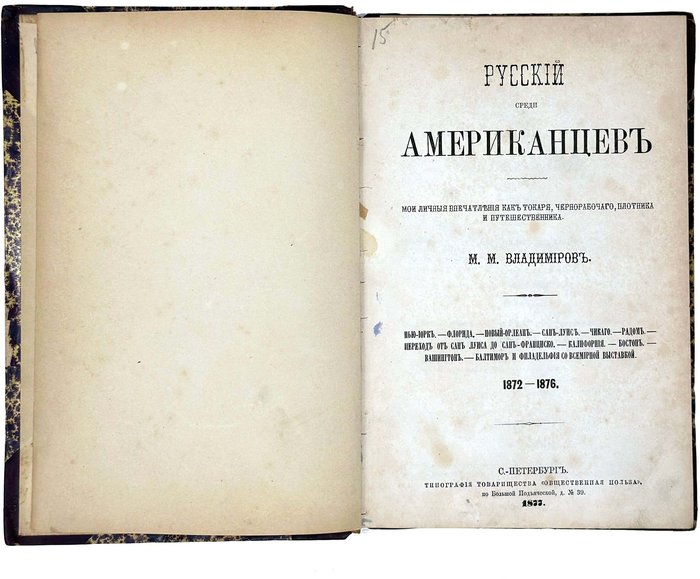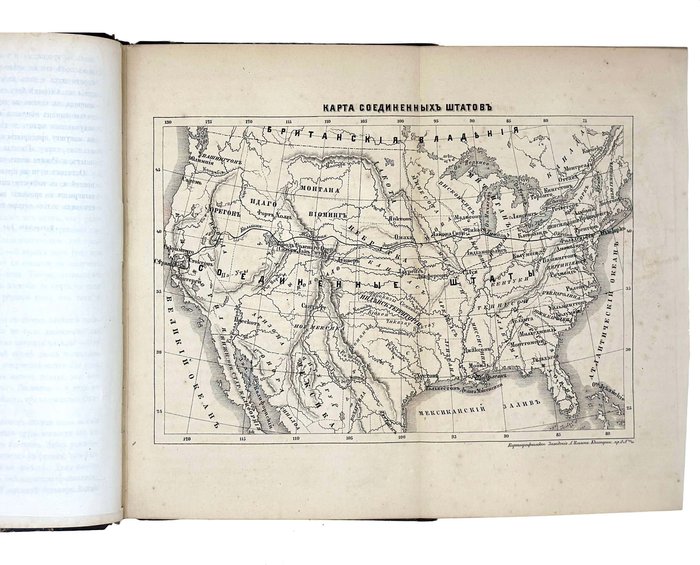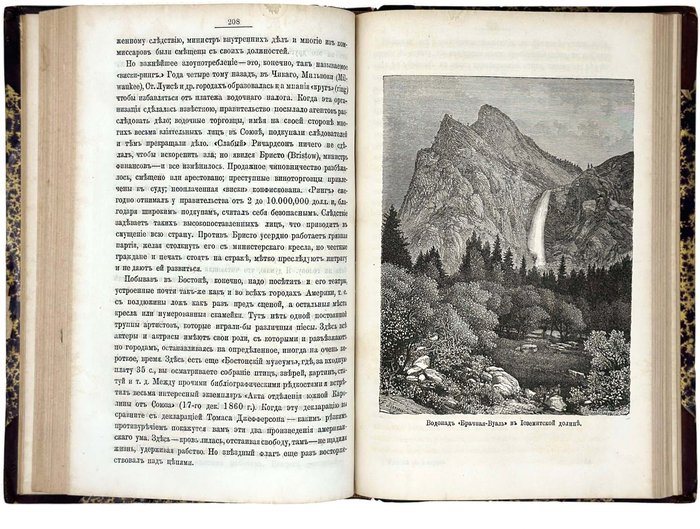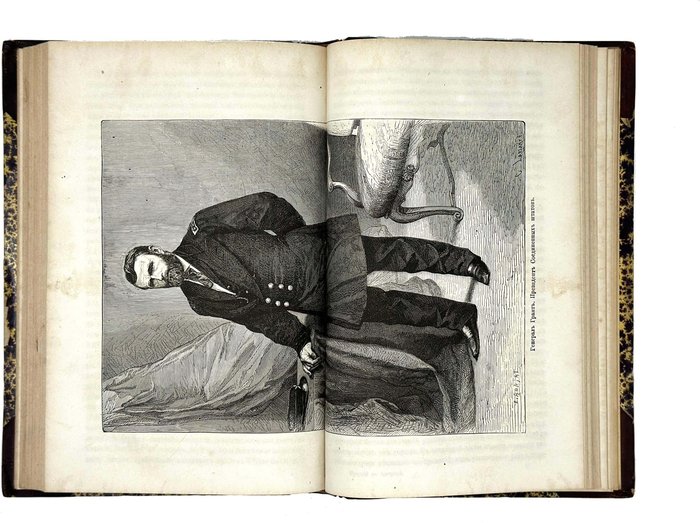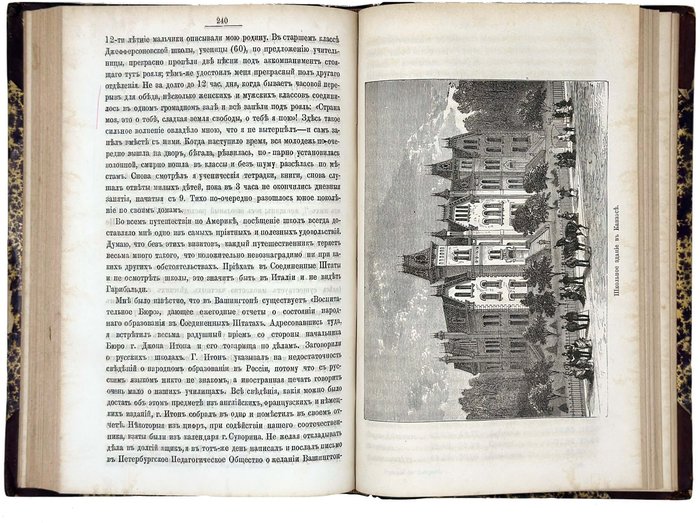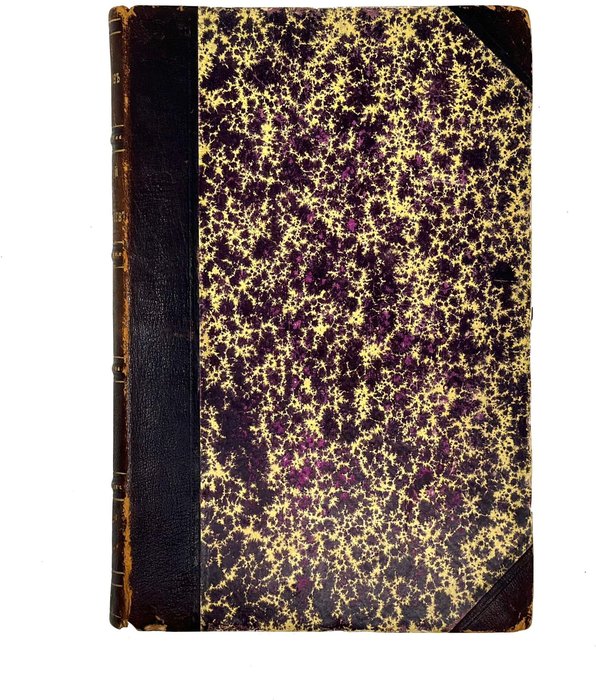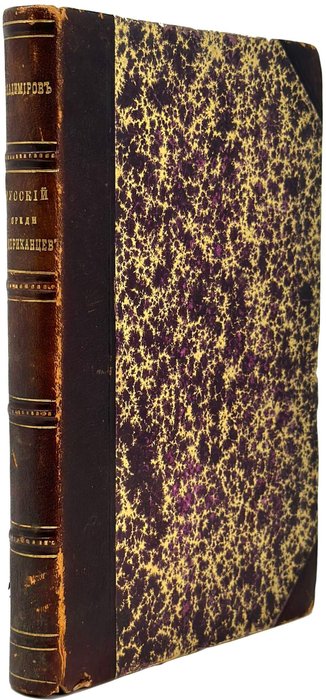 Vladimirov, Mikhail Mikhailovich. Russkiy Sriedi Amerikantsev. Moi Lichnye Vpechatlieniya kak Tokarya, Chernorabochego, Plotnika i Puteshestvennika [A Russian Amongst the Americans. My Personal Recollections as a Turner, Labourer, Carpenter and Traveller]. Saint Petersburg: Typ. of T-vo "Obshchestvennaya Polza," 1877.
First edition. Octavo (23,5x15,5 cm.) iv, ix, 337 pp.. With a folding lithographed map and ten wood-engraved plates. Period brown half-leather with marbled papered boards, raised bands and gilt-lettered title on the spine. Pre-revolutionary bookseller's stamp on the verso of last page , binding rubbed on extremities, occasional foxing throughout, but overall a very good copy.
Rare Russian imprint with only thirteen paper copies found in Worldcat. First book publication of an account by a Russian day labourer (whom we would now call a backpacker) travelling across the United States. The book was never translated into other languages or republished.
In 1872, a young Russian commoner from the Saratov province, of evidently socialist views, decided to travel to the United States practically without money and spent there four years, finding various day jobs and moving across the country. In 1872-1876, he visited and stayed in New York, Florida (Jacksonville, Tallahassee, Apalachicola, Pensacola), New Orleans, went up the Mississippi River to St. Louis, then to Chicago, lived in the Russian-Polish colony in Radom (Il), took a steamer to Kansas City and thence tried to reach San Francisco, train-hopping as a stowaway or walking along the tracks. He crossed the territories of Nebraska (Lincoln, Kearney Junction, North Platte), Wyoming (Cheyenne, Laramie, Rock Springs), Utah (Evanston, Ogden, Corinne) and Nevada (Tecoma, Elko, Carlin, Winnemucca, Wadsworth). As he calculated, the travel from St. Louis to California cost him 32 dollars and 35 cents. In California, he visited Sacramento, worked as a teacher for several Russian families in San Francisco and then travelled to the Petrified Forest, Calaveras Big Trees and the Yosemite Park. On the way back by train (this time with a ticket), he stopped in Ogden, Detroit, Boston, Charleston, Baltimore, Philadelphia, etc.
The book describes the Russian communities and the lives of the Russian immigrants Vladimirov met on the way, the daily life of American workers and farmers (a two-page table shows the salary of farmworkers in different states in 1875), often goes into detail about public school education, urban development and services, elaborates about American political life, describes the Chinese community of San Francisco and anti-Chinese sentiments, celebrations of Christmas, Chinese New Year, Valentine's Day, Russian Christmas and Easter, the 4th of July, etc. A separate chapter is dedicated to the U.S. Centennial Celebration, the Centennial International Exhibition of 1876 in Philadelphia and its Russian department (silverware by Sazikov's factory, malachite vases and furniture, fabrics, leather shoes, naval instruments, paintings by Aivazovsky, etc.). Very interesting is the description of the 4th of July centennial celebration in 1876. Vladimirov concludes: "If you get a desire to go across America without money, first of all, rely only on yourself, then on yourself again, after that on yourself once again, and only after that on books…"
Overall a vivid original account showing the United States in the 1870s through the eyes of a Russian socialist, travelling without money.
A list of illustrations (captions given in translation): "Map of the United States" (folding), "Mississippi banks in New Orleans," "University in New Orleans," "Sion, the city of the Salt Lake" (double-page, by Alexander de Bar & Hildibrand), "Grand hotel in San Francisco," "Bridal Veil falls in the Yosemite Valley," "A school in Kansas," "General Grant, the President of the United States" (double-page), "White House (from the south)," "Monument to Lincoln in Philadelphia," "Old Masonic Temple in Philadelphia."
Item #None
Price: $5250.00