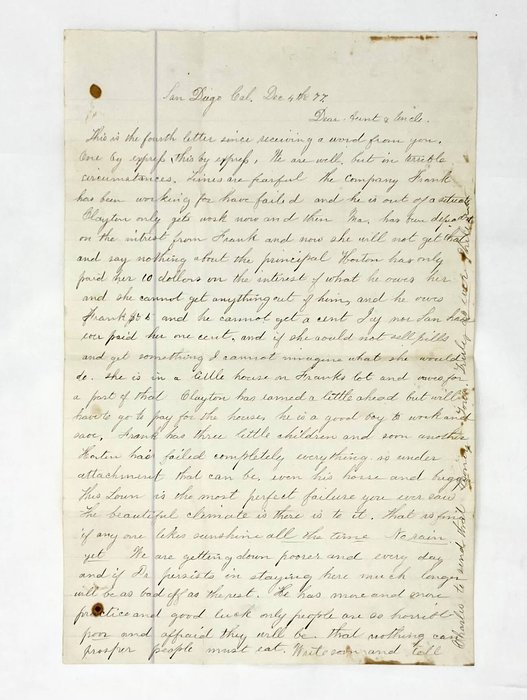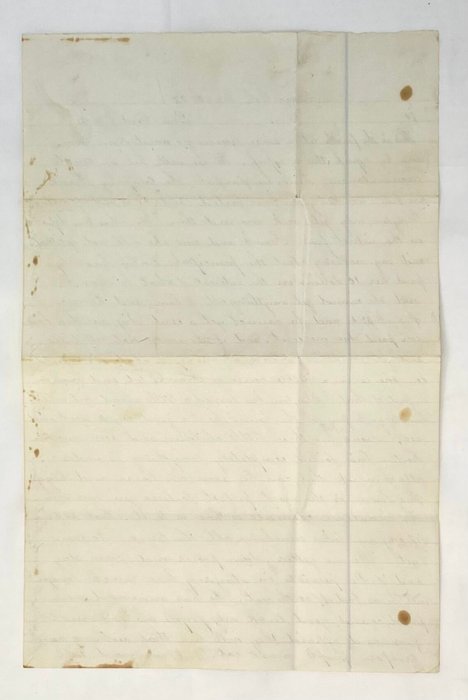 Historically Interesting Private Letter by a Disappointed Resident of San Diego, Complaining about Failed Businesses, Financial Struggles, and Mounting Debts of His Family Members, Asking to Send the Much-Needed Money, and Describing the Town as a "Perfect Failure," With the Climate Being the Only Good Thing "If Anyone Likes the Sunshine All the Time." San Diego: 4 December 1877.
Quarto (ca. 26 x 20.5cm). 1pp. Brown ink on lined wove paper. Fold lines, light foxing, but overall a very good letter written in a legible hand.
Historically interesting original autograph manuscript letter offering a vivid insight into the financial struggles of a family affected by San Diego's severe crisis of 1877. The 1877 economic disaster, stemming from the bursting of the real estate bubble, speculative investments, and economic decline, resulted in bankruptcies, business closures, and a prolonged downturn, significantly hindering the city's development for years.
In this private letter, dated 4 December 1877, the author writes to "Dear Aunt & Uncle" about the grim reality of failed businesses, financial struggles, and mounting debts within his family. He also unveils his mother's defaulting on interest payments and her desperate attempts to sell pills for a meager income. Near the close, "Philinen" describes the town as a "perfect failure," with the climate being the only good thing "if anyone likes sunshine all the time." The letter ends with a heartfelt plea to provide much-needed financial support, echoing the worries about "getting down poorer and every day." Overall, a historically interesting original letter offering a vivid insight into the struggles of a family affected by San Diego's severe crisis of 1877.
The text of the letter:
"Dear Aunt & Uncle
This is the fourth letter since receiving a word from you. One by express, this by express. We are well, but in terrible circumstances. Times are fearful. The company Frank has been working for have failed and he is out of a situation. Clayton only gets work now and then. Ma has been defaulted on the interest from Frank and now she will not get that and say nothing about the principal. Horton has only paid her 10 dollars on the interest of what he owes her and she cannot get anything out of him, and he owes Frank $55 and he cannot get a cent. Jay nor Jan have ever paid her one cent, and if she could not sell pills and get something, I cannot imagine what she would do. She is in a little house on Frank's lot and owes for a part of that. Clayton has earned a little ahead but will have to go to pay for the house. He is a good boy to work and save. Frank has three little children and soon another. Horton has failed completely everything. So under attachment that can be, even his horse and buggy. This town is the most perfect failure you ever saw. The beautiful climate is there is to it. That is fine if anyone likes sunshine all the time. No rain yet. We are getting down poorer and every day and if Pa persists in staying here much longer will be as bad off as the rest. He has more and more practice and good luck, only people are so horrible poor and afraid they will be, that nothing can prosper.
People must eat. Write soon and tell Charles to send that money."
Item #MA88
Price: $950.00