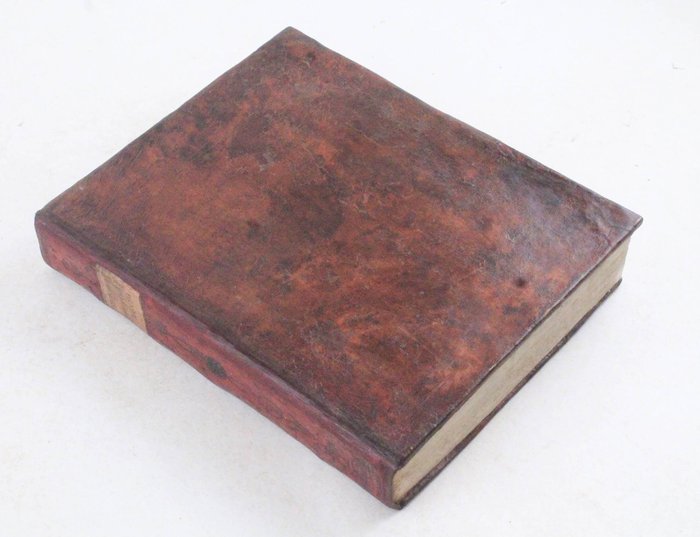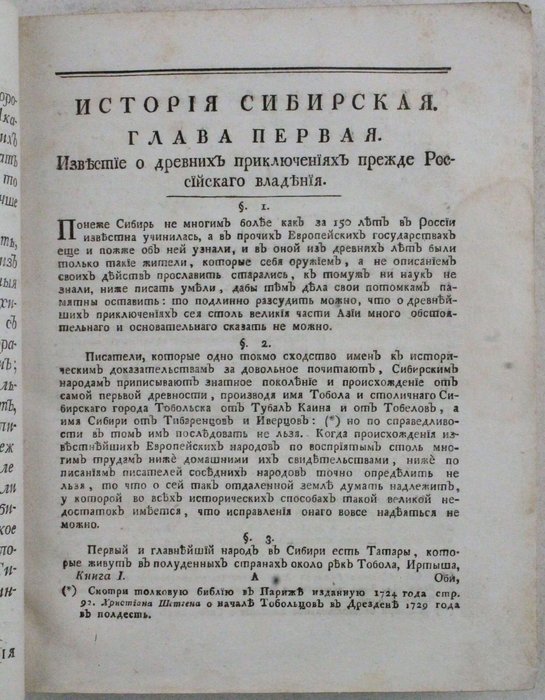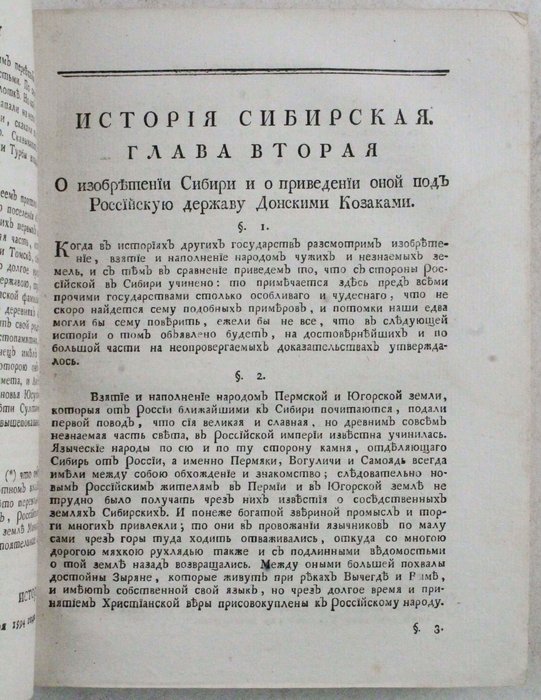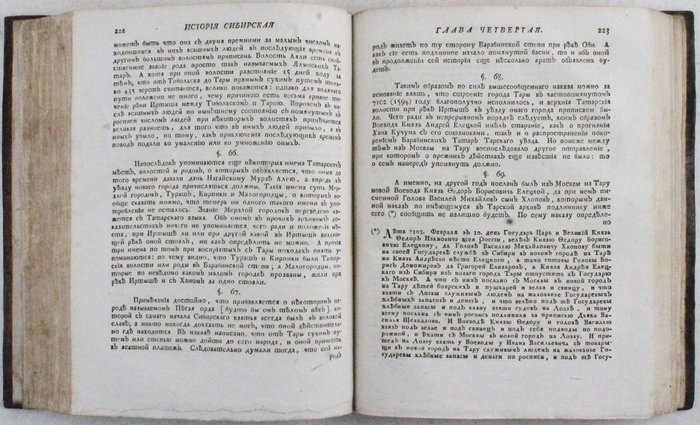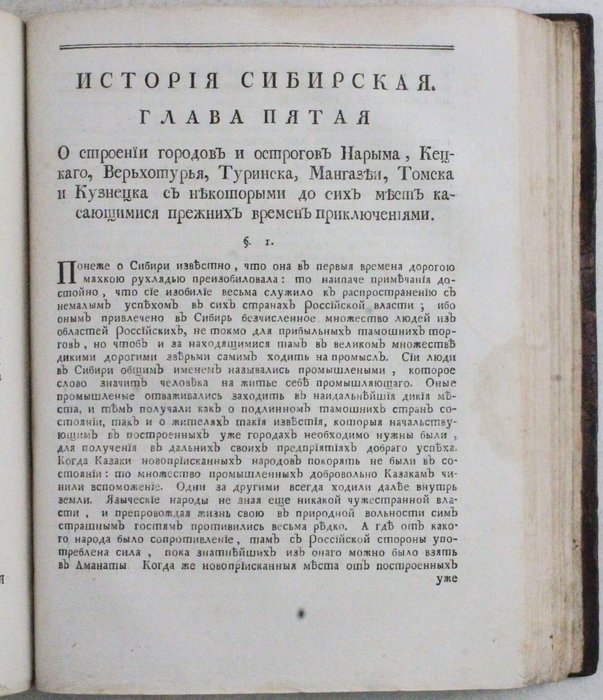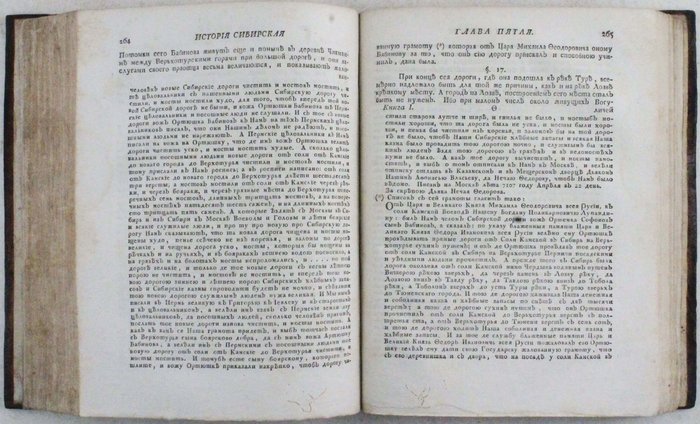 Müller, Gerhard Friedrich (1705-1783). Opisanie Sibirskogo Tsarstva i Vsekh Proizshedshikh v Nem Del on Nachala, a Osoblivo ot Pokoreniya Yego Rossiiskoi Derzhave po Sii Vremena; Sochineno Gerardom Friderikom Millerom, Istoriografom i Professorom Universiteta Akademii Nauk i Sotsieteta Aglinskago Chlenom [Description of the Siberian Kingdom and All Affairs That Took Place there from the Beginning, and Especially from its Conquest by the Russian State until These Times; Created by Gerard Friderik Miller, Historiographer and Professor of the University of the Academy of Sciences and a Member of the English Society]. Saint Petersburg: Imp. Academy of Sciences, 1787.
Second edition. Quarto. Book 1 and only. [1 – t.p.], [1 – dedication to Empress Elizaveta Petrovna from Mueller], [4 – dedication to Empress Elizaveta Petrovna from the Academy of Sciences], [4 - Preface], 368, [6 – Brief Chronology of Siberian History]; [24 Alphabetical Index] pp. 20th-century owner's inscription on the title page; Soviet bookshop's ink stamp on the rear pastedown endpaper. Period brown full calf; maroon spine with a gilt-lettered title label and gilt-tooled decorative vignettes. Binding expertly repaired on extremities, mild water stains in text and on the title page, occasional pencil and ink markings in text, but overall a very good copy.
Very rare Russian imprint with only four paper copies found in Worldcat (Library of Congress, University of Wisconsin-Madison, University of California Berkeley, University of Lausanne). This is the second edition of the first fundamental Russian work on the history of Siberia, written by a noted member of the Russian Academy of Sciences, Gerhard Friedrich Müller. The first edition (1750) became the first book, based on the materials, collected during the Great Northern or Second Kamchatka Expedition (1733-1743) to the Arctic coast of Siberia and east to the Aleutian Islands and Alaska, led by Vitus Bering (1681-1741). The next famous work, based on the results of Bering's expedition – Stepan Krasheninnikov's "Opisaniye Zemli Kamchatki" – was published only in 1755.
As one of the heads of the so-called "Academic detachment" of Bering's expedition, Müller for ten years travelled across Eastern Siberia, between Beryozov, Ust-Kamenogorsk, Nerchinsk and Yakutsk, exploring archives of local administrations. A vast collection of original papers and their copies, which he brought to Saint Petersburg, comprise famous "Müller's portfolios," which were used by generations of historians and are now deposited in the Russian State Archive of Ancient Acts (RGADA).
Müller's work was written in German and translated into Russian by the Academy's associates Ivan Golubtsov and Vasily Lebedev. The 1750 and 1787 editions contain chapters 1-5 of Müller's original manuscript (which consisted of 23 chapters). Chapters 6-8 were published in Müller's magazine "Ezhemesyachnye Sochineniya…" in 1764. The first publication in German took place in 1761-1763 on the pages of St. Petersburg periodical "Sammlung Russischer Geschichte" and included ten chapters. The complete manuscript (with 23 chapters) was never published. The next Russian edition of Müller's work, under the title "Istoriya Sibiri" was issued in 1937-41 (only two volumes of four planned were issued, with several editors being arrested during Stalin's purges). The complete scientific edition was issued only in 2005 (Miller, G.F. Istoriya Sibiri. M.: Vostochnaya Literatura RAN, 2005; 3 vols.).
The second edition (1787) doesn't have textual differences with the first editon, except for the format of the chronology of Siberian history, placed after the main text (the first edition has in it a table form, the second edition – in the form of a list). The second edition was also published without a copper-engraved vignette on the title page. According to the "Svodny Katalog," the print run of the first edition was 1325 copies (1300 on regular paper, 300 – on "foreign" and 25 special copies for presents on the "Alexandria" paper), the second edition – 612 copies (one can presume, that 600 copies were printed on regular and 12 – on special paper). Worldcat finds eight copies of the first edition (1750): Library of Congress, Alaska State Library, New York Public Library, University of California Berkeley, Princeton University, University of Oklahoma, University of Cambridge, University College (London). Given the print run and quantity of the surviving copies in public depositories, one can state that the second edition is rarer.
Composition of the second edition:
a) Two dedications to Empress Elizaveta Petrovna, a daughter of Peter the Great. The second dedication talks about Peter the Great's decision to send an expedition to ascertain whether Asia connects to America, the expedition's success and Elizaveta's order to publish its results.
b) Preface, most likely written by Grigory Teplov (1717-1779) – an honorary member of the Academy of Sciences and its factual head in 1746-1762 (see more about the history of the publication of the first edition in Pekarsky, vol. 2, p. 355).
c) Five chapters of Müller's manuscript, covering the period from the times of Genghis Khan to ca. 1618.
Chapter I. A relation about ancient events before the Russian possession (pp. 1-46);
Chapter II. About the settlement of Siberia and its conquest by the cossacks from Don (pp. 47-114).
Chapter III. About the acceptance of Siberia under Russian rule (pp. 115-166);
Chapter IV. About the construction of towns Tyumen, Tobolsk, Lozve, Pelym, Beryozov, Surgut, Tata, and the final exile of Khan Kuchum from Siberia (pp. 167-246);
Chapter V. About the construction of towns and forts Narym, Ketskoye, Verkhoturye, Turinsk, Mangazeya, Tomsk and Kuznetsk, with some events related to these places (pp. 247-368).
d) Brief chronological list of Siberian history (in 1499-1618; pp. [1-6]);
e) Alphabetical Index to the first book of Siberian history (pp. [7-30]).
Selected bibliography:
Bitovt, Y. Redkiye Russkie knigi i letuchiye izdaniya XVIII veka, 1099.
Miller, G.F. Istoriya Sibiri. 3 vols. M.: Vostochnaya Literatura RAN, 2005.
Pekarsky, P. Istoriya Imperatorskoy Akademii Nauk v Peterburge: 2 vols. SPb., 1870-1873.
Svodny Katalog Russkoi knigi grazhdanskoi pechati 18 veka, 4240.
Sopikov. Opyt Rossiiskoi bibliografii, 7723.
Item #RA16
Price: $12500.00