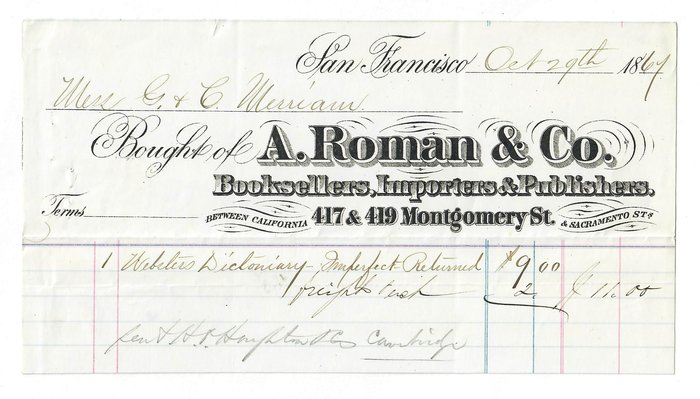 Early Billhead of California Pioneer Bookseller, A. Roman & Co, Returning an "Imperfect" Copy of Webster's Dictionary to G & C Merriam; With Merriam's Note About Sending the Book to the Company's Binder and Future Mayor of Cambridge MA, Henry Houghton. San Francisco, 29 October 1867.
Oblong Octavo receipt (ca. 11 x 21cm). Early historically interesting billhead of California's pioneer bookseller A. Roman & Co, returning an "imperfect" copy of one of the earliest Merriam-Webster dictionaries to publisher G & C Merriam (Merriam-Webster) in Springfield, Massachusetts. Dated 29 October 1867, the billhead charges $9.00 for "Websters Dictionary Imperfect Returned" and $2.00 for the "freight fuel" from San Francisco to Springfield. Importantly, the document also features Merriam's later note about sending the damaged book to the company's binder and the proprietor of Riverside Press, Henry Oscar Houghton (1823-1893), in Cambridge, Massachusetts. Houghton got signed by the G & C Merriam Co. in 1863, almost twenty years after the Merriams secured publishing and revision rights to Webster's "American Dictionary of the English Language" (1840). Henry worked for the G & C Merriam as a printer and binder for a couple of years until he was elected Mayor of Cambridge MA, in 1872.
Apparently, the reference book that A. Roman & Co returned to G & C Merriam was Webster's Unabridged Dictionary, printed earlier the same year. "Thoroughly revised and much enlarged. Over 3,000 fine engravings. Is a well-nigh indispensable requisite for every lawyer, teacher and other professional man, as well as every intelligent family. It contains 10,000 words and meanings not found in other dictionaries. It is now believed to be by far the most complete, useful and satisfactory Dictionary of the language ever published… In one volume of 1,840 Royal Quarto Pages, and in various Common and Fine Bindings." (see more). The edition was sold in all major bookstores across the country for a retail price ca. $12.00.
The billhead was issued by A. Roman & Co, California's pioneer bookshop, founded by a respected bookseller, publisher, and entrepreneur Anton Roman (Ca. 1828 - 1903) in the 1850s. "Roman was born in Bavaria around 1828. He immigrated to the United States before 1849, when he went overland to California. His first years in California were spent mining on the Trinity, Klamath, and Siskiyou Rivers, while during the winters he sold books in the northern mining camps. Roman established the Shasta Book Store opposite the El Dorado Hotel in Shasta City, California, around March 12, 1853. Roman departed from Shasta City in 1857 and established a bookstore in San Francisco from which he carried on an extensive trade throughout northern California. He opened a new store, A. Roman & Co, on the west side of Montgomery Street around 1859 and entered the publishing business the following year. By the mid-1860s, Roman was one of the foremost publishers on the West Coast. In 1868, he founded the popular magazine, the Overland Monthly, edited by Bret Harte, but Roman was obliged to sell the publication the following year due to sickness. Roman published his final book in 1886 and retired from the book trade two years later. From 1888 until after the turn of the century, Roman was listed in San Francisco business directories as a real estate agent and loan broker. Anton Roman was killed in a train accident near Tomales, California, on June 21, 1903 (see more).
Overall, an early historically interesting billhead involving the pioneers of the American book industry.
The text of the billhead:
"San Francisco Oct 29th 1867
Mess. G & C Merriam
Bought of A. Roman & Co. Booksellers, Importers & Publishers. 417 & 419 Montgomery St. Between California & Sacramento St. Terms
I Websters Dictionary Imperfect Returned $9.00
Freight fuel 2
$11.00
Sent H. O. Houghton to Cambridge"
Item #MB3
Price: $750.00