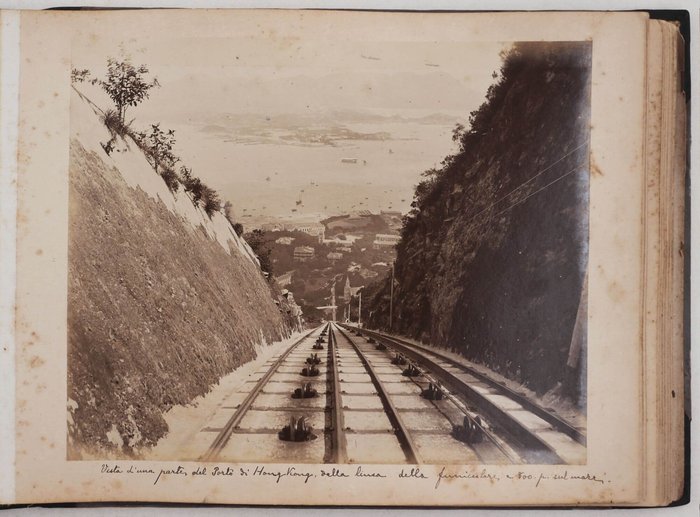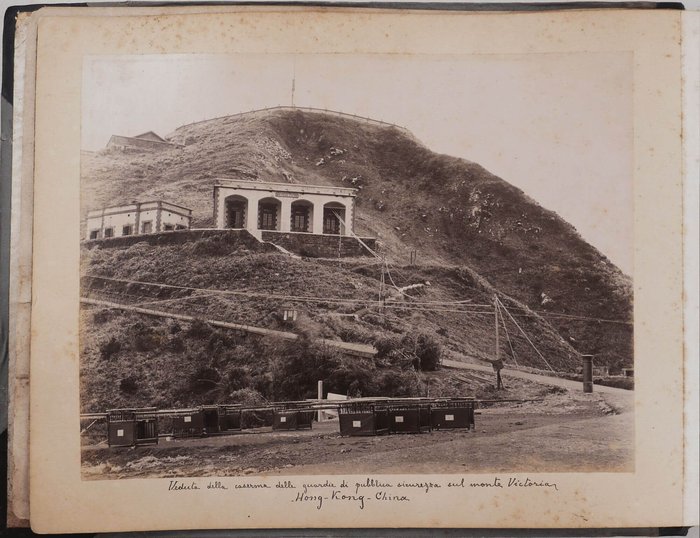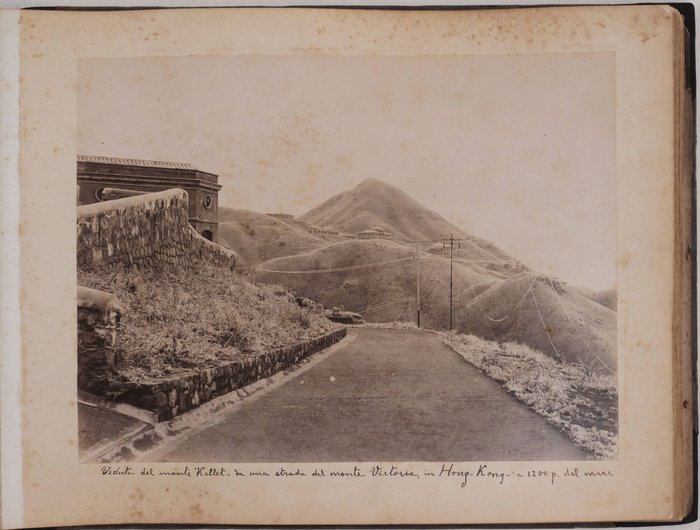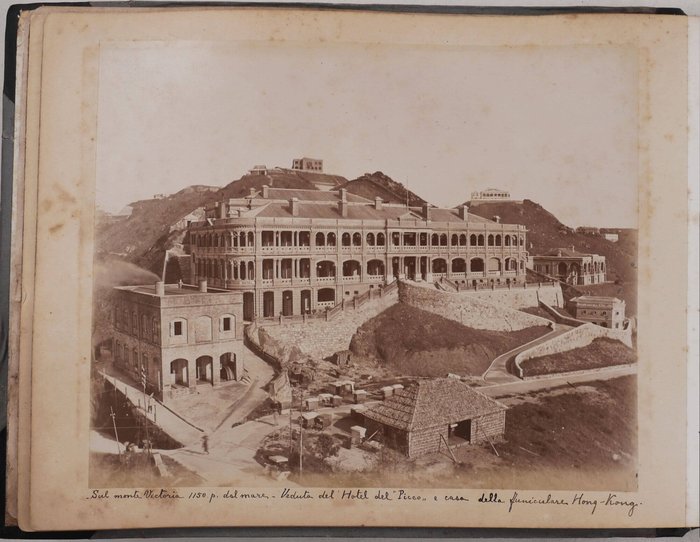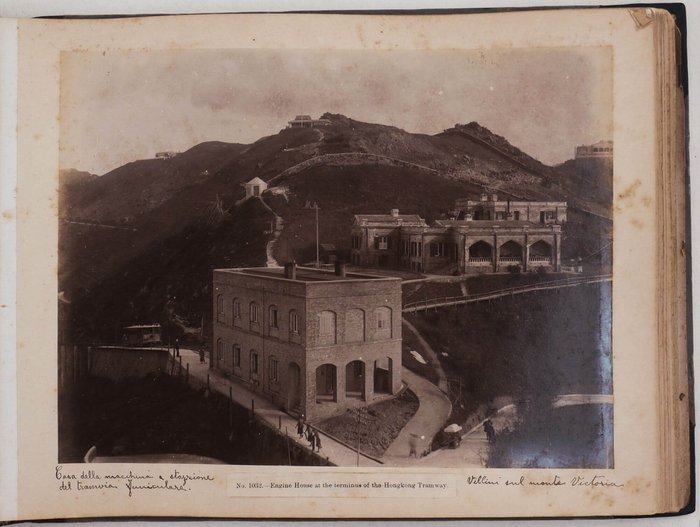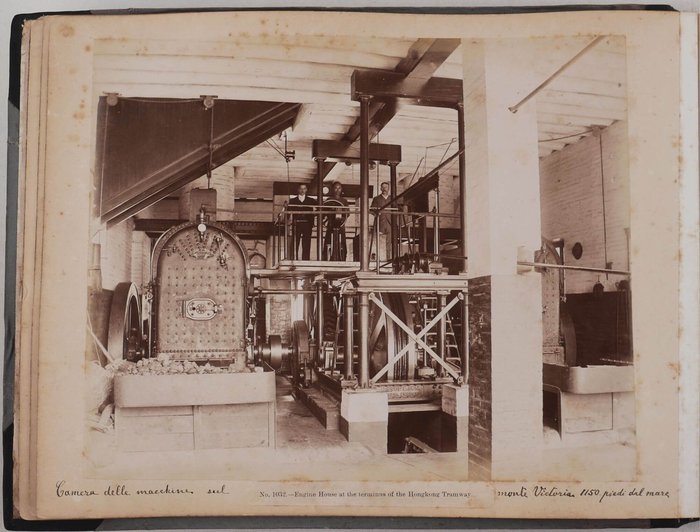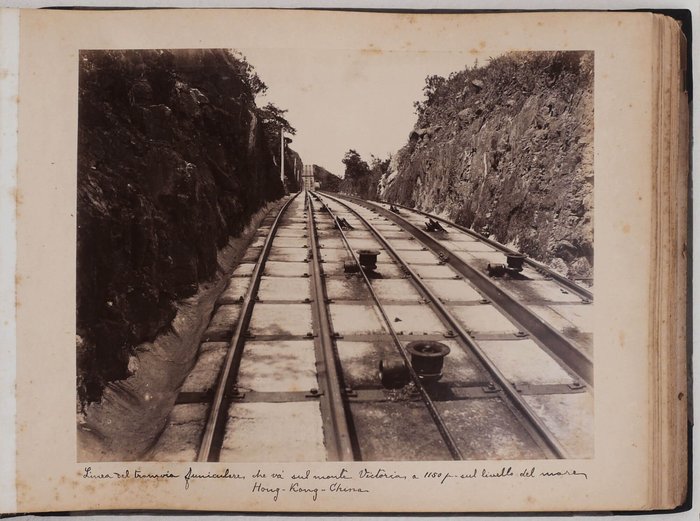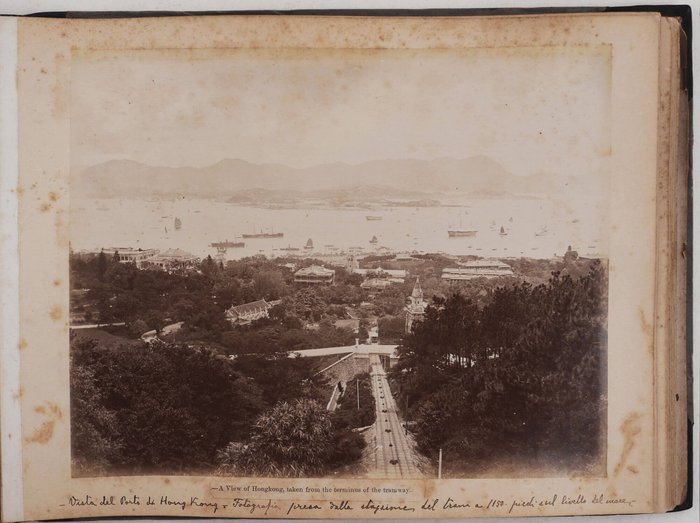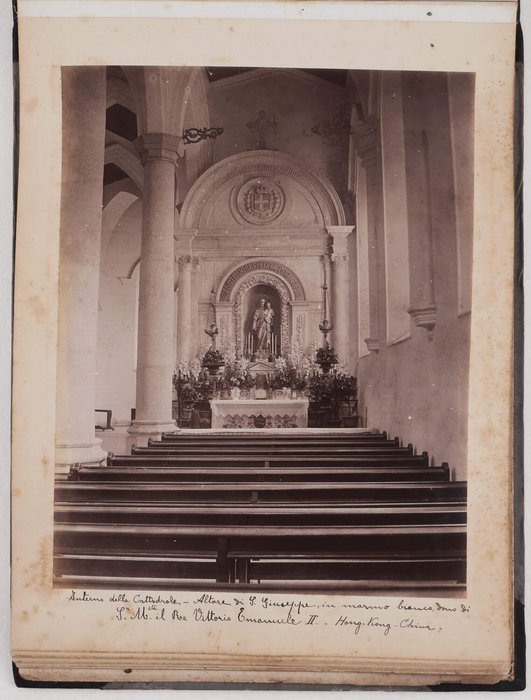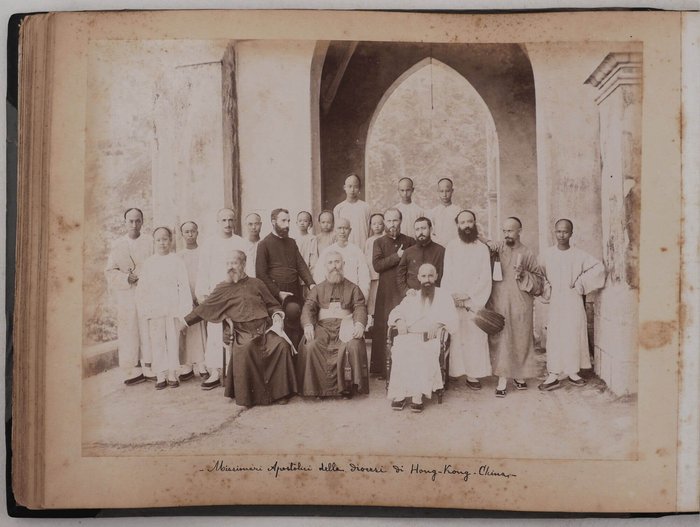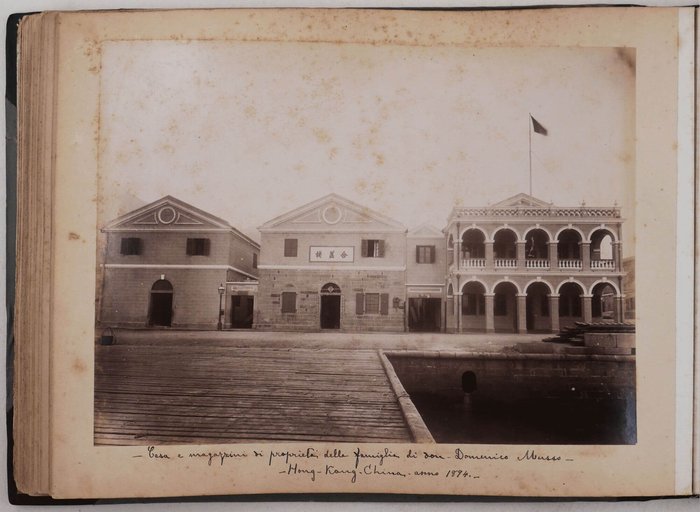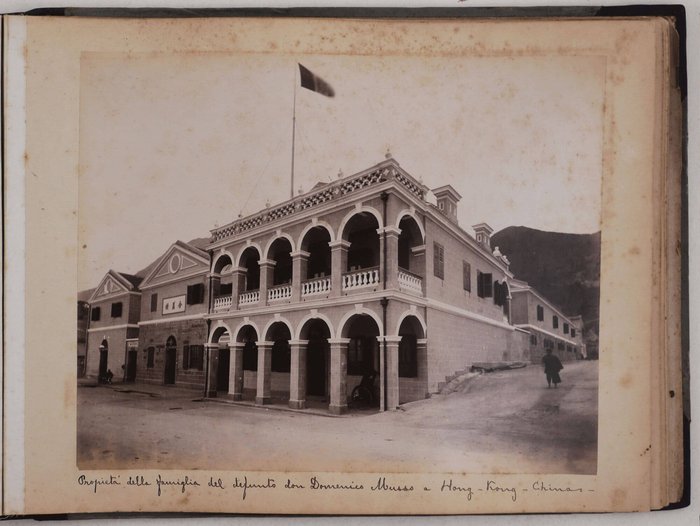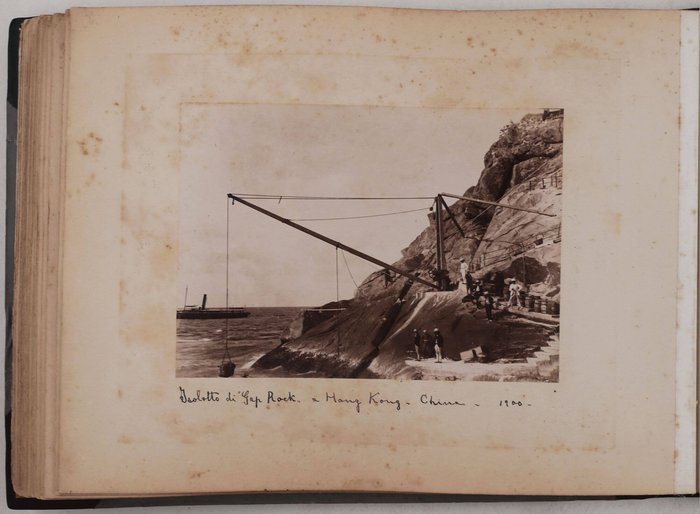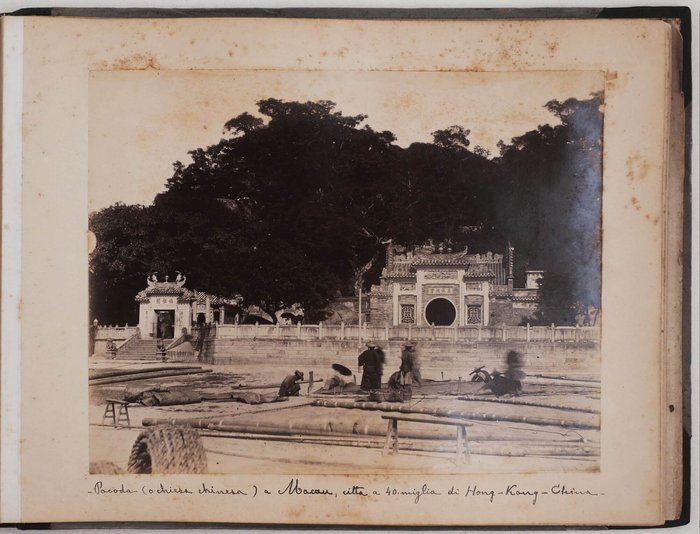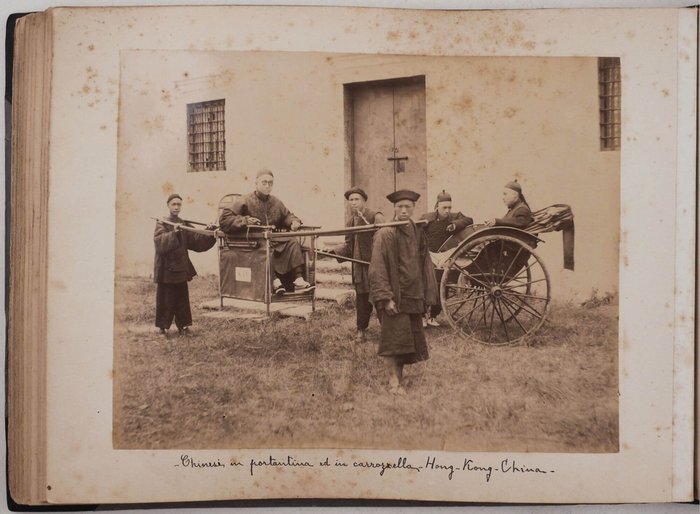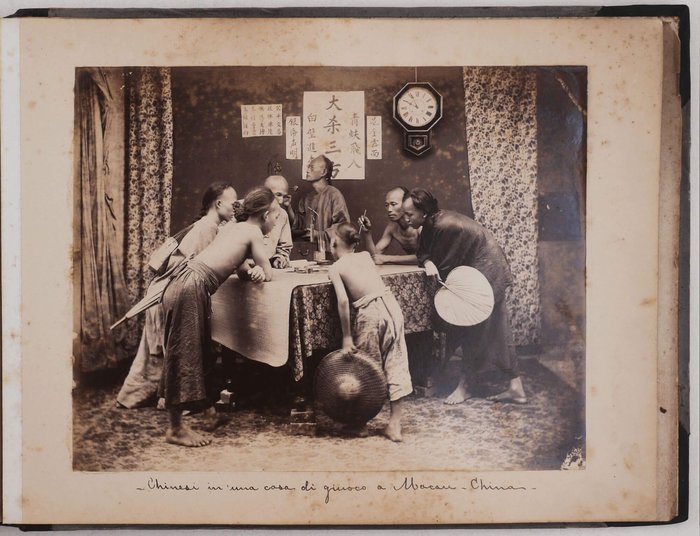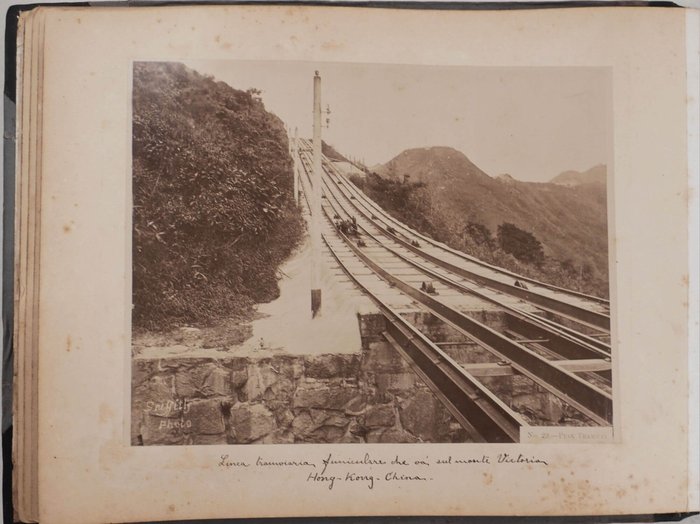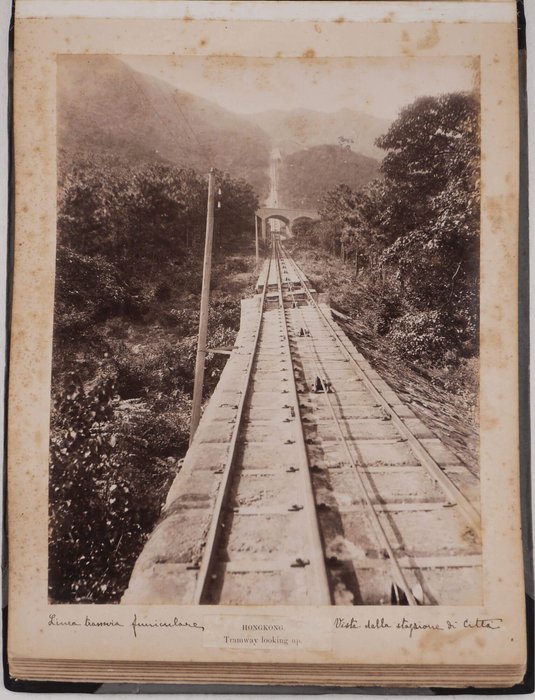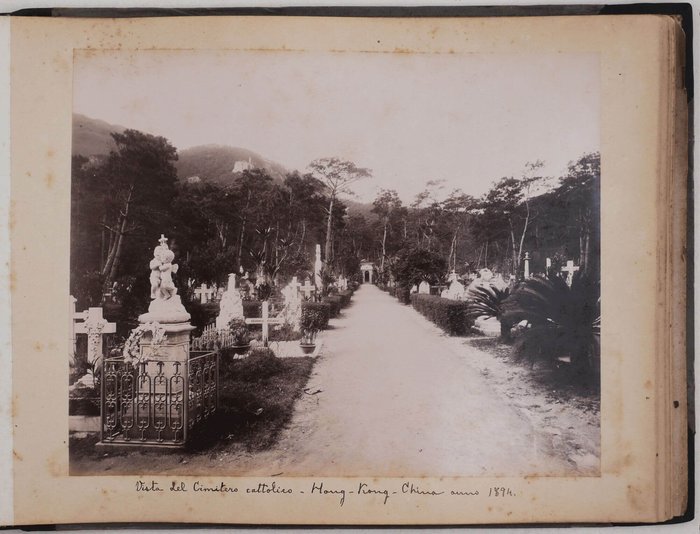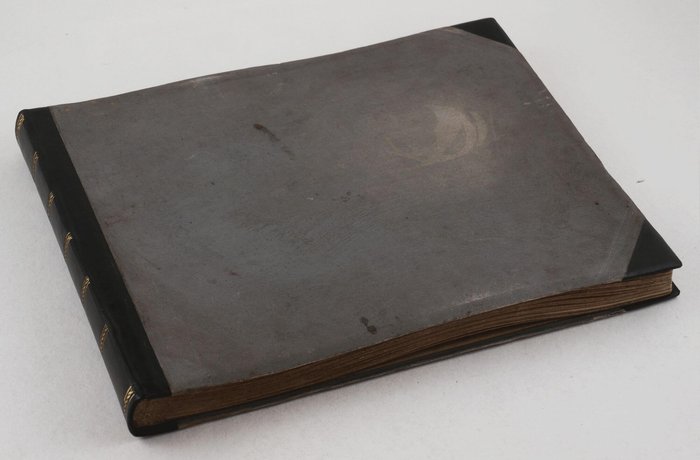 Griffith, David K. (fl. ca. 1880s-1890s), & Others. Album with 42 Original Large Albumen Photographs of Hong Kong and Macao, with Excellent Views of Victoria Peak Summit and Tramway, Mount Austin Hotel, the Peak Hotel, Mount Kellett, "No. 6 Police Station," Interior of the Tramway's Engine House, Douglas Castle, Statue to Queen Victoria, Catholic Cathedral of the Immaculate Conception, Catholic Missionaries in Hong Kong, Warehouses of the Italian Consul Domenico Musso, Gap Rock lighthouse, A-Ma Temple in Macao, Ruins of the Church of St. Paul, a Macao Rickshaw Drivers and Gamblers, &c. Ca. late 1880s – 1890s.
#PB24
Ca. late 1880s – 1890s
Oblong Folio album ca. 27,5x35 cm (10 ¾ x 13 ¾ in). 21 card stock leaves. With 42 mounted large albumen photos, mostly from ca. 23x29 cm (9 x 11 ¼ in) to ca. 20x27,5 cm (8 x 10 ¾ in); three smaller photos are ca. 14x19 cm (5 ½ x 7 ½ in). All photos with period black ink manuscript captions in Italian on the mounts. Eleven photos are with period paper labels with printed captions in English, mounted on the lower margins of the leaves. One photo is captioned, numbered and signed "Griffith Photo" in negative. Period black quarter sheep album with grey cloth boards, neatly rebacked; moire endpapers. Mounts slightly soiled and with occasional minor foxing, a few photos mildly faded, but overall a very good album of rare strong interesting photos
Historically significant collection of large early photos of Hong Kong and Macao, possibly collected by an Italian Catholic missionary or a member of the clergy. All captions in the album are made in Italian, and several photos relate to Hong Kong's Catholic community. Among them are four photos of the interior of the Cathedral of the Immaculate Conception with detailed views of its three altars, a group portrait of Catholic missionaries and their students in Hong Kong, a view of a Catholic cemetery in Hong Kong and two photos of warehouses belonging to "Don Domenico Musso" (a Palermo merchant and the first Italian Consul General in Hong Kong in 1879-1897). Both photos of Domenico Musso's warehouses feature a waving flag of the Kingdom of Italy; one of the photos is dated 1894.
The album also contains seven well-executed, unusual views of the summit and structures on Victoria Peak. The photos show the telegraph tower, Mount Austin Hotel (opened in 1891 near the Peak Tram terminus, 1400 ft above sea level, was damaged during WW2 and later demolished), "No. 6 Police Station" (with a visible sign and several sedan chairs in the foreground), Mount Kellett, the Peak Hotel (opened in 1888 and burned down in 1936), and Engine House at the terminus of the Peak Tramway (exterior and interior of the engine room). Then follow over a dozen excellent views of the Peak Tramway, including general panoramas of the entire funicular railway with the Victoria Peak, and close-up views of its parts featuring trams, views of the Hong Kong harbour, St. John's Anglican Cathedral, Union Church, &c. There are also photos of the Douglas Castle (most likely taken shortly after it was sold to the French Catholic Mission in 1894), a statue of Queen Victoria on the Statue Square (opened in 1896, relocated to Victoria Park in 1952), the waterfront of the Kowloon peninsula as seen from the Hong Kong Island, &c.
Five photos depict the Gap Rock lighthouse, built in 1892 on a tiny island 50 km southwest of Hong Kong (the southwestern extremity of Dangan and Jiapeng Islands). The photos show the light tower and service building from a distance and close-up, as well as the special crane for loading cargo.
Five photos at the rear show Macao: A-Ma Temple with boatsmen in the foreground (built in 1488, apparently became the source of the city's name, was one of the first photographed buildings in Macao), famous ruins of the Church of St. Paul (built in 1637-1649 and destroyed during a typhoon in 1835), Luis de Camoes Grotto with the monument to the poet, and two group portraits of Chinese rickshaw drivers and palanquin carriers, and visitors of a Macao gambling house.
Most photos in the album have do not have an identified photographer, but one view of the Victoria Peak Tramway bears the signature in the negative of David K. Griffith, a student and associate of a noted Chinese photographer Lai Afong (ca. 1838 or 1839 - 1890).
Overall a beautiful collection of large early photos of Hong Kong and Macao, with a connection to its Italian Catholic community.
Item #PB24
Price: $6500.00