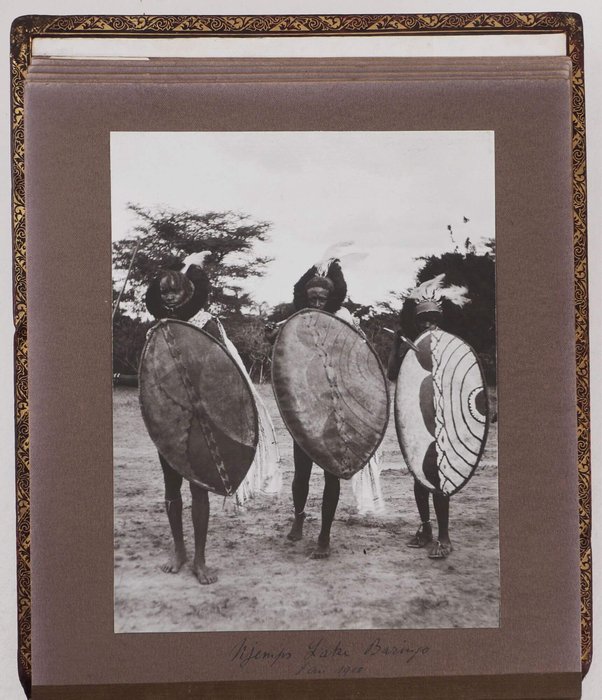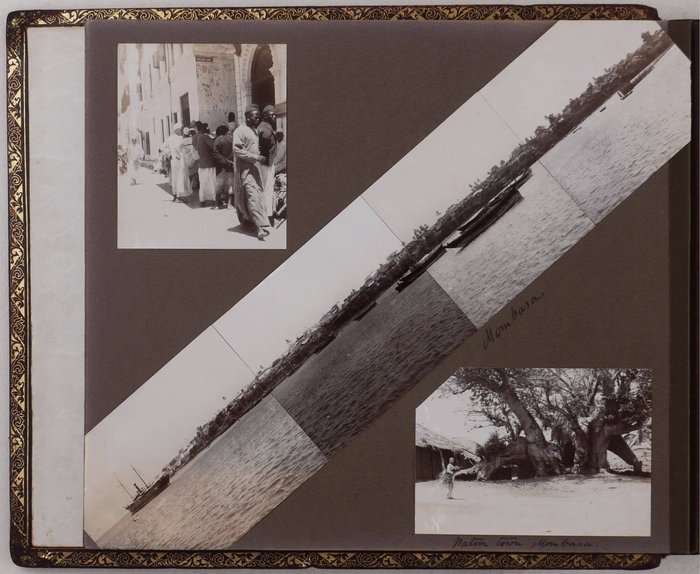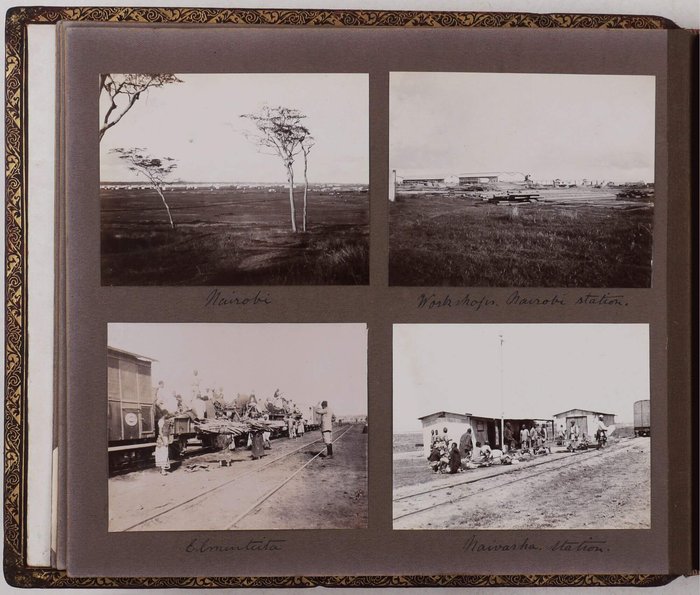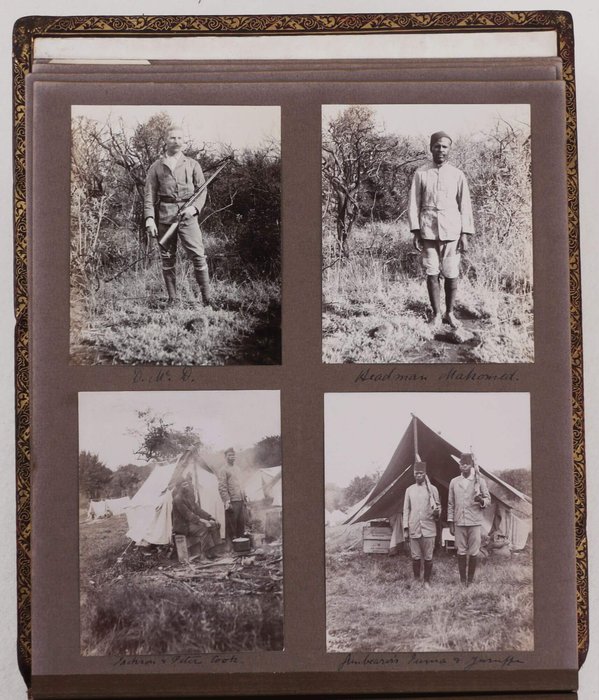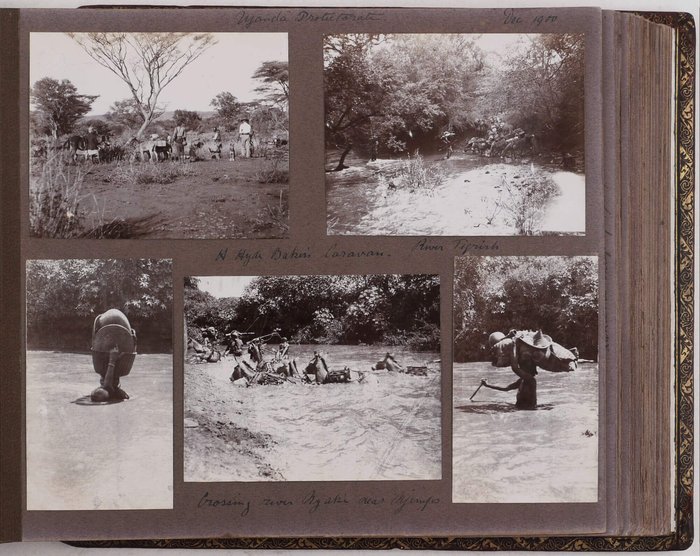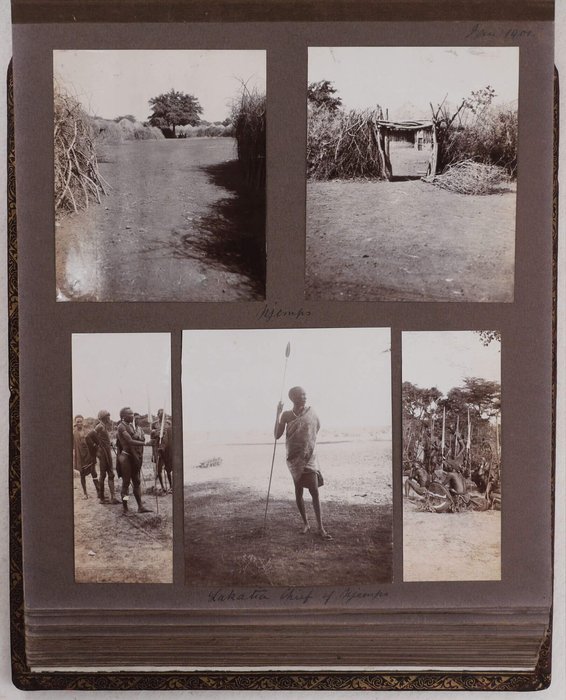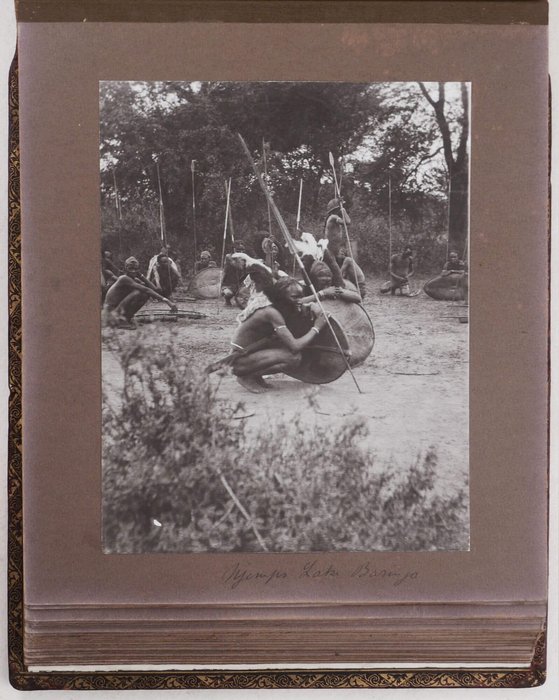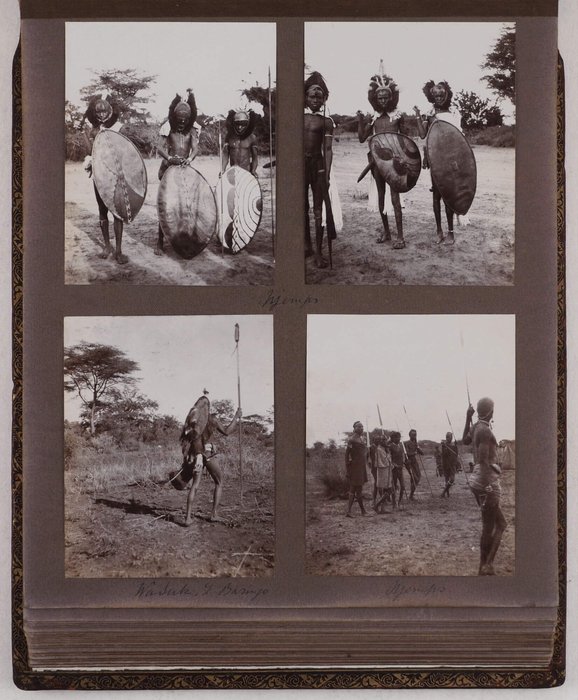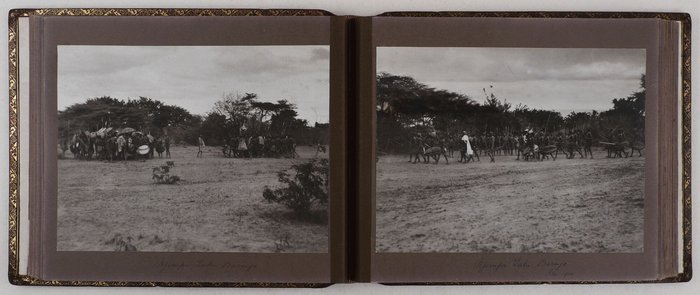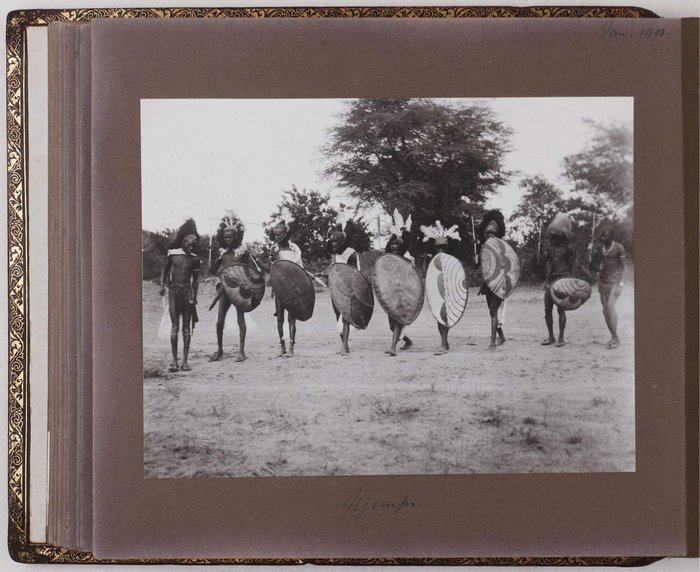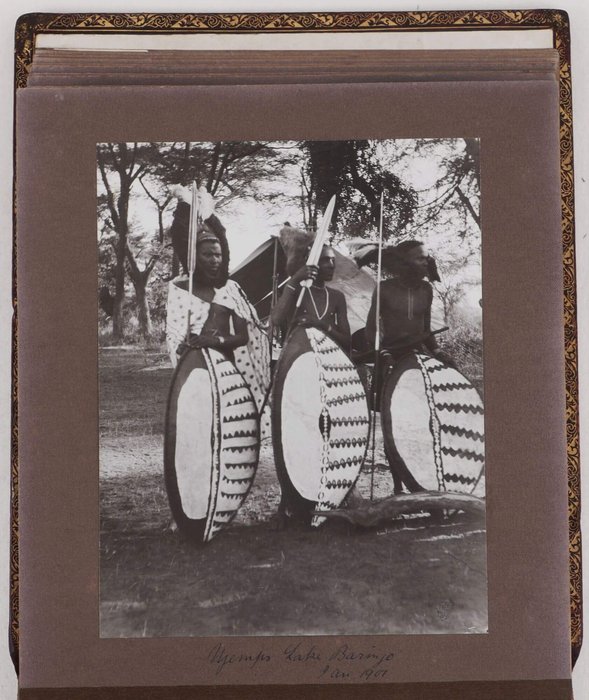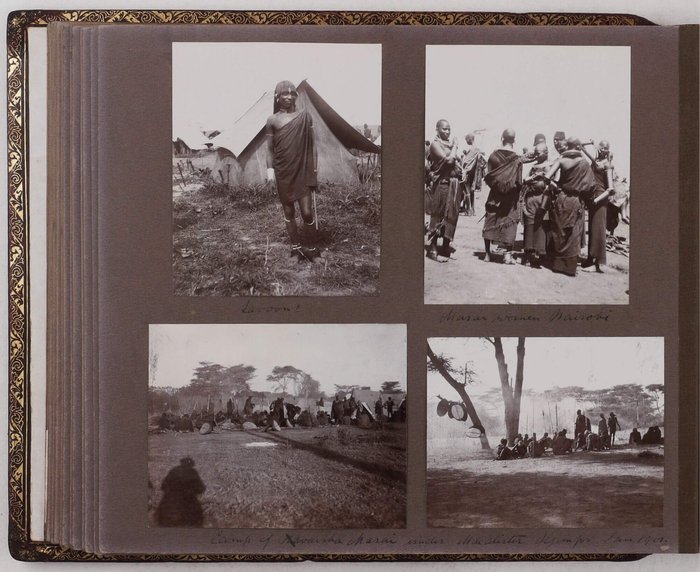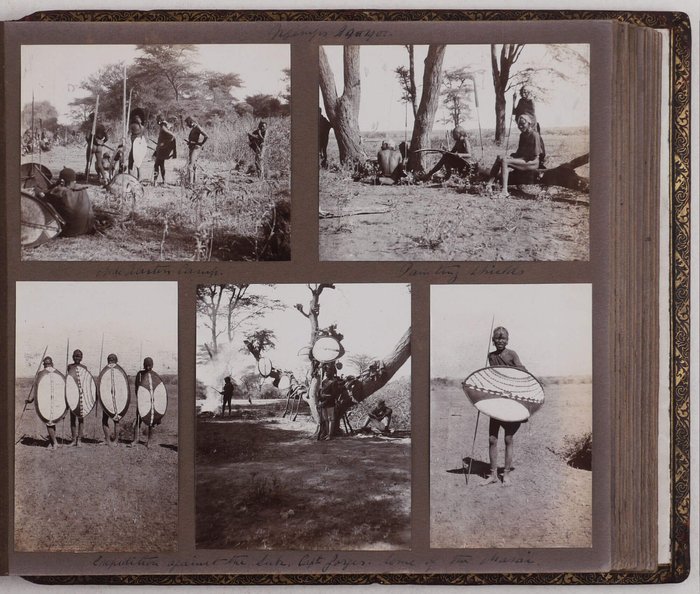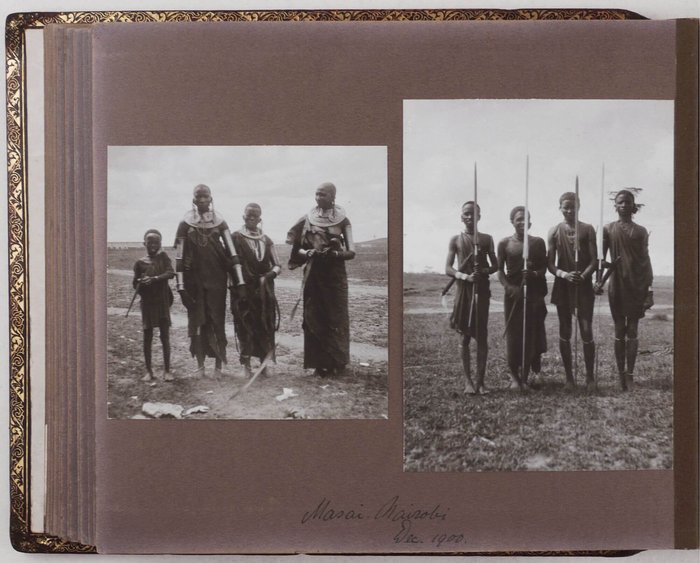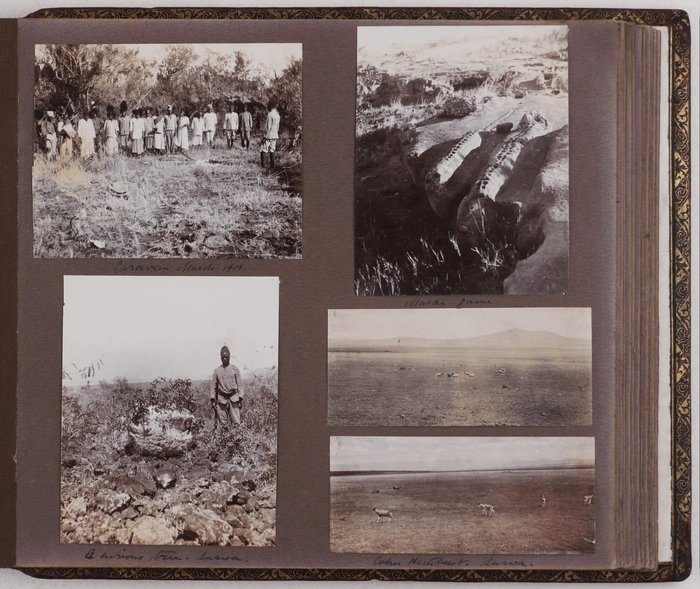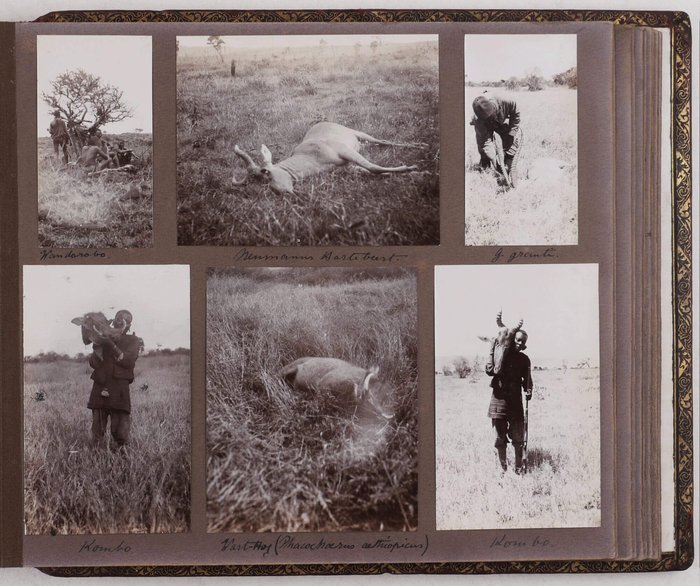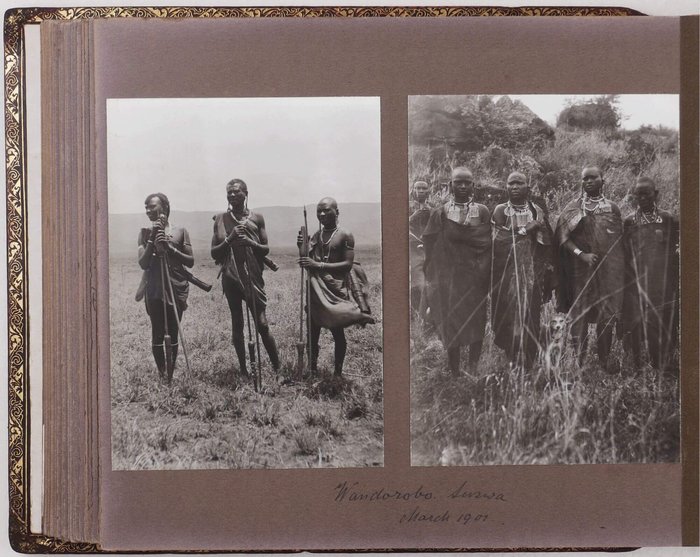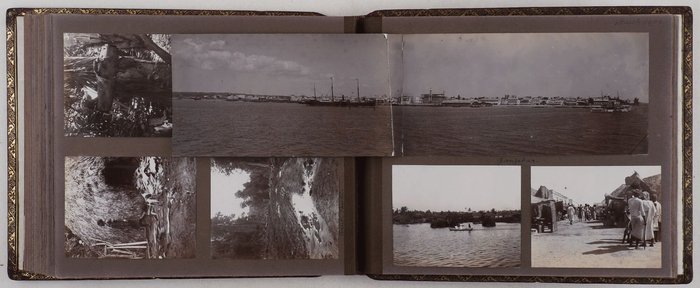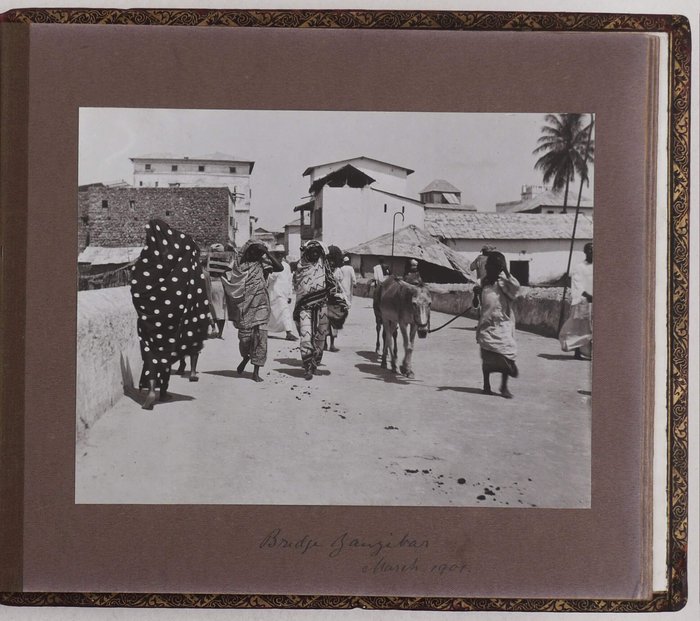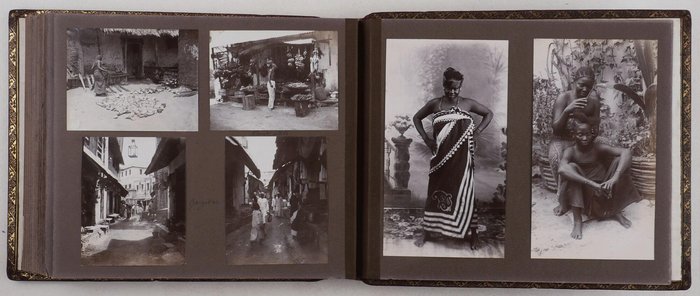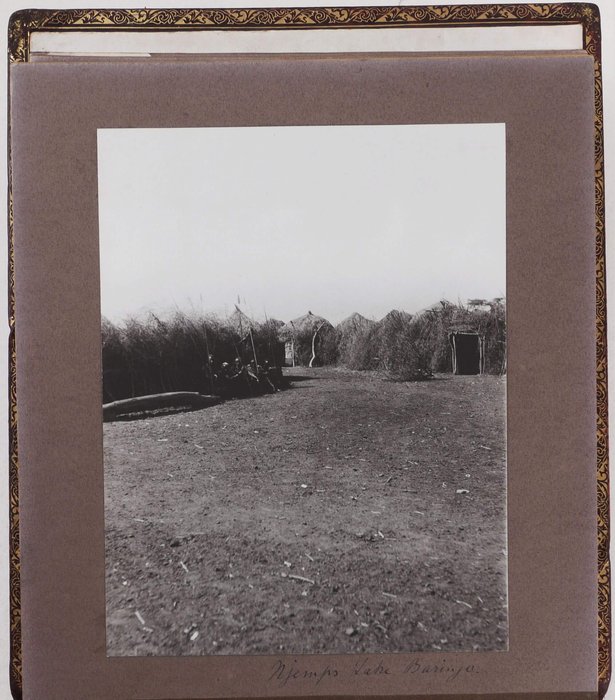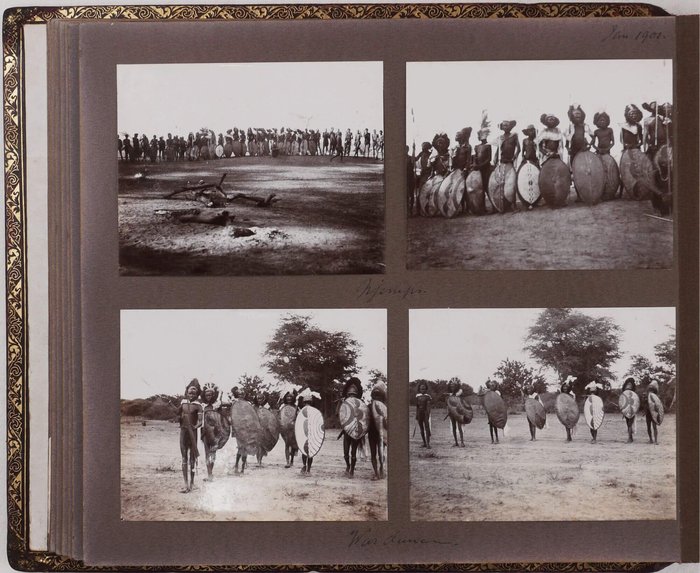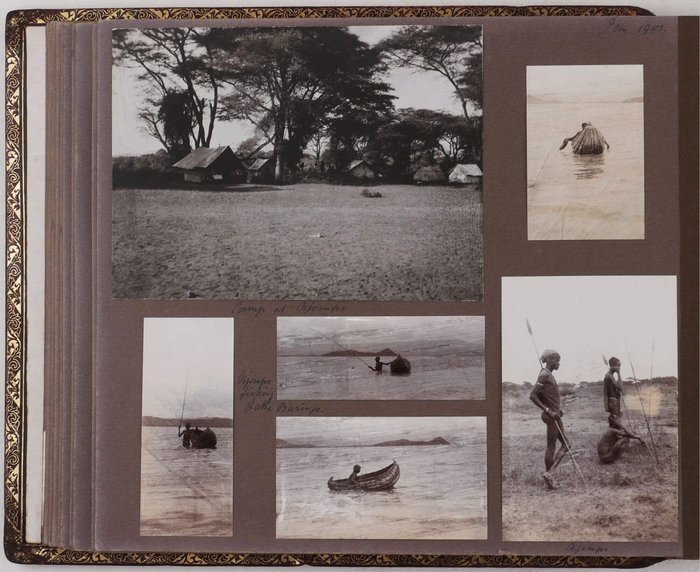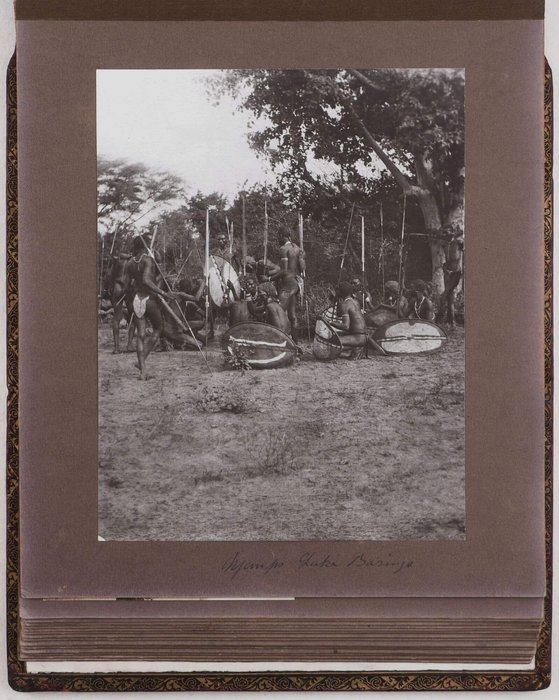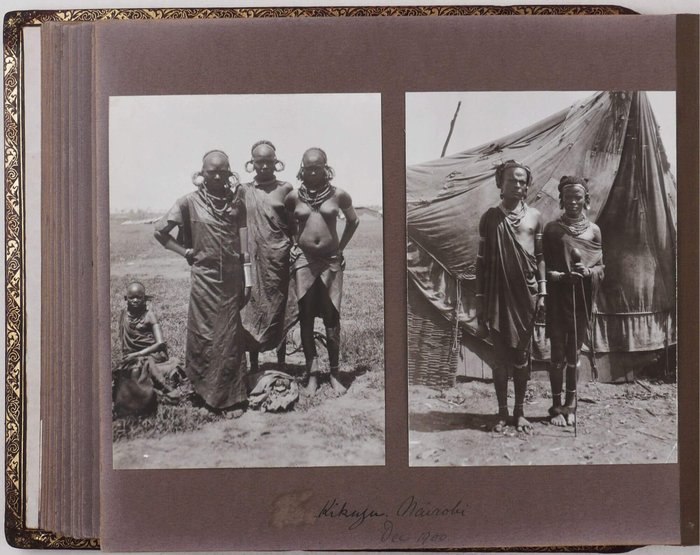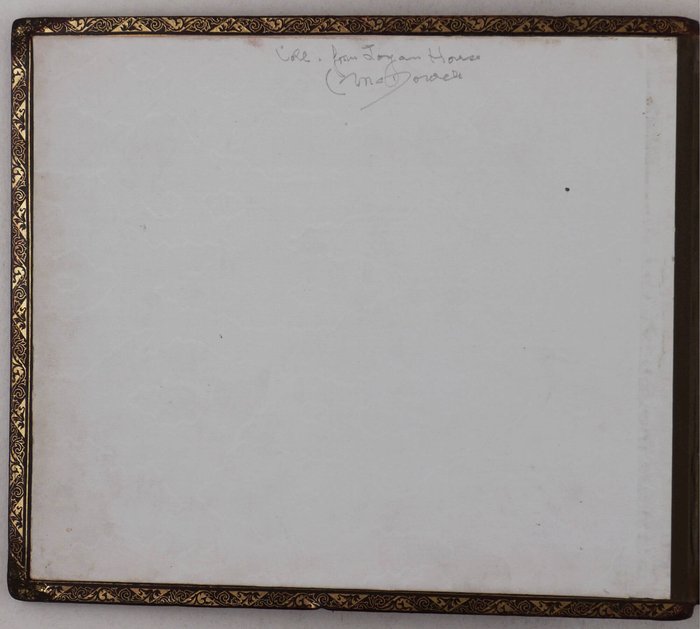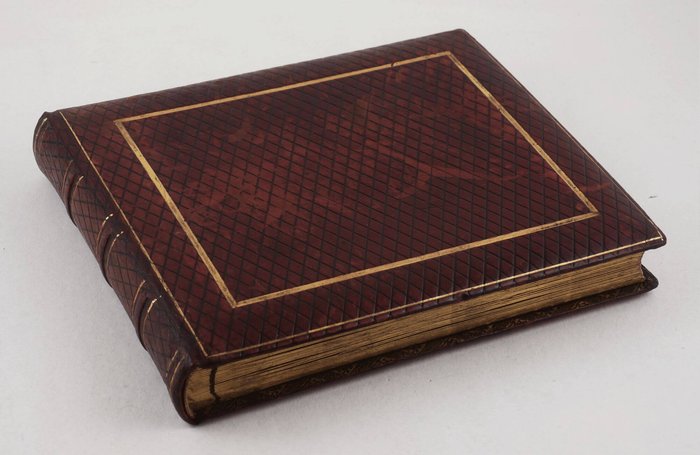 [McDowell/MacDowall, D.?] Album with 153 Original Gelatin Silver Photographs of a Trip to Eastern Kenya, Showing Mombasa, Nairobi, Uganda Railway, Elmenteita and Navaisha Stations, Nyuki and Tigrish Rivers, Lakes Baringo and Nakuru, Njemps (Ilchamus), Masaai, Kikuyu, Wandorobo (Dorobo) People and Their Villages, Camps and Armed Forces of British Punitive Expeditions, Mt. Longonot, River Voi, Taveta Village, Zanzibar, &c. Ca. 1900-1901.
Ca. 1900-1901. Oblong Quarto album ca. 25,5x29,5 cm (10 x 11 ½ in). 26 card stock leaves. With 153 mounted gelatin silver photos, including a four-part panorama ca. 8x34 cm (3 x 13 ½ in) with corners trimmed to fit the mount; a two-part panorama ca. 11x43 cm (4 ¼ x 17 cm); and twelve large images from ca. 20x25,5 cm (7 ¾ x 10 in) to ca. 16,5x21,5 cm (6 ½ x 8 ½ in). The rest of the photos are from ca. 11x20 cm (4 ¼ x 7 ¾ in) to ca. 4,5x9 cm (1 ¾ x 3 ½ in); the majority are ca. 9x11,5 cm (3 ½ x 4 ½ in). Most photos are with period manuscript ink captions on the mounts (some captions relate to two or more images, some are also dated from November 1900 to March 1901). The two-part panorama with a period ink stamp "Countinho Brothers, Photographers, Main Road, Zanzibar" on verso. Period maroon full diced morocco; spine with raised bands; both boards and spine with gilt-tooled decorative borders; moire endpapers; all edges gilt. 20th-century pencil note on the front pastedown endpaper "Coll. from Logan House, McDowell." Binding expertly repaired on corners and extremities, some mild rubbing of covers, a couple of photos very mildly faded, but overall a very good album of rare strong interesting photos.
Historically significant extensive collection of vernacular gelatin silver photos, illustrating a trip to the lesser-travelled areas of modern-day eastern Kenya, between Nairobi and Lake Baringo, in 1900-1901.
According to the photographs, the compiler started in Mombasa, took the Uganda Railway to Nairobi and further north to Naivasha and Elmenteita Lakes and then, following the course of rivers Nyuki (Lewa) and Tigrish, reached Lake Baringo. He also travelled in the Dogilani Plain between Mount Longonot and Suswa, and finished near River Voi and Taveta village in southern Kenya.
The album opens with over a dozen views of Mombasa, including a four-part panorama of the city harbour. The other photos show the "old fort," "native town," a well, streets (one with a sign of "D. Leo, Photographer") and thatched-roof houses. Several photos of the Uganda Railway show "workshops, Nairobi Station," stations in Elmenteita and Naivasha, and railway tracks. Several images portray the travelling party - "Askaris," "Headman Mahomed," cooks, gunbearers and apparently the album's compiler, named "D. McD."
Over ninety photos were taken during the travel in modern-day eastern Kenya between Nairobi and Lake Baringo (then the territories of Uganda and East Africa Protectorates) and include a series of excellent portraits and scenes taken in the village of Njemps (Ilchamus) people on the southern end of Lake Baringo. The photos show "Lakatia, chief of Njemps," warriors in ceremonial clothes, with spears and shields, war dance performance, warriors "painting shields," locals fishing and "watering cattle" in Lake Baringo, native houses, the traveller's camp, "Masai war dance, Lake Baringo," &c. Several photos refer to British punitive expeditions, acting in the area at the time, and depict "Lt. Hyde Baker's Caravan" [Harold Hyde-Baker, a nephew of African explorer Sir Samuel Baker, then commander of the Ribo post]; "Camp of Navaisha Masai under MacAllister," "MacAllister Camp" and "Expedition against the Suk. Capt. Gorges. Some of the Masai" [Edmond Howard Gorges (1868-1949), colonial administrator].
Other interesting photos include portraits of the Masaai and Kikuyu people taken in Nairobi, "Wandorobo" (Dorobo) people near Mt. Suswa, "Wandorobo making fire," a scene of "Masai game," views of Lake Nakuru, "Mt. Longonot from Mt. Suswa," the compiler's camp on the Dogilani plain, and over twenty views of hunted animals. There are also photos of River Voi, "the road to Taveta," "Taveta village," "Ndara Hills near Voi," "Taveta beehive," &c.
The album finishes with over a dozen photos of Zanzibar. A two-part panorama by the Coutinho brothers shows the Stone Town's waterfront and harbour from the sea, featuring the House of Wonders and St. Joseph's Cathedral. The smaller photos show the city streets, native settlement, locals crossing a "bridge" (most likely, Darajani Bridge), a "shark market," a "fruit stall," passers-by, coconuts drying in the sun, &c. Overall an interesting extensive collection of early original photos of people, settlements and sites in eastern Kenya.
The compiler most likely belonged to the notable Scottish Clan MacDowall, as the pencil note on the album's front pastedown endpaper refers to a "collection from Logan House," which was one of the clan's castles, located in the Rhins of Galloway, Wigtownshire, southern Scotland. The castle was sold to banker Olaf Hambro in 1949, and this possibly initiated the sale of its library and collections.
Item #PC30
Price: $6500.00