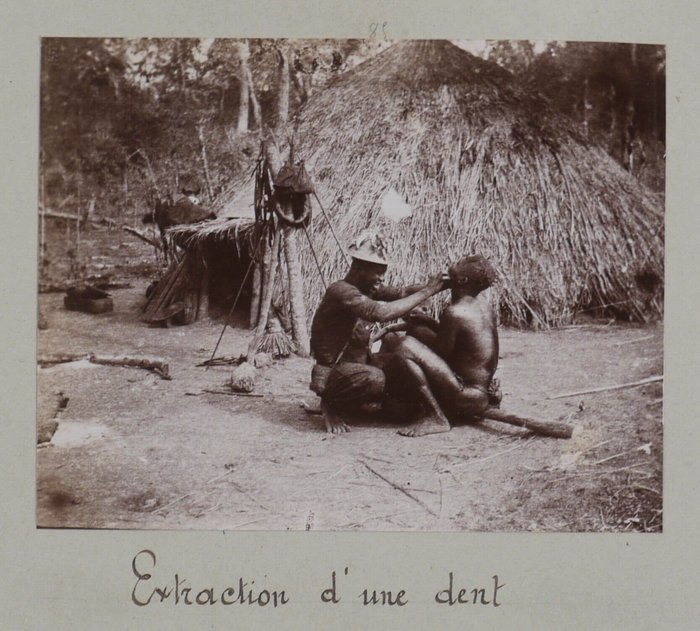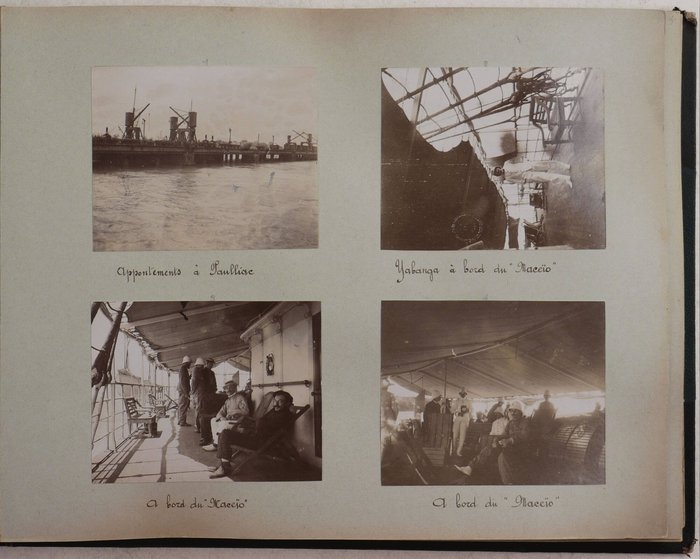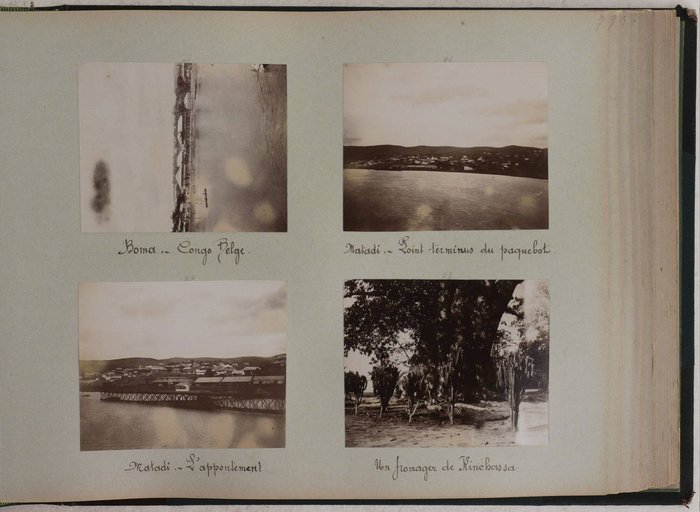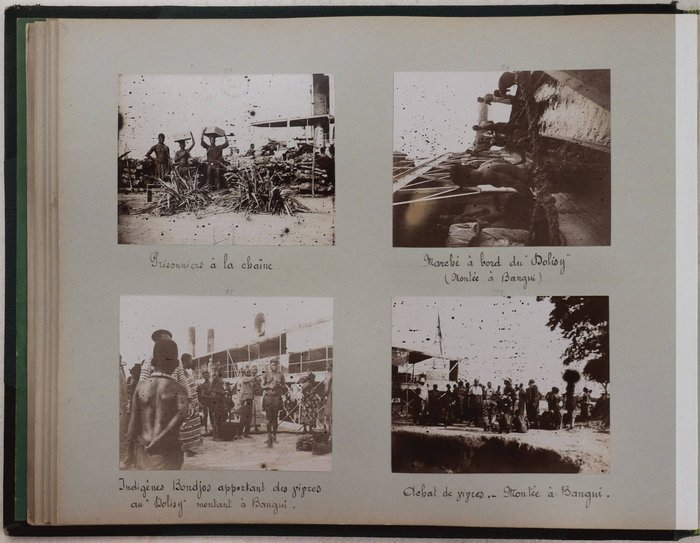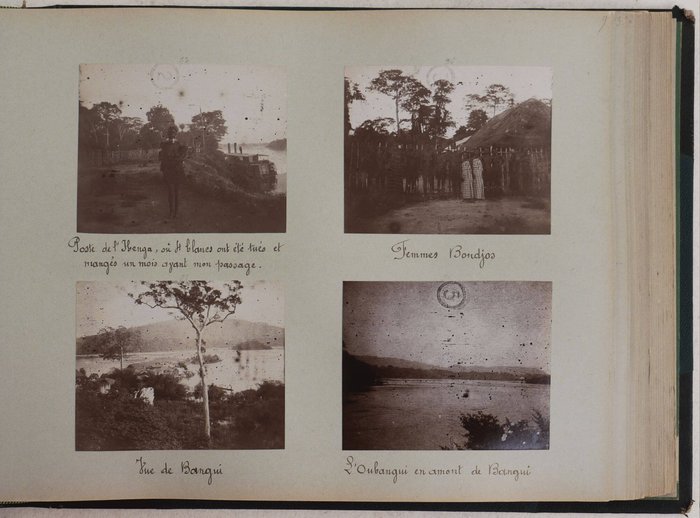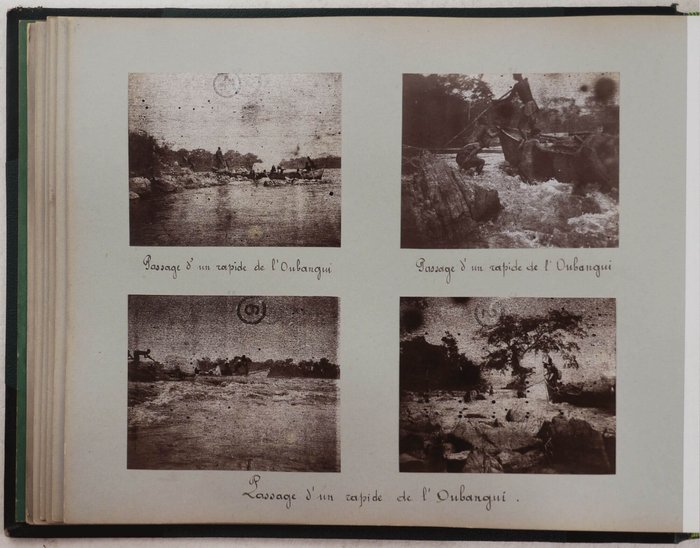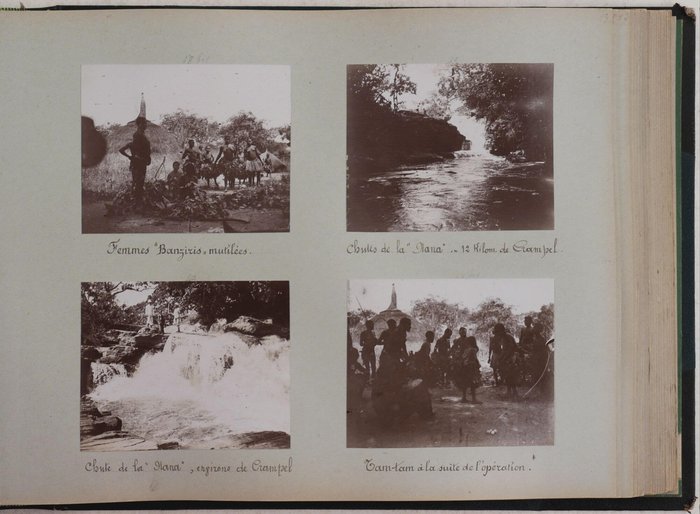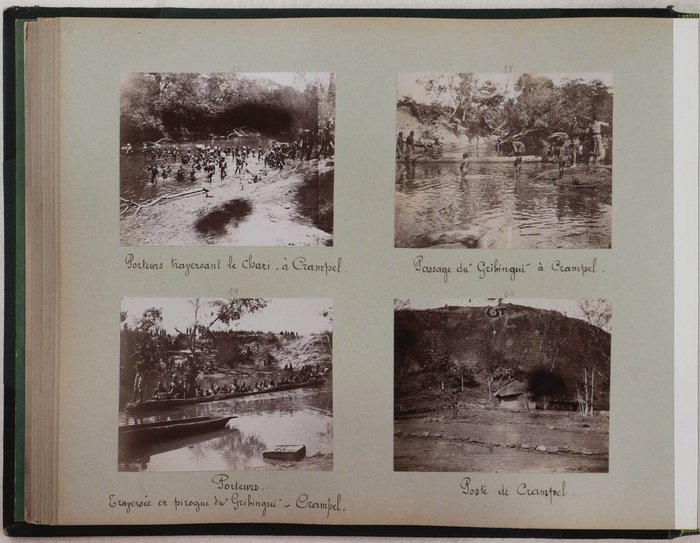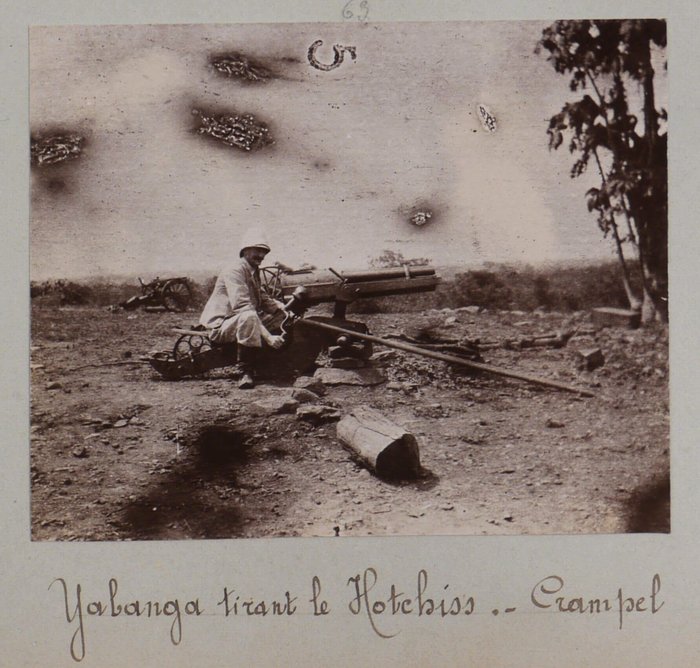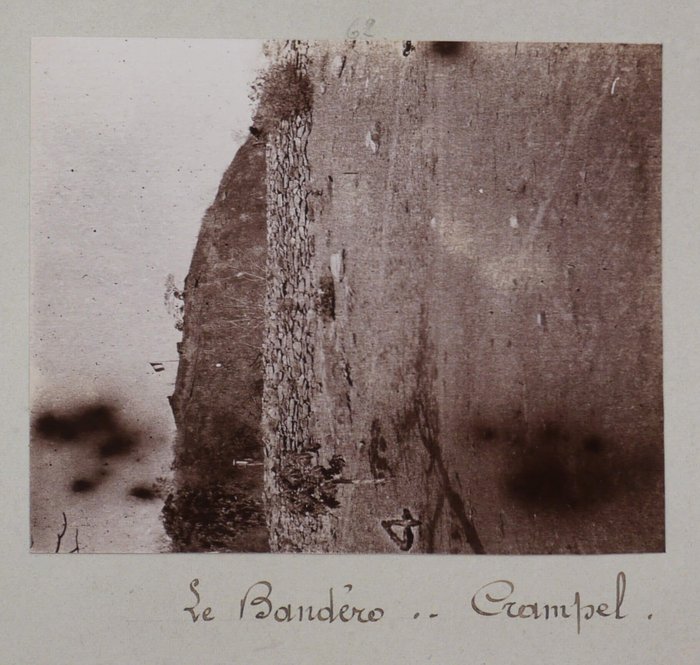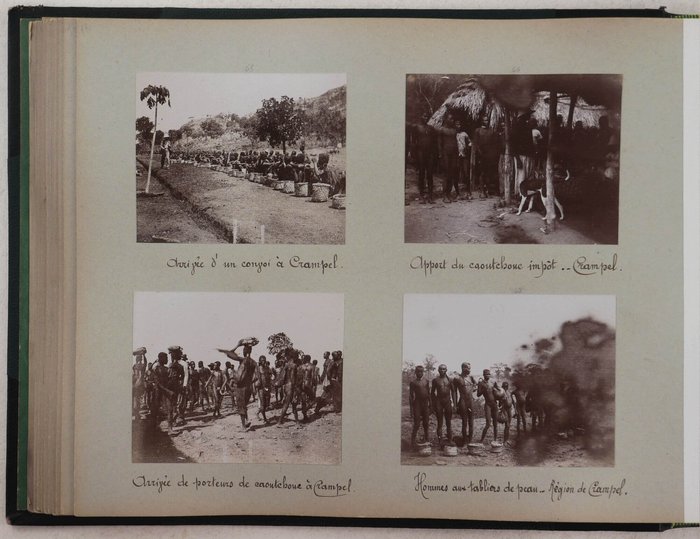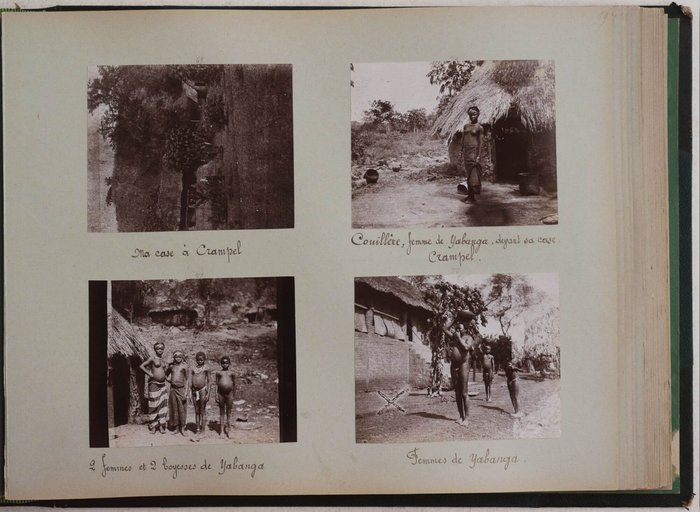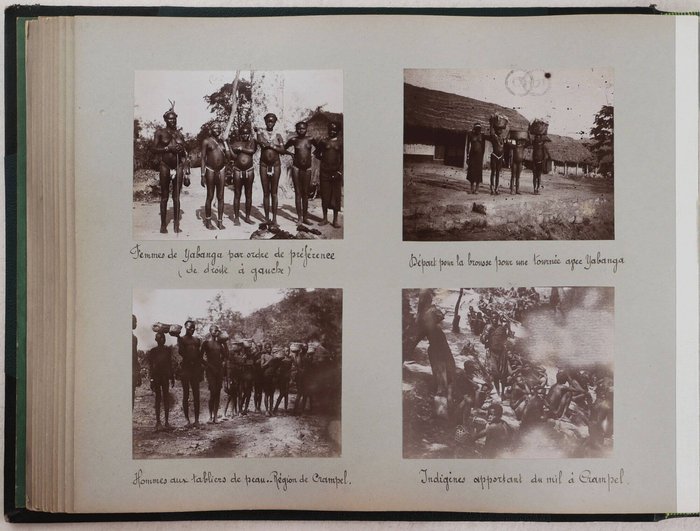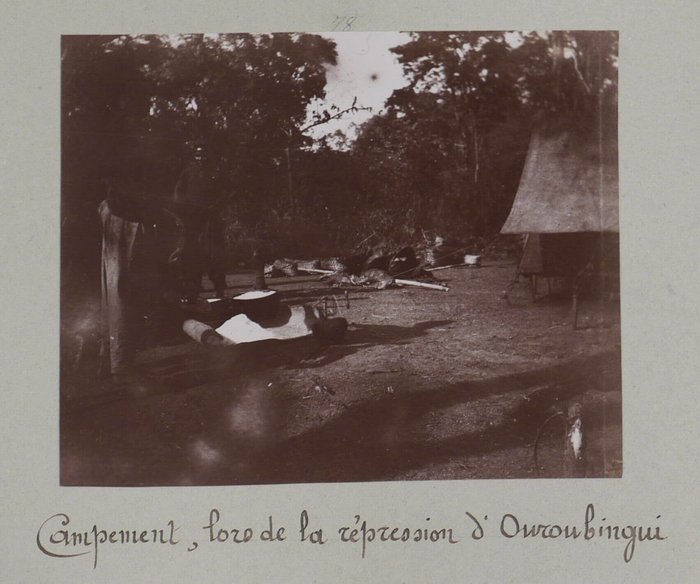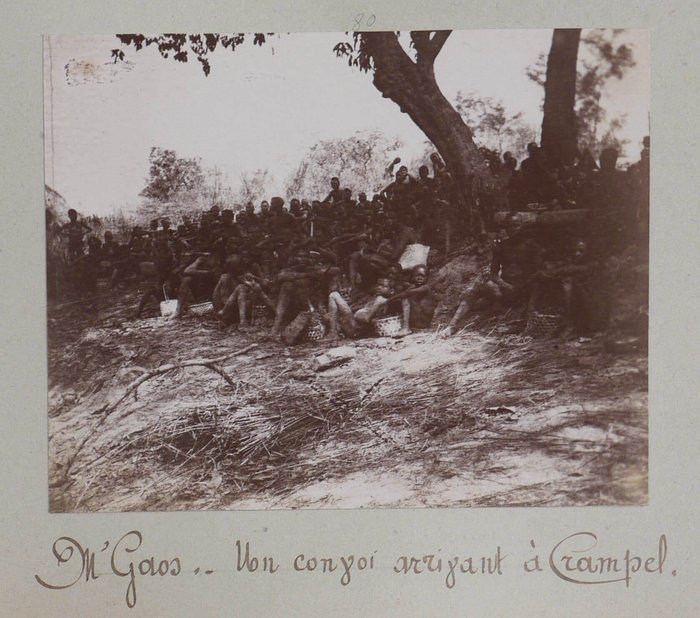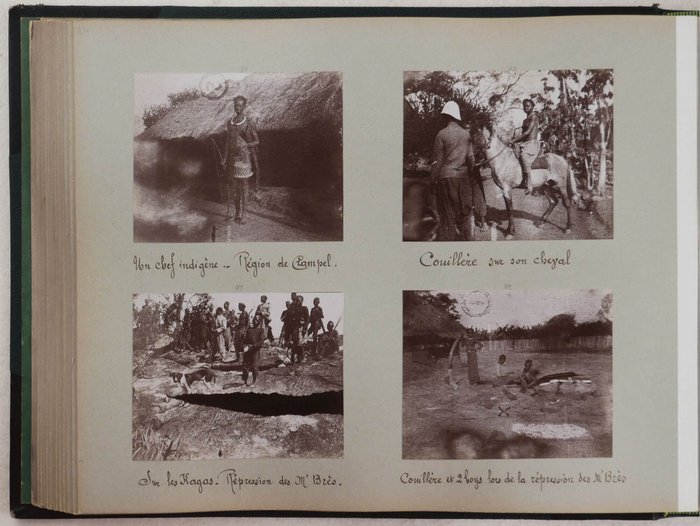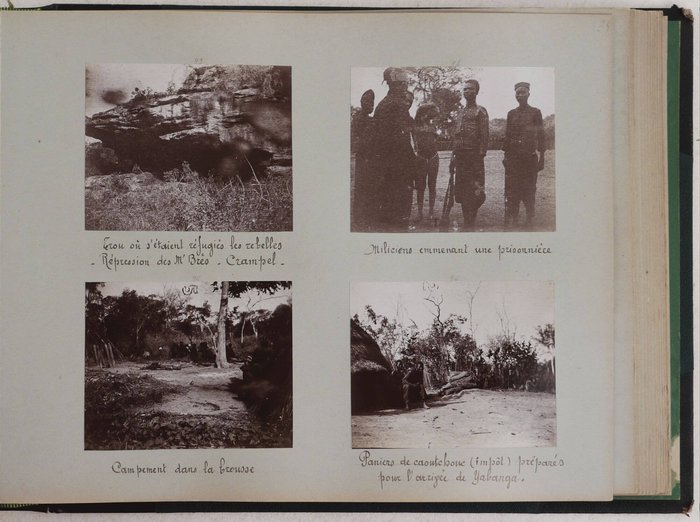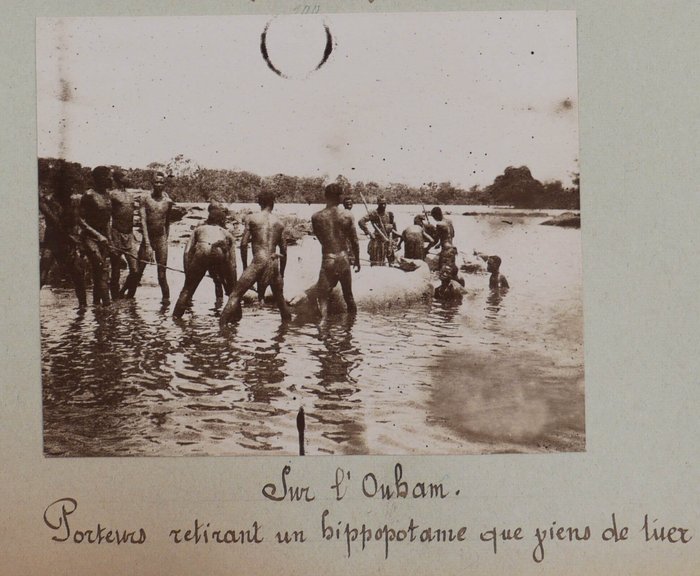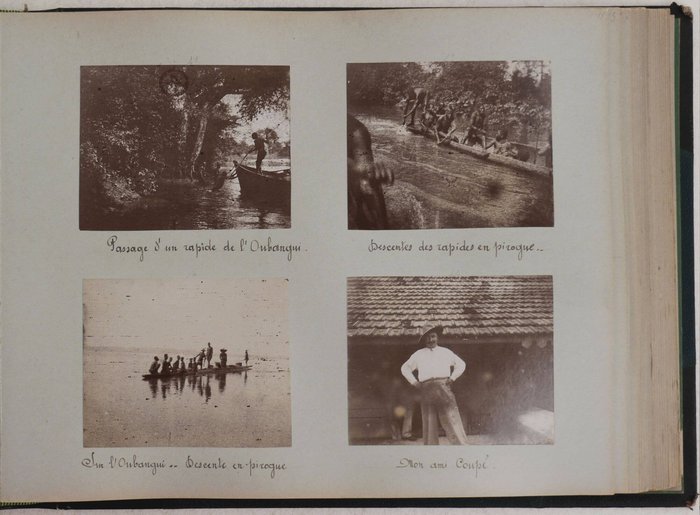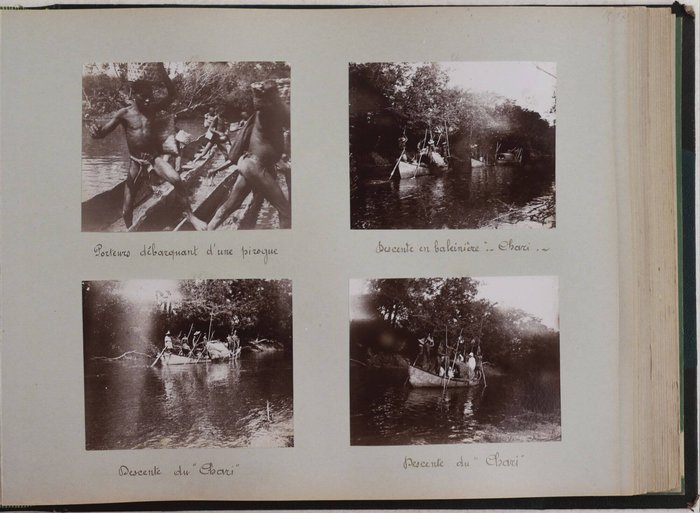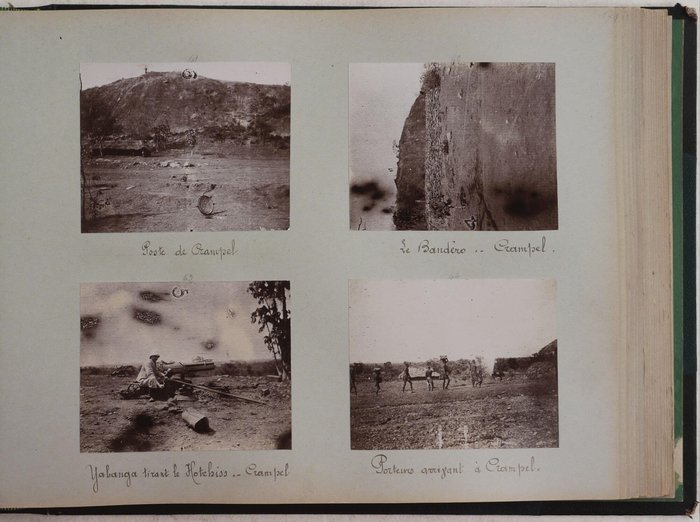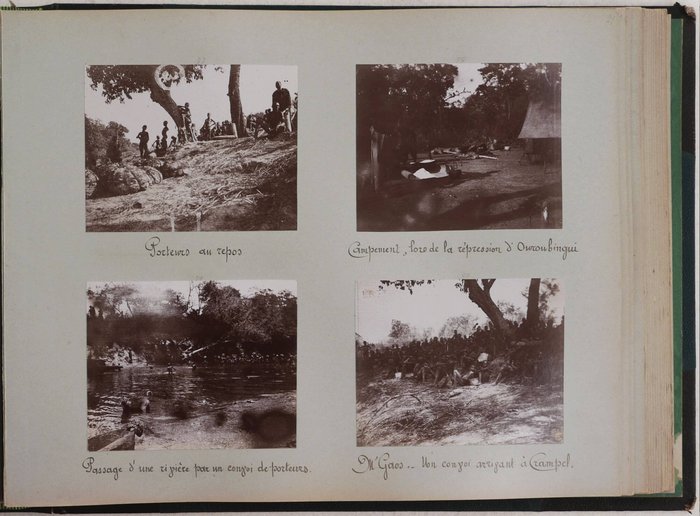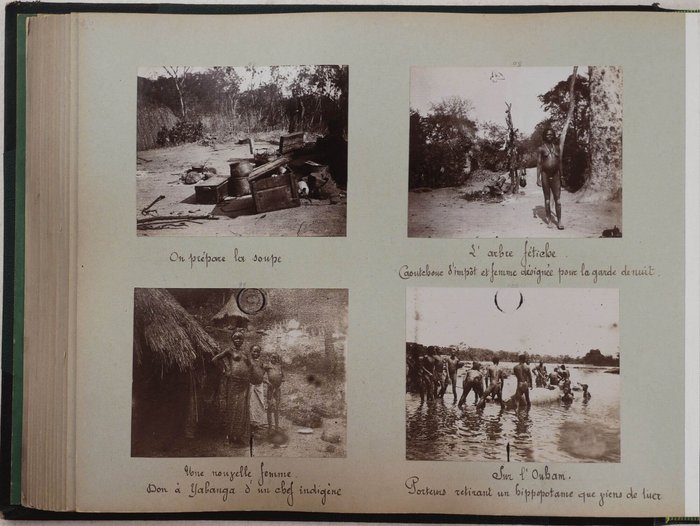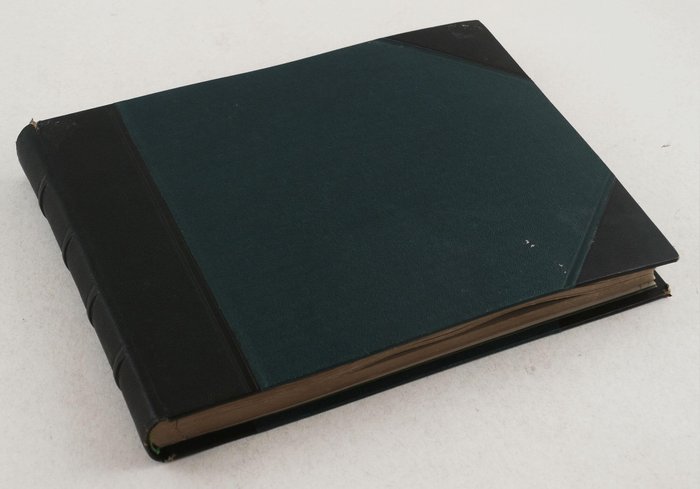 Album with 106 Original Gelatin Silver Photographs, Documenting an Early Travel up the Congo and Ubangi Rivers to Fort Crampel in French Congo (now Kaga-Bandoro, Central African Republic) and Showing Boma, Matadi, Bangui, Ibenga Village, Ubangi, Nana and Chari Rivers, Fort Crampel, French Fortifications, a Hotchkiss Gun, Bush Camps during the Suppression of Local Tribes, Village Scenes, Portraits of Bondjo (Ekonda), M'Bres, M'Gaos and Ouham People, Members of Native Militia, a Doctor Pulling a Teeth, a Local Chief, &c. Ca. 1900s-1910s.
Oblong Folio album ca. 24,5x31,5 cm (9 ½ x 12 ¼ in). 25 card stock leaves (11 blank). With 106 mounted gelatin silver photos, all ca. 8x9,5 cm (3 x 3 ¾ in). All photos with period brown ink manuscript captions in French on the mounts; several images are numbered in negative. Period black half sheep with green pebbled cloth boards; moire endpapers. Corners mildly bumped, mounts slightly waved, a few photos mildly faded, but overall a very good album of rare interesting strong photos.
Historically significant rare collection of early original photos of Fort Crampel and environs - modern-day Kaga-Bandoro, the capital of Nana-Grebizi prefecture in northern Central African Republic. The fort was founded by a French colonial administrator Emile Gentil in 1897 and became a major point on the supply route from Brazzaville to Fort Lamy (N'Djamena, Chad). In 1903, it became the site of Fort Crampel Affair, when two "French colonial officials executed a deserter by dynamite on 14 July 1903 to celebrate Bastille Day and warn the locals not to rebel against the colonial government" (Wikipedia). Both officials were tried and received jail sentences. Since 2012, Kaga-Bandoro was under the control of rebel forces in the course of the civil war in the Central African Republic.
Evidently compiled by a French colonial official or military officer, the album opens with twenty-four photos of a voyage of French colonial administrators (including the album's compiler) from Pauillac, France to the mouth of the Congo River. The images include views taken on board the steamship "Maceo," ports, roadsteads or streets of Pauillac, Tenerife, Dakar, Grand-Bassam (Côte d'Ivoire), Cotonou (Benin) and Libreville (Gabon). There are also eight views of the Belgian Congo (Democratic Republic of Congo), showing the ports of Boma and Matadi, the river steamer "Dolisy" which the French party took to go up the Congo and Ubangi Rivers to Bangui. The photos also portray native prisoners in chains and native passengers of "Dolisy." About twenty-eight images document the party's trip to Fort Crampel along the Ubangi River, then by land and down "Chari" (most likely, Nana Barya or Gribingui) River. Interesting photos show the steamer docked near the "Post of Ibenga where 4 whites were killed and eaten one month before my passage" (in translation), Bondjo (Ekonda) women, Bangui village, travellers going through the Ubangi River rapids, "My friend Coupé" (in translation), Nana post and its inhabitants, Nana River (waterfalls, rapids, a native bridge), "Chari" River (porters and French travellers in pirogues), &c.
The rest of the photos (over forty) show Fort Crampel and its environs, as well as neighbouring regions of French Congo. Interesting images include views of Fort Crampel structures and fortifications with the waving French flag, a French officer posing next to a Hotchkiss gun, "my house in Crampel," a "camp during the suppression of Ouroubingui," other bush camps, an outdoor camp kitchen with soup being prepared on the rock stove, racks with drying corn, &c. There are also scenes with native porters bringing buskets of "rubber tax," "arrival of a convoy," portraits of local women and children, native people at M'Gaos, women from the Ouham region, a scene of tooth extraction by a native doctor, a local chief, native militia during the "suppression of M'Bres," a cave refuge of M'Bres rebels, porters pulling a killed hippopotamus out of a river in the Ouham region, &c. Overall a rare, historically significant original visual source on the early history of French colonial rule in Central Africa.
Item #PC28
Price: $5250.00