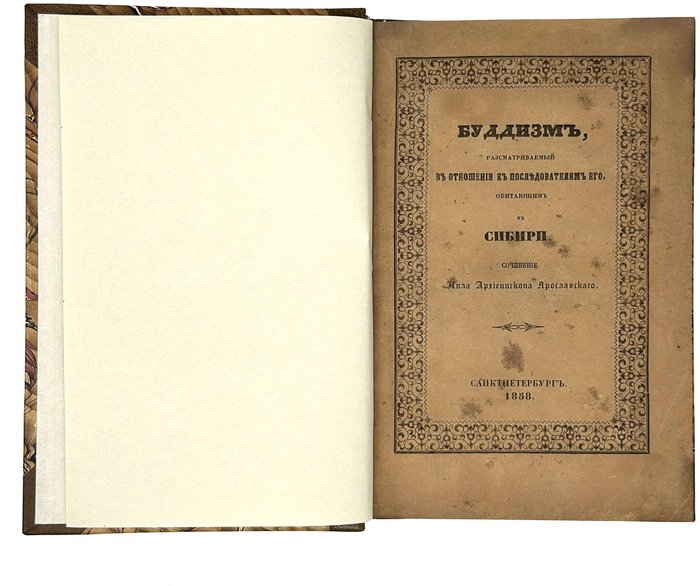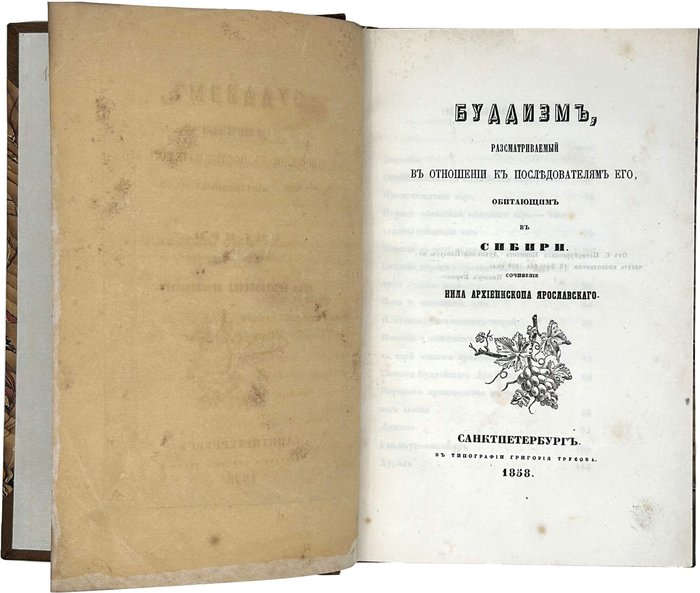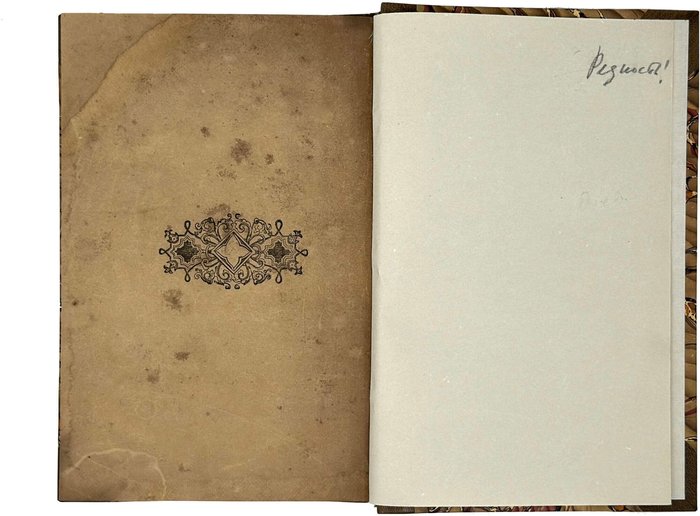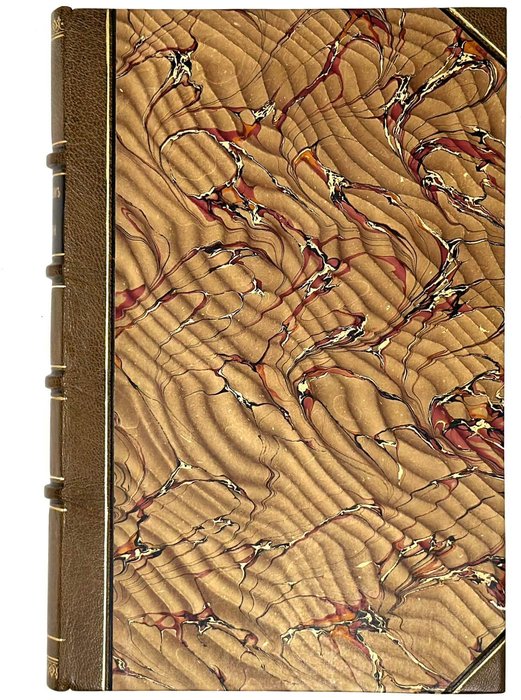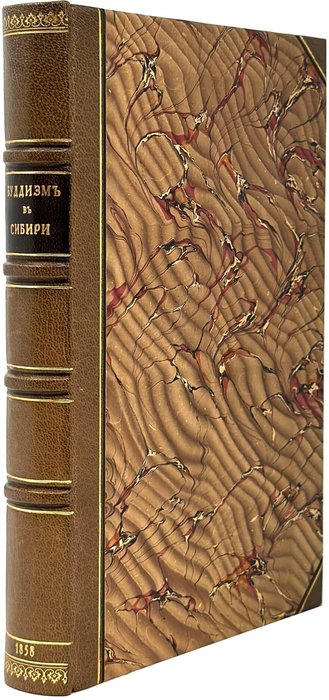 [Nil/ Isakovich, Nikolay Fedorovich, archbishop] (1799-1874). Buddizm, Rassmatrivayemyi v Otnoshenii k Posledovateliam Yego, Obitayushchim v Sibiri [Buddhism, Interpreted in Relation to Its Followers Living in Siberia]. Saint Petersburg: Typ. of Grigory Trusov, 1858.
First and only edition. Octavo (ca. 22x15 cm). [1 – t.p.], [2 – table of contents], [1 - epigraph], 384 pp. Period style brown quarter morocco with marbled papered boards; spine with raised bands and dark brown gilt-lettered title label. Both original publisher's wrappers bound in. Some very mild age-toning and occasional foxing of the text, otherwise a very good copy.An attractive copy of one of the first special Russian studies of the history and ethnography of Buddhism in Eastern Siberia, published in a book form. It was never republished or translated into other languages.
The book was written by a prominent Russian Orthodox Christian writer and missionary of the 19th century, Reverend Nil (Isakovich) and is based on his studies of Buddhism in Eastern Siberia while he served as Bishop of Irkutsk, Nerchinsk and Yakutsk (1838-1853). Rev. Nil learned the Buryat dialect of the Mongolian language, extensively travelled across his diocese (a rare account of his missionary travels, titled "Putevye Zapiski [Preosvyashchennogo] A.[rkhiepiskopa] N.[ila]" was published in 1869), regularly communicated with local tribes and studied the foundation works of the Tibetan Buddhist canon - Kangyur and Tengyur.
His book "was a thorough description of Buddhist doctrine, rites, and organizational structures in the Transbaikal. The bishop observed the rapid spread of Buddhism with the growth of the number of followers, clergy, and monasteries (datsans) in this area. As a Christian missionary, he tried to find out the reasons why this teaching was so powerful and influential, and why Buddhism became so popular among the Buriat population, attracting far more converts from native Shamanism than Christianity. Nil was interested in organizational aspects, hierarchical structure, Buddhist dharma, everyday rituals, and ceremonies during major holidays. Throughout his book, Nil presented his erudition and understanding of the Buddhist tradition. He used numerous sources in Tibetan, Mongolian, Latin, Russian and French. Unfortunately, Nil's book, published in Russian, was unknown to the majority of European scholars of that time" (Peck, A. Missionary and scholar: Russian Orthodox Archbishop Nil Isakovich's perception of Tibetan Buddhism in Eastern Siberia// Sibirica: Interdisciplinary Journal of Siberian Studies. Vol. 5, Issue 1 (Mar. 2006), pp. 87-116).
The "Introduction" (pp. 1-15) contains a brief overview of the tribes inhabiting Eastern Siberia, Kamchatka and Chukotka (history of settlement, main areas, religious beliefs, periods of conquest by the Russian Empire). The "Notes" to the main text (pp. 277-258) include references to important travel accounts and historical studies regarding the native people of Siberia (by Stepan Krasheninnikov, Iakinf Bichurin, Johann Fischer and many others). Footnote 9 (pp. 279-280) talks about the population of the Russian colonies in Alaska and the Aleutian Islands, stating that their number in 1852 was 9452 people, according to the "Moskovskiye Vedomosti" newspaper (1853, No. 50).
The main part (21 unnumbered chapters) includes essays on the Buddhist doctrine and ethics, cosmogony and the origin of men, gods and spirits, the system of Buddhist clergy, architecture and the main structure of datsans (monasteries) - with notes about the Tsugolsky (Zabaikalsky Krai) and Aninsky datsans (Buryatia). Chapters XIII and XIV describe public and private Buddhist services and rituals; the degree of details testify that Rev. Nil's witnessed them. Chapter XX (pp. 250-264) is an account of the "Invasion of Buddhism to Siberia and its establishment there," from 1741 to the early 1850s. The chapter is supplemented with a statistical table, "The staff of Lama clergy in Eastern Siberia" (p. 246), listing 34 datsans and the number of their parishioners and priests of different ranks (Khambo, Shiretu, Lama, &c.). In the end, the book has an extensive "Alphabetical Index of subjects mentioned in this book" (pp. 359-386), which contains names of geographical locations (Altai Mountains, Aleutian Islands, Eastern Ocean, Ganges, Gobi), tribes (Buryats, Gilyaks, Hunns, Koryaks, Kreoles), Buddhist datsans (Aninsky, Tsugolsky), personal names (Atlasov, Veniaminov, Gmelin, Golovnin, Yermak, Iakinf), Buddhist terms and ideas (Bagator Birit, Bodhisattva, brahmin, Buddha, Dalai Lama), &c. Overall an important early Russian study of Buddhism in Eastern Siberia and Transbaikalia.
During his tenure as the bishop of Eastern Siberia, Rev. Nil translated the Gospel and several major Orthodox Christian books into the Mongolian language. He also initiated the construction of over seventy churches in Yakutia and Kamchatka and founded the Nilov Stolobenskaya pustyn (monastery) in the southern Sayan Mountains. The account of his missionary travels across Eastern Siberia and Yakutia is considered an outstanding example of Russian religious travelogues of the 19th century.
Item #RA22
Price: $4500.00