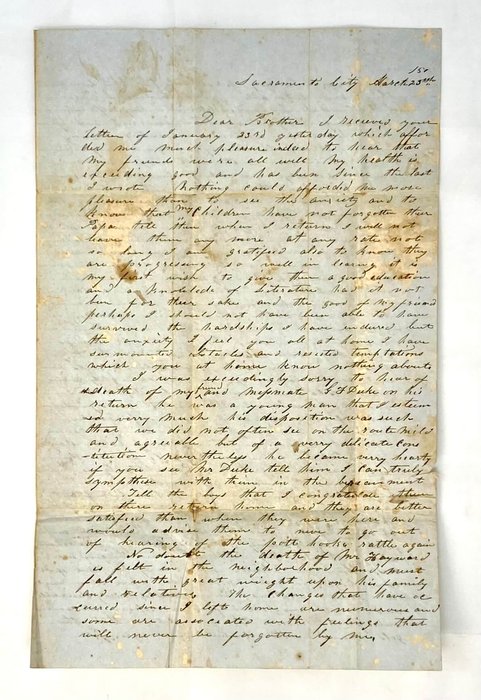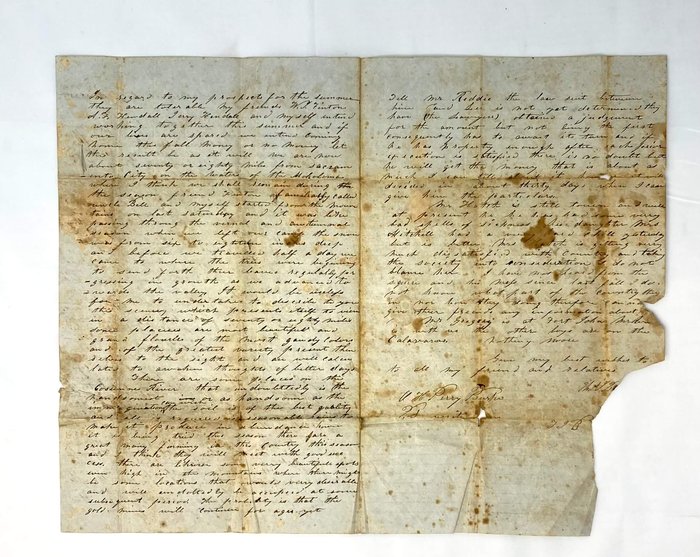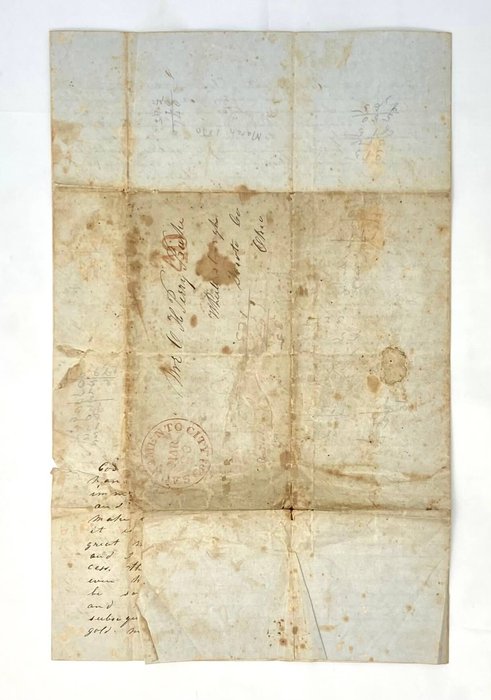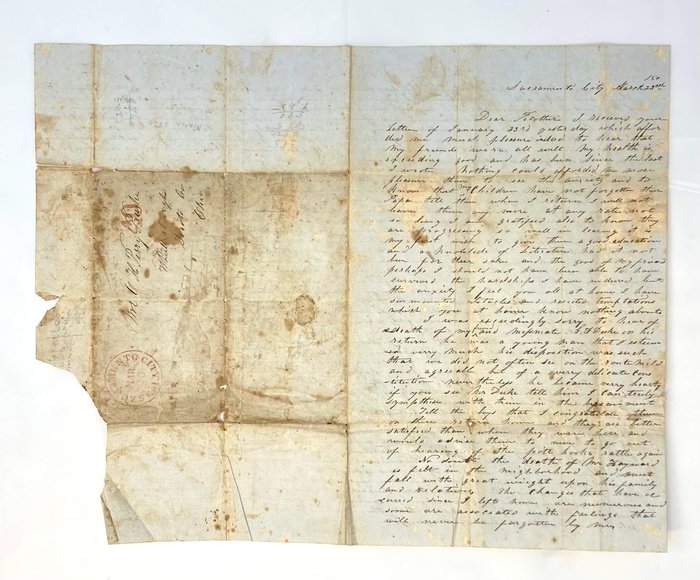 Historically Interesting Letter by One of the Earliest Gold Prospectors in the Mokelumne River Area, Talking about His Only Wish to Give His Children a "Good Education and Knowledge of Literature," Predicting a Prosperous Future of Gold Mining in the High Sierra Nevada, and Enthusiastically Mentioning the "Best Quality" of Soil in the Cosumnes River Area; Also, Promising Not to Leave His Children Anymore and Noting, "I Have Surmounted Obstacles and Resisted Temptations Which You at Home Know Nothing About". Sacramento: 23 March 1850.
Small Folio (ca. 31,5 x20 cm). 4pp. on bifolium. Brown ink on bluish wove paper. Stains, wear and fold marks, with lower outer corner torn off with a part of the signature missing, but overall a good letter, written in a legible hand.
Historically interesting California Gold Rush letter written in the very first weeks after the incorporation of Sacramento (27 February 1850) by a pioneer gold miner on the Mokelumne River. At the time, the Mokelumne River was among California's richest gold sites, with thousands of prospectors rushing to the district.
The author, Thomas Jefferson Burke, addresses the letter to his brother, Oliver Hazard Perry Burke (1813-1866), back home in Wheelersburgh (present-day Weelersburg), Scioto County, Ohio.
At the beginning of the text, "Dear Papa" enthusiastically reacts to his children's progress in learning, emphasizing that his only wish is to give them a "good education and knowledge of literature." In the following passages, Thomas talks about his prospects for the summer, plans to return home "money or no money," and notifies his farmer brother about California's advancing agriculture. Importantly, the author also describes his recent travel from the mountains to the Mokelumne River, mentioning "the best quality" of the soil in the Cosumnes River area and the abundance of potential gold sites in the high Sierra Nevada. In the rest of the letter, Thomas writes about the weather, nature, his health, the latest developments from his friends (including "Mr. Reddie's" lawsuit), and "the temptations" that he managed to surmount.
Overall, a historically interesting original autograph manuscript letter from Gold Rush Sacramento City.
The text of the letter:
"Dear Brother I received you letter of January 23rd yesterday which afforded me much pleasure indeed to hear that my friends were all well. My health is exceeding good and has been since the last I wrote. Nothing could afforded me more pleasure than to see the anxiety and to know that my children have not forgotten their Papa tell them when I return I will not leave them any more at any rate not so long. I am gratified also to know they are progressing so well in learning it is my first wish to give them a good education and a knowlede of literature had it not been for theer sake and the good of my friends perhaps I should not have been able to have survived the hardships I have endured but the anxiety I feel you all at home. I have surmounted obstacles and resisted temptations which you at home know nothing about.
I was exceedingly sorry to hear of the death of my friend and – G. F. Duke on his return he was a young man that I esteemed verry much his disposition was such that we did not often see on the route mild and agreeable but of a verry delicate constitution nevertheless he became verry hearty if you see Mr Duke tell him I can truly sympthese with them in the bereavement.
Tell the boys that I congratulate them on there return home and they are better satisfied than when they were here and would advise them to neve to go out of hearing of the pott hooks rattle again.
No doubt the death of Mr Hayward is felt in the neighborhood and must fall with great weight upon his family and relatives. The changes that have occurred since I left home are numerous and some are associated with feelings that will never be forgotten by me.
In regard to my prospects for the summer. They are tolerable my friends W. J. Finton A. J. Hendall Jerry Hendall and myself intend working together this summer and if our lives are spared we intend coming home this fall money or no money let the result be as it will we are now about seventy or eighty miles from Sacramento City on the waters of the Mokelumne where I think we shall remain during the season friend Finton of – called uncle Bell and myself started from the mountains on last Saturday and it was like passing through the vernal and autumnal season when we left our camp the snow was from six to eighteen inches deep and before we travelled half a day we came to where the trees were beginning to send forth their leaves regularly progressing in growth as we advanced towards the valley. It would be useless for me to undertake to describe to you the scenery which presents itself to view in a distance of seventy or eighty miles. Some places are most beautiful and grand flowers of the most gowdy colors and of the greatest variety present themselves to the sight and are well calculated to awaken thoughts of better days.
There are some places on the Cosumnes River that undoubtedly is the handsomest or as handsome as the imagination can wish. The soil is of the best quality and all is required is seasonable rains to make it produce in abundance however it is being arid this season. There are a great many farming in this country this season and I think they will meet with good success. There are likewise some verry beautiful spots even high in the mountains where there might be some locations that would very desirable and will undoubtedly be occupied at some subsequent period. The probability is that the gold mines will continue for ages yet.
Tell Mr Reddie the law suit between him and – is not yet determined they have (the Lawyers) obtained a judgement for the amount but not being the first consequently has to await its turn and if he has property enough after each prior execution is satisfied there is no doubt but he will get the money that is about as much I can tell about it – it will decided in about thirty days when I can give him the particulars.
Mr Hatch is still town and well at present he he has had some very bad spells of sickness his daughter Mrs Hitchell had a verry hard chill yesterday but is better Mrs Hatch is getting verry much dissatisfied with country and taking the society into consideration. I do not blame her. I have not heard from the – and his miss since last fall I do not know what part of the country they in nor how they doing therefore cannot give theer friends any information about.
Mr Gregory is at Fort John. Mr – is with us. The other boys are on the Calaveras. Nothing more."
Item #MA91
Price: $950.00