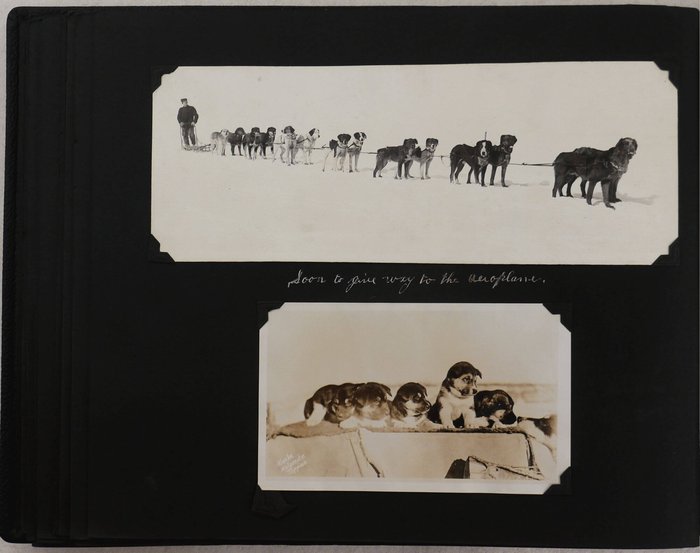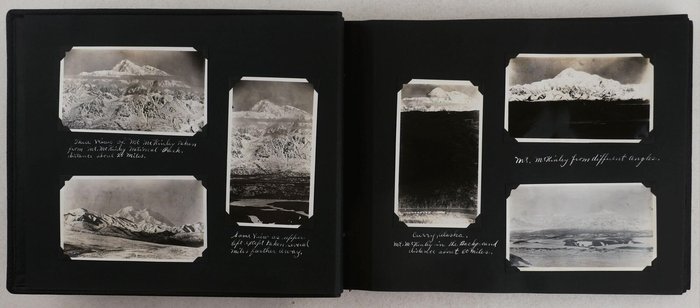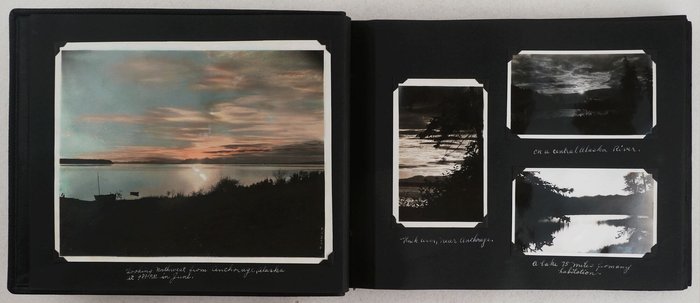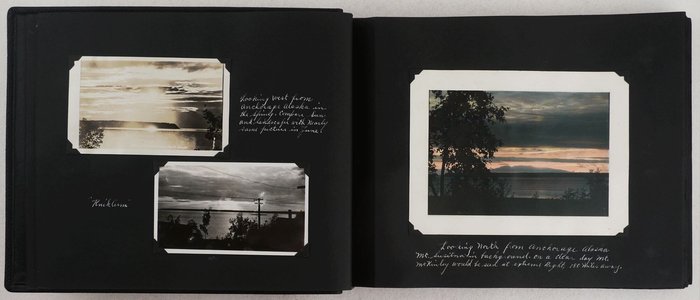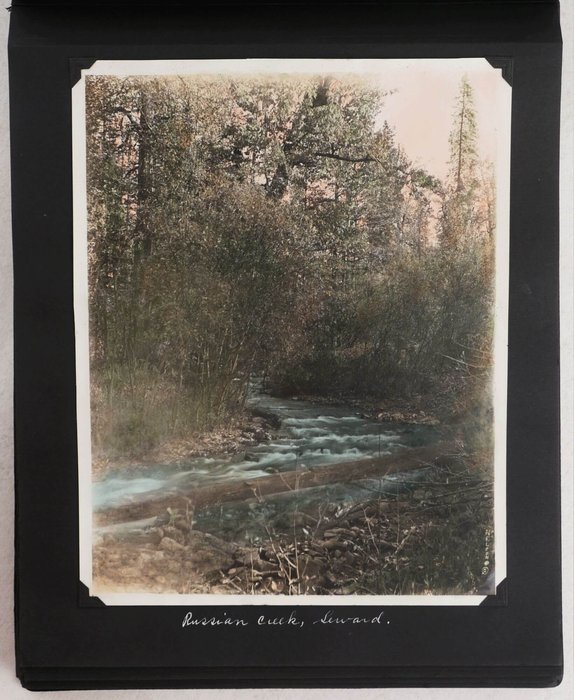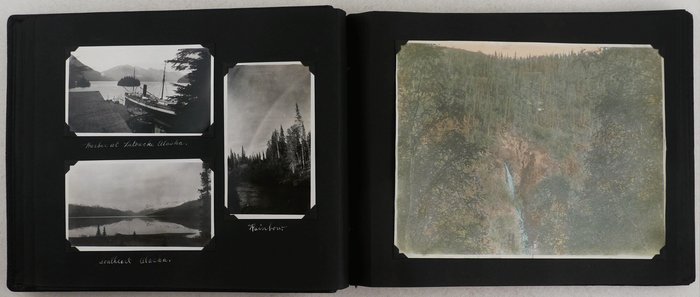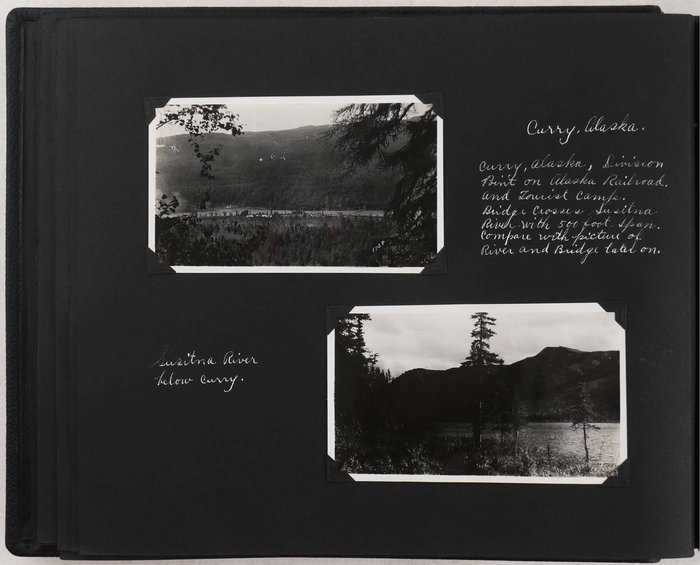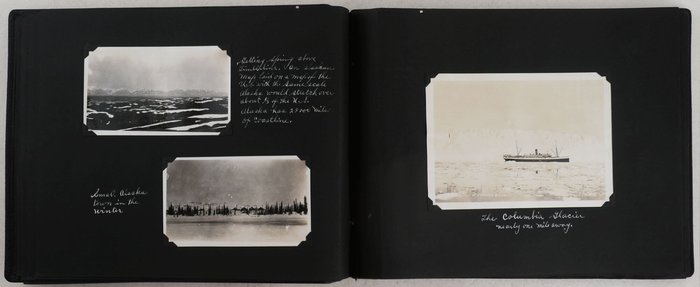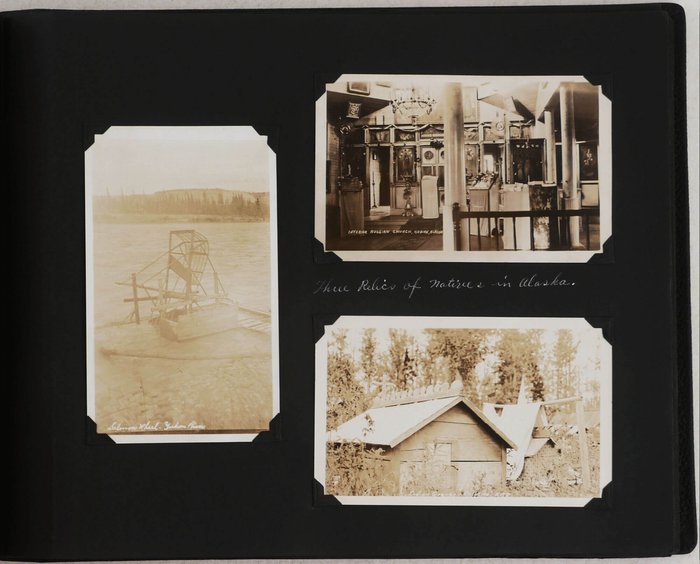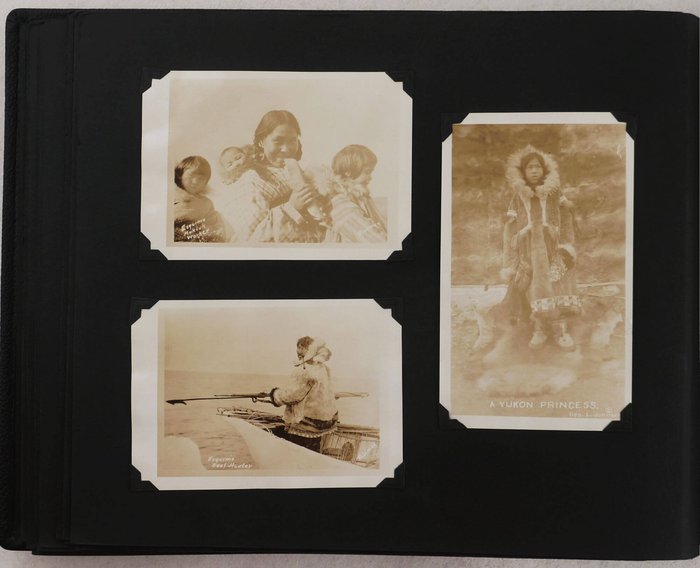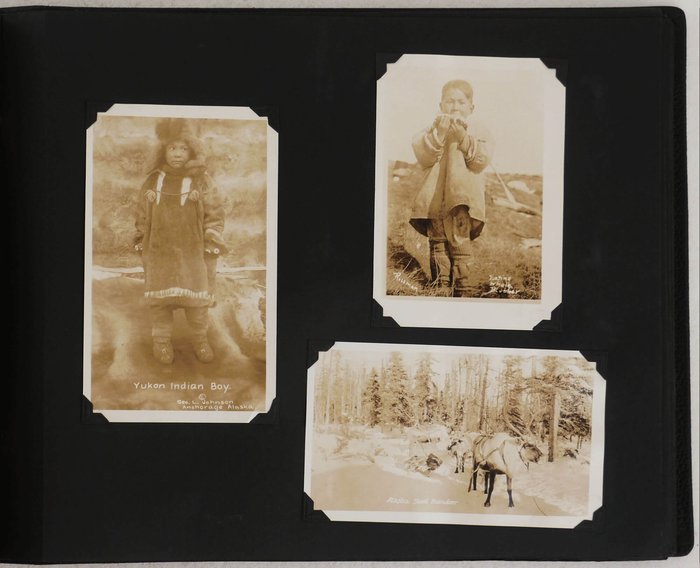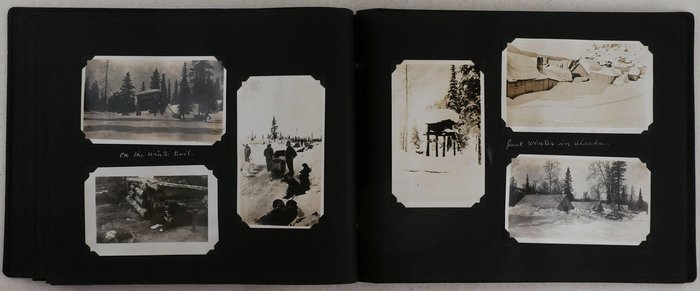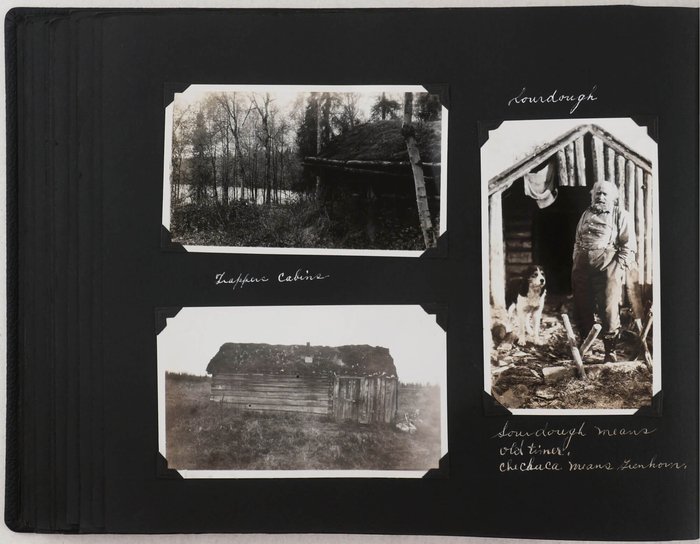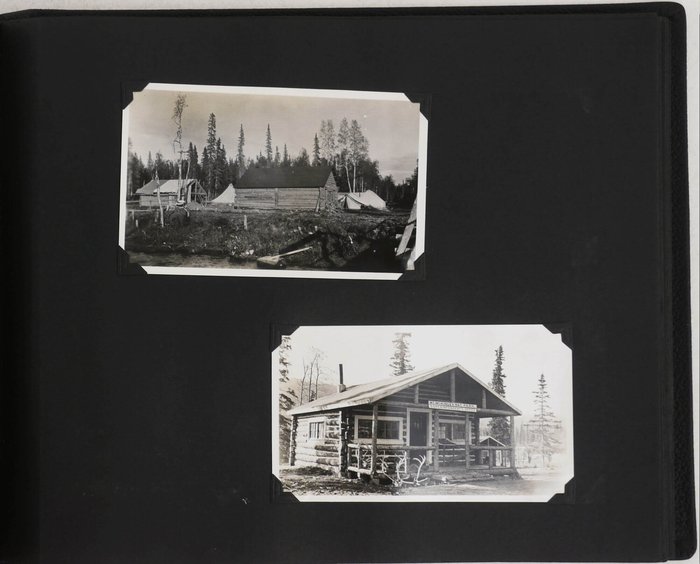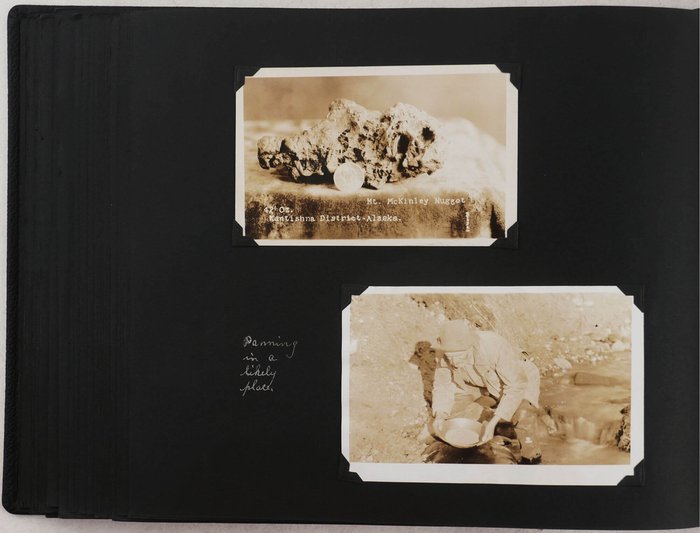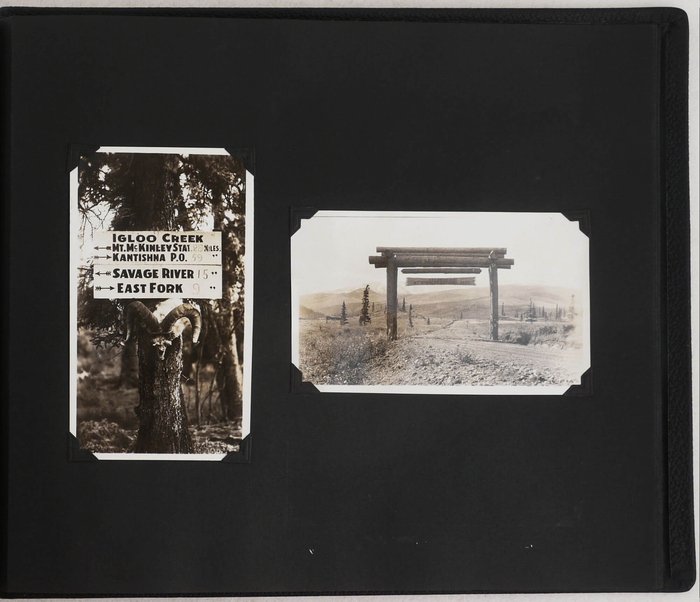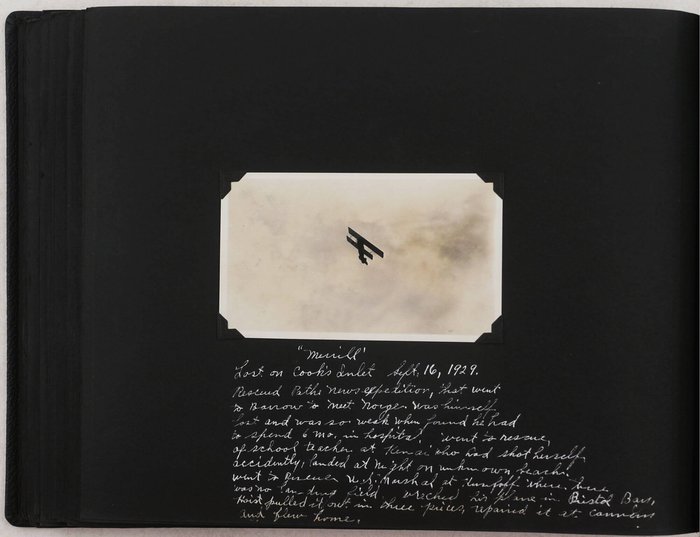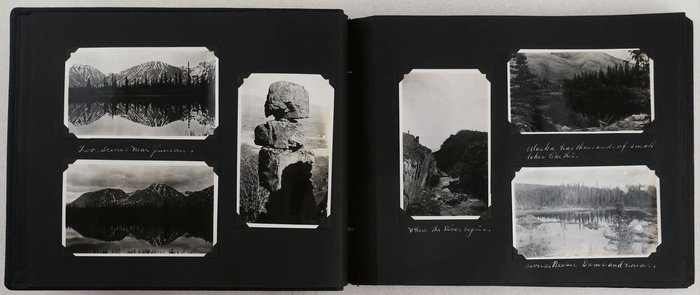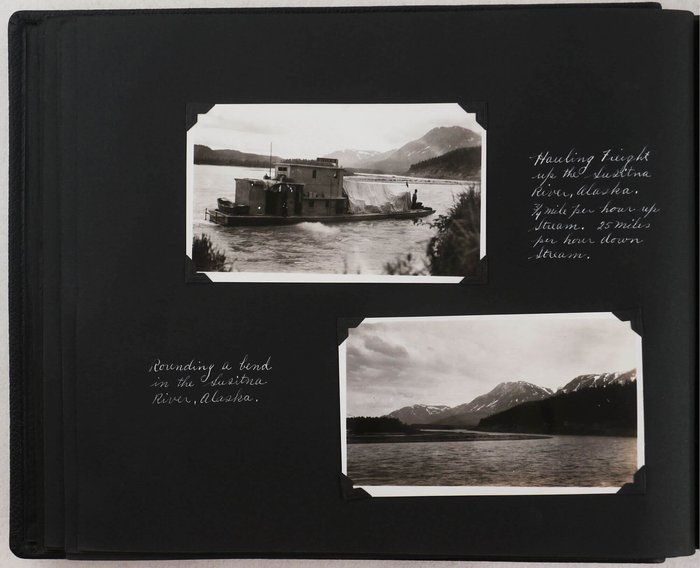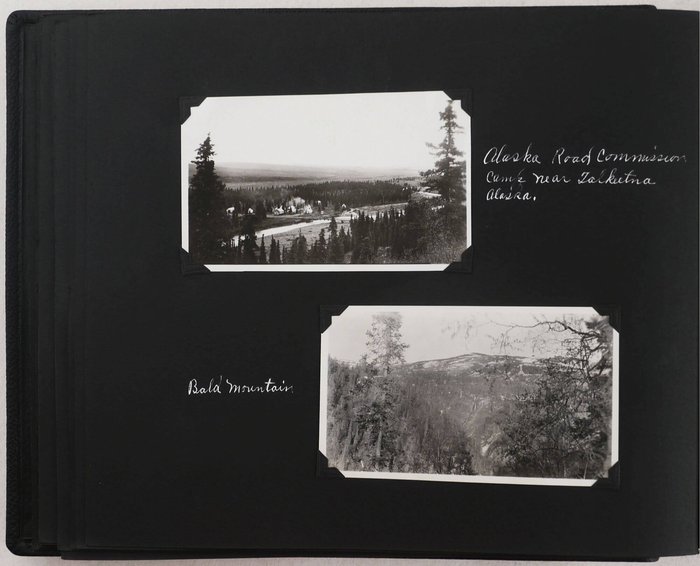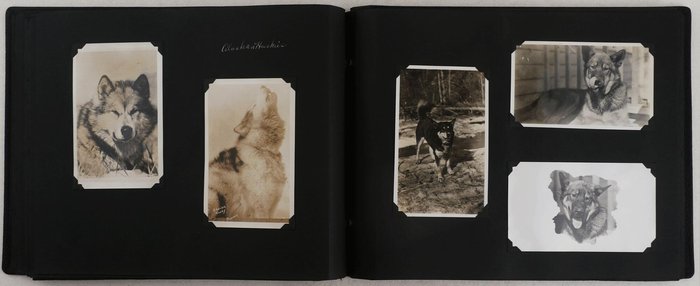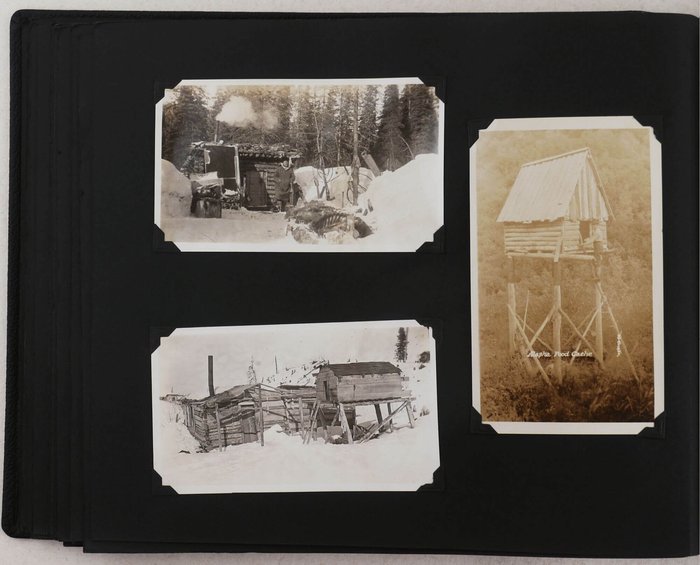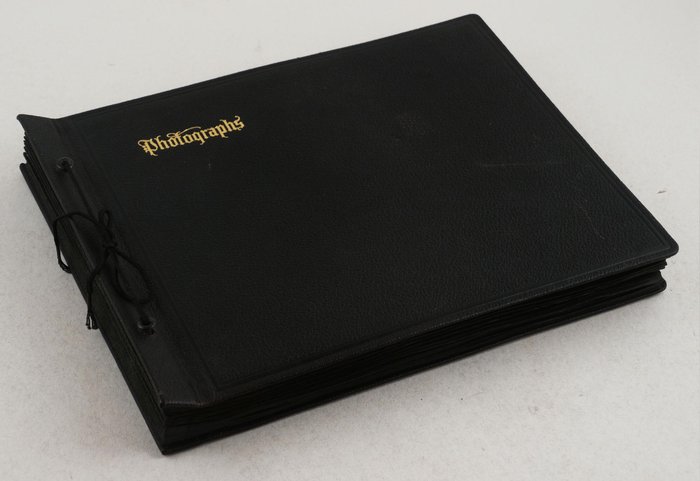 Nelson, Charles "Red" (1900-1982); Bragaw, Robert (1889-1969, fl. ca. 1920s-1930s); Steward, H.W.; Rossman, Earl; Johnson, George L. & others. Album with over 210 Original Gelatin Photographs of Alaska, Showing Central Alaska (Mt. Denali, Mt. Susitna, Knik Arm, Tanana and Susitna Rivers, Cache Creek, Curry – Now a Ghost Town, Mining and Survey Camps), Anchorage Environs, Kenai Peninsula (Lake Kenai, Resurrection River, Bald Mountain, Tustumena glacier, Nuka Bay glacier), Prince William Sound, the Inside Passage, Latouche Village, Portraits of Yupic People, Scenes of Dog Mushing, Hunting, Fishing, and Gold Panning, Alaskan Wildlife, Russel Merril's Plane, &c. Ca. 1920s.
Oblong Folio album ca. 26x33 cm (10 ¼ x 13 in). 47 card stock leaves. With over 210 mounted gelatin silver photos, including about six colour tinted images from ca. 20x25 cm (7 ¾ x 10 in) to ca. 15x20 cm (6x8 in) and a panorama ca. 9x24,5 cm (3 ½ x 9 ¾ in). The rest of the photos are from ca. 12,5x17,5 cm (5x7 in) to ca. 4x8 cm (1 ¾ x 3 ¼ in); most photos are ca. 8x14 cm (3 ¼ x 5 ½ in). Over fifty photos are captioned and/or signed in negative (some text faded). With over a hundred period white ink manuscript captions on the mounts, related to individual images or groups of images. Period black patterned sheep album, fastened with a string; front cover with a generic gilt-lettered title "Photographs;" the inner side of the rear cover with an ink stamp "L.C. Rhodes, Genuine Leather Cover." The inner side of the front cover with a period white ink presentation inscription "Anchorage, Alaska, Dec. 20 1929. To Lawrence C. Heath from Lawrence Alfred Stephenson." A few photos mildly faded or with mild silvering, otherwise a very good album of interesting strong photos.
Attractive extensive collection of well-annotated original photos of Alaska, from the 1920s. Compiled by Lawrence Alfred Stephenson – most likely, a resident of Anchorage, the album includes unsigned photos (possibly, taken by Stephenson himself), as well as images taken by several noted Alaskan photographers: Charles "Red" Nelson, Robert Bragaw, H.W. Steward, Earl Rossman, George L. Johnson, & others. The album contains six colour-tinted photos by Charles "Red" Nelson. The first photo showing Mt. Denali is supplemented by a piece of birch bark with the handwritten caption about "Mt. McKinley," which erroneously notes that "so far no one has ever been to the top." The album was compiled in the late 1920s (according to the presentation inscription, dated "1929"), but the first successful ascent of the southern peak of Mount Denali took place already in 1913. The other colour-tinted photos show Cook Inlet near Anchorage, Mt. Susitna, Russian Creek near Seward, a winter forest and an Alaskan waterfall. A large panoramic photo depicts a dog musher and his team. The smaller photos include a series of excellent views of central Alaska and the Kenai Peninsula, showing Knik Arm, Lake Spenard, the beach in Anchorage, Mt. Denali, Tanana River, Kantishna district, Cache Creek (with the view of a "placer mining camp"), "Peters Creek mining district," a "camp of survey party," steamer "Betty M." "hauling freight up the Susitna River," Susitna River "just before freezeup," Curry – "division point on Alaska Railroad and tourist camp" (now a ghost town), "500 foot suspension bridge at Curry," "mining camp in Yentna mining district," "Alaska Road Commission camp near Talkeetna," Lake Kenai, Resurrection River, Bald Mountain, Tustumena glacier, Nuka Bay glacier, &c. The other photos show Prince William Sound, the environs of Juneau, Inside Passage, "S.S. Aleutian at Columbia Glacier," &c. Another interesting image shows the harbour of Latouche – a no longer existing mining community on Latouche Island (Prince William Sound). A post office was established here in 1905 and discontinued in 1955. There are also photos of Alaskan settlements in winter, trappers' cabins and survey camps, the loghouse office of the Superintendent of "Mt. McKinley National Park," the gateway to the park, the Alaska Railroad in winter, &c.
Several photos portray native Alaskans – "Eskimo" (Yupic) seal hunters, families and children, show the interior of the Orthodox Christian Cathedral in Kodiak and traditional graves on the Eklutna cemetery. Two photos depict famous dog musher Leonhard Seppala (1877-1967) and his dogs, who played the pivotal role in the 1925 serum run to Nome. The compiler's manuscript caption reads: "Seppala and his famous "Relief Team" went to Nome, Alaska, in record time with medical supplies during epidemic."
The other images show Alaska Huskies, scenes of dog mushing, hunting and fishing, Alaskan wildlife (brown and Kodiak bears, foxes, lynxes, goats, caribou, moose, porcupine, beavers, birds of prey, &c.). There are also photos of placer gold mining, gold dredges, a 42 oz. gold nugget, &c. The last photo depicts a plane of the Alaskan aviation pioneer Russel Merrill (1894-1929), who made the first attempt to cross the Gulf of Alaska by plane, and discovered the short route through the Alaska Range (the pass was named after him), and made one of the first night landings in Alaska. The extensive manuscript caption lists Merril's achievements and remarks that he was "lost on Cook's Inlet, Sept. 16, 1929." Overall an attractive extensive collection of original photos, giving a comprehensive overview of life in central Alaska in the 1920s.
Item #P46
Price: $3500.00